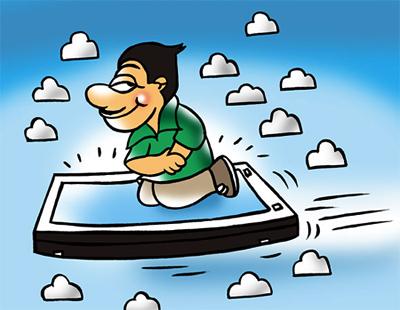 "No one needs to learn a foreign language anymore," a young Indian informed India's Ambassador to Brazil.
"Technology will have licked that problem in two years."To his amazement, B S Prakash discovered the confident young Indian could be right!Illustration: Uttam Ghosh
"No issues, no issues," the young man who had come to meet me kept repeating.
There was a time, long ago, when middle-aged Indians said this in a sad tone to convey that they had no children.
One look at my visitor and it was clear he was not interested in marriage, let alone children. It was his way of conveying that every problem he encountered was surmountable; that indeed, in life itself, there were 'no issues' that he could not lick.
He was an Indian, but had come to Rio de Janeiro from the United States where he was at the Massachusetts Institute of Technology, MIT, a name that produces an immediate 'wow.' He had joined some Brazilian friends and college mates who were doing a project in the city.
What was their project, I asked, and he replied with great passion about some algorithms that they had developed for simulation of mega projects like the FIFA World Cup or Olympic stadiums. A big construction firm had employed them on a short-term basis to develop some models.
I was soon lost with his jargon, tech-speak and IT 'coding' talk. His father in India, naturally and justifiably proud of his genius son, had advised him to meet the Indian ambassador and this is how we had come together.
I looked at him again, as we sat across each other in a coffee shop. So ridiculously young, brimming with confidence; so casually elegant in his grey chinos, blue T-shirt and sandals, befitting the Rio scene.
I felt very happy. This was a face and a facet of India that made one proud: Not only his academic credentials but his teaming up with a bunch of young Brazilians, his spirit of entrepreneurship, his nonchalance in an alien land.
Unable to engage him further in talk about his work and project, I started asking lifestyle questions. As a vegetarian in this mainly carnivorous nation, how does he manage food; how does he commute in a complicated city; what does he do for news and entertainment since virtually everything is only in Portuguese in Brazil, etc.
"No issues," he kept saying and had a neat solution for each of these everyday concerns.
We started talking about Brazil hosting the FIFA World Cup in 2014 and the Olympics in 2016. There is a bit of an anxiety about these right now, with delays in the construction of stadiums, the awarding of contracts, the lack of hotel rooms, etc. In fact, my visitor's project management software was being bought for these reasons.
I asked him a question that we frequently discuss in the diplomatic crowd. "How will they manage the communication issue? Thousands of visitors trying to find their way to stadiums, beaches and what not… and not a single taxi driver knows anything except Portuguese? Isn't that a problem?"
"How did China manage?" he said in a jiffy. Did I not tell you he was super-smart? "No one needs to learn a foreign language anymore," he continued. "Technology will have licked that problem in two years."
I was shocked, but must honestly admit also a little upset. Being in the Indian Foreign Service all my adult life, I have believed in the value of knowing foreign languages. It is an article of faith for diplomats.
'Language is a mirror to the soul,' goes the mantra. You try your best to learn the local language and to use it as much as you can. I have struggled and learnt some Portuguese here in Brazil and some other languages in earlier postings. And here was this brash declaration that it does not make sense to make the effort.
"Really? How is that possible?" I asked with some irritation.
"Simple," he said, taking out his mobile phone. "With this," he waved it around.
The rest of his explanation came fast and furious.
"Sir, you know already about Google Translate and how much it has improved over the last two years. You now get an intelligible translation of text and I am doing all my work using it. The next step is about voice protocols through WAP or GPRS and speech recognition technology. Sir, the iPhone 4S is already doing it..." off he went, leaving me with a glimpse of what is yet to come.
I was intrigued, but not convinced.
Later at home I did my research, starting with Wikepedia and slowly reading more, and still later talking to some experts. That is how I came to realise what my young Indian friend was claiming was indeed the future.
Let me summarise. Rediff readers are likely to know about the advances made by Google Translate: The speed, the accuracy and the reliability when you try it for, say, the translation from a German instruction manual to English.
But such translation was first developed by the Japanese and, by the year 2005, NEC of Japan had already developed the prototypes of translation for mobile phones. The technology involves machine-based translation and voice recognition and speech generation abilities.
Obviously, if you want instantaneous and reliable translation, the device should first recognise your voice, send it over the Internet to external computers where it is machine translated, and then send back the speech in another language to be spoken out on your mobile phone. And the amazing aspect is that all this technology is already available! It is a question of perfecting it and applying it on a large scale.

Do you feel this explanation is complicated? Let us look at an actual scenario.
You are lucky enough to be in Rio for the football World Cup in 2014 and, after an exciting match, you want to visit the famous Samba dancers at night. Where do you go and how do you find the place? Announce your intention in English on your mobile phone and hold it out to the cab driver or any Brazilian roaming on the street. The device will convey your desire in Portuguese and his reply will be translated back to you in English after a short pause.
Want to speak only in Hindi? Perhaps it would be possible during the Olympics in 2016.

Impossible? Just think of all that we regarded unlikely 10 years ago: Streaming music on the computer, Skype chat, and why, at least half of Indians with a cellphone. The mobile wave is the future and the future is already with us.

But all this I learnt later. And, as I did so, I had a picture of the young Indian whizkid that I had met. In my dream (or was it a nightmare?), he was in Barcelona today, conversing with a voluptuous Spanish girl, waving his mobile around to ask her for a date; in Seoul the next day paying for the latest Samsung Galaxy with the e-wallet in his mobile and in Beijing a few days later, navigating his rented car with the GPS on his mobile.
And all the time mocking me with the words, "Who needs a foreign language?"
B S Prakash is the Indian Ambassador to Brazil and can be reached at ambassador@indianembassy.org.br
You can read more columns by Ambassador B S Prakash here.