In the wake of the nuclear test conducted by North Korea several international bodies are priming to impose severe sanctions on the Hermit Kingdom in the hopes of dissuading the dictatorship from any further proliferation.
However, such sanctions could have serious repercussions and may prove disastrous for all the players involved, says Debalina Ghoshal.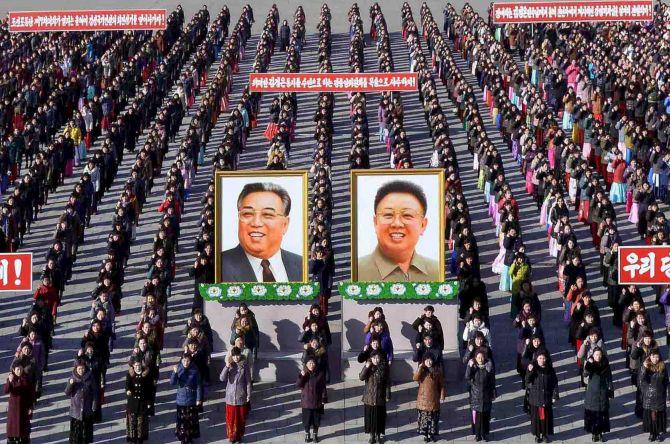 Early in January, news reports emerged that North Korea had successfully conducted a miniaturised hydrogen bomb test.
With this, North Korea has conducted its fourth nuclear test defying United Nations Security Council sanctions to conduct such tests.
The hydrogen bomb is more powerful than its plutonium-based cousin and is viewed by North Korea to take them to a 'higher level of nuclear power' (external link).

The nuclear tests are a sheer breach of global non-proliferation efforts.
In early 2003, North Korea withdrew itself from the Non Proliferation Treaty which it had signed in 1985. Thereafter, Pyongyang conducted its first nuclear test in 2006, while the second one in 2009 and the third one was conducted in 2013.
However, this nuclear test should not come as a surprise.
North Korea, over the years, has vehemently conducted missile and artillery test firings as a mark to oppose the military exercises conducted between the US and South Korea.
On several occasions, it had conducted test firings of SRBMs prior to a military exercise.
In 2013, North Korea also adopted a policy of 'Byungjin Line' (external link) that linked the development of the economy to the development of its nuclear weapons arsenal.

In fact, in August 2014 (external link), a North Korean official was also quoted as saying, 'Given that the US and the puppet forces of South Korea continue staging nuclear war exercises against us in particular, we will take countermeasures for self-defence which will include missile launches, nuclear tests and all other programmes.'

Conducting frequent missile and artillery test firings and four nuclear tests despite the sanctions imposed on North Korea only makes it clear that sanctions and moratoriums are unlikely to deter Pyongyang to make its presence felt and display its discontent and dissatisfaction to the international community.
For North Korea, its missile and nuclear capabilities are not only a tool of deterrence but also a tool of coercive diplomacy.
In 2015, North Korea also expressed its desire to open negotiations with the US on signing a peace treaty but ruled out any possibility of giving up its nuclear weapons. Thus, such nuclear and missile tests are also a message to the US to seriously consider a peace treaty with the Hermit Kingdom to end the Korean war once and for all. So far only an armistice exists.
Only in August 2015 did South Korea and North Korea make efforts to reduce tensions between themselves.
In fact, in October 2014, reports emerged that North Korea had called on the US to negotiate a peace treaty.
It is also clear that North Korea views its nuclear weapons as a medium to coerce the US to negotiate the peace treaty between the North and South.
North Korea believes that this treaty (external link) is the only way to ensure that a nuclear arms race is prevented.
Pyongyang had also conducted peace talks with Seoul in November 2015 (external link) to reduce tensions between the two countries.
North Korea's immediate neighbours, Japan and South Korea, are apprehensive of Pyongyang's growing nuclear capabilities.
Japan has already declared the test as a clear "serious threat" (external link) to its security.
South Korea, on the other hand, has condemned the act and demanded stricter sanctions for violation of the UNSC resolution.
Reports also reveal that South Korea expects China to take a stringent stand on North Korea's nuclear activities.
The US has assured its allies of strengthening its security commitments towards them in the region while also making it clear that it would not accept North Korea as a nuclear weapons state.
In fact, just days after the nuclear test, the US flew its B-52 (external link) nuclear capable bombers over South Korea "in response" to the nuclear test as a "demonstration" of the US commitment to South Korea and Japan and for the defence of the US homeland.

China, Pyongyang's closest ally, has also not supported this nuclear test, with Beijing assuring its commitment towards achieving a denuclearised Korean peninsula.
However, Beijing at the same time is not in favour of any stringent actions against North Korea and believes that this issue should be resolved through dialogues.
Any stricter sanctions on North Korea could only coerce Pyongyang to sell its nuclear weapons to terrorist organisations or to States like Syria which support terrorist organisations like Hamas and Hezbollah in return for hard currency.
On July 23, 2014 (external link), a US court ruled that North Korea in 2006 transferred (external link) "rocket and missile components to Iran where they were assembled and shipped to Hezbollah in Lebanon via Syria… and were in fact used by Hezbollah to carry out rocket and missile attacks against Israeli civilian targets."

North Korea could also sell its nuclear weapons to Pakistan which also funds terrorism.
Stricter sanctions against North Korea will only annoy Pyongyang to the extent of conducting more nuclear tests and thereby challenging not only the global non-proliferation order but also threatening global peace and stability.
Image: People take part in mass rallies held across the country vowing to carry out tasks set forth by North Korean leader Kim Jong Un in this undated photo released by North Korea's Korean Central News Agency in Pyongyang. Photograph: Reuters.
Debalina Ghoshal is a research associate with the Delhi Policy Group.