'Can the US be persuaded to embark on a path of calibrated and stronger sanctions on Pakistan?'
'India will have to realistically base its strategy on getting the US to reduce/end its financial aid and supply of military equipment to Pakistan,' says Ambassador G Parthasarathy, former high commissioner to Pakistan.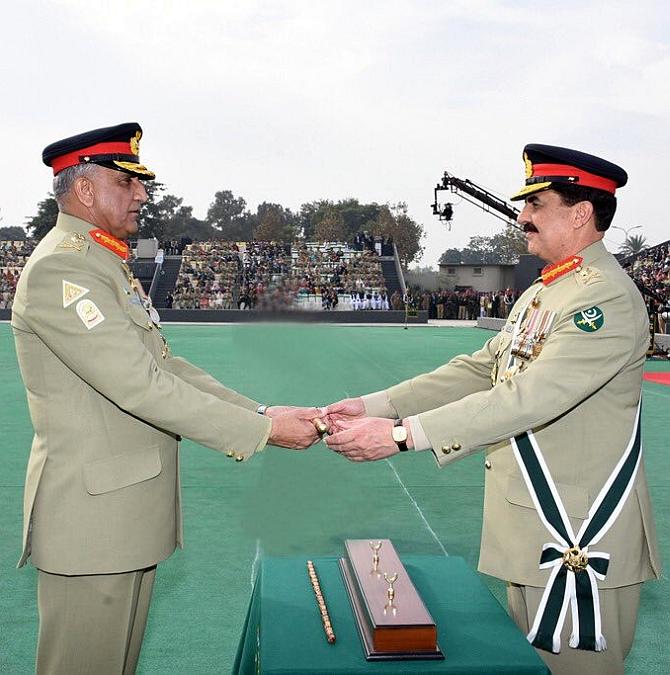 When 250 Indians perished in the bomb blasts that rocked Mumbai in March 1993, it soon became clear that the entire episode had been executed by Dawood Ibrahim's notorious 'D Company', aided by Pakistan's 'Deep State' and the Inter-Services Intelligence.
The Bill Clinton administration made some private protestations to Pakistan, drawing attention to the involvement of the then ISI chief Lieutenant General Javed Nasir in motivating and supporting Dawood.
But American protestations ended there. The United States returned to 'business as usual' with Pakistan.
This American indifference continued even after the Taliban takeover of Afghanistan, with US oil major UNOCAL seeking to strike a major deal on a gas pipeline through Afghanistan with the country's then Taliban ruler Mullah Omar.
Once it became clear that the Taliban had knowledge about and backed the 9/11 terrorist strike, the US invaded Afghanistan, overthrowing the Taliban regime.
Washington, however, made it clear that the prime terrorist group targeted was Al Qaeda, led by Osama bin Laden. The Taliban was and is primarily viewed by the US as an 'insurgent' group.
Ever since then, Osama and the Taliban and Al Qaeda leaderships and cadres were treated differently. Osama and other Al Qaeda leaders were sought out and marked for elimination as terrorists.
The US knew the residential addresses of Taliban leaders in Quetta and elsewhere, but mounted little pressure on Pakistan to seek out and eliminate the Taliban leadership, with the exception of those affiliated to the autonomous Haqqani Network.
Individual Taliban leaders were, however, targeted in drone strikes in thew Pashtun tribal areas of Pakistan, bordering Afghanistan.
A decade later, the Americans accorded international legitimacy to the Mullah Omar-led Taliban, by facilitating the establishment of a Taliban 'Office' in Qatar, to enable them to interact with the outside world.
This opened the floodgates for countries all across the world to deal directly with the Taliban.
It also led to the Taliban entering into negotiations, more or less as on an equal footing with the Afghan government, at different forums, where the other participants have included the US, China, Russia, Pakistan, Iran, India and the Central Asian Republics.
China and Russia, who have close ties with the Taliban, are key players in this process.
With scant knowledge of these realities, some media houses and even a member of the Rajya Sabha, wanted proceedings initiated for India to declare Pakistan as a State sponsor of terror, evidently in the unrealistic hope that the Americans could be persuaded to follow suit.
It was a move that would have left us isolated and ridiculed across the world, which was rightly rejected by the Narendra D Modi government.
There has also been talk in India of getting the US to declare Pakistan as a 'State sponsor of terrorism'. The US secretary of state has been empowered to declare a country that has repeatedly provided support for terrorism as a 'State sponsor of terrorism'.
Such a declaration would involve American restrictions/bans on foreign economic assistance, and a ban on defence exports and controls on export of dual use items.
While countries like North Korea, Cuba, Iraq, Libya and South Yemen figured earlier in this category, only three countries -- Iran, Sudan and Syria, today face sanctions as declared 'State sponsors of terrorism'.
The US has fought shy of declaring Pakistan as a 'State sponsor of terrorism' primarily because a significant section of the American establishment feels that it has to remain 'engaged' with Pakistan, not only because supplies for its forces in Afghanistan are routed through Pakistan, but also because Washington cannot remain totally isolated from the only Islamic nuclear power in the world.
There is concern that bereft of the US having any influence in Pakistan, that country can again become the focal point of jihadi terrorists worldwide, like it was just prior to 9/11.
Moreover, the US has painted itself into a corner, where any move to isolate Pakistan significantly will be opposed not only by China, but also by Russia.
In these circumstances, India will have to realistically base its strategy on getting the US to reduce/end its financial assistance and the supply of military equipment and spares to Pakistan.
The US has ample evidence of Pakistan's involvement in the 26/11 attack in Mumbai, in which a few American nationals were also killed. It has, however, not acted against those responsible for the attack.
It is futile to expect, for the present, that Washington will suddenly cut all assistance to and contacts with Pakistan.
The question really is whether the US can be persuaded to embark on a path of calibrated and stronger sanctions on Pakistan and also use its leverage and influence to persuade international financial institutions like the World Bank, the International Monetary Fund and the Asian Development Bank and its allies like the European Union, the United Kingdom and Japan to follow suit.
Chinese aid alone cannot bail out Pakistan from its current economic woes, involving a growingly adverse balance of payments situation.
Prime Minister Modi's summit in Washington, DC with President Donald Trump gives some cause for optimism on getting the Americans and their allies to move forward progressively to turn the screws on Pakistan.
The United States Congress could be quietly persuaded that, as a first step, there should be a slowdown in supplies of spares and ammunition for US supplied equipment like F-16 fighter jets.
This could be complemented by stronger conditions on assistance from international financial institutions, where the US and its allies wield overwhelming influence.
The joint declaration by Modi and Trump and subsequent actions by the Trump administration have already caused nervousness and concern in Islamabad and in the Army GHQ at Rawalpindi.
The declaration, for the first time, listed organisations like Jaish-e-Mohammed, Lashkar-e-Tayiba and even Dawood Ibrahim's 'D Company' as terrorist outfits, while welcoming the US state department's announcement as declaring Kashmiri terrorist leader Syed Salahuddin of the Hizb-ul Mujahideen as a global terrorist.
Pakistan was also told that it has to act against the perpetrators of the 26/11 attacks and the attack on Pathankot air base.
There has been subsequent follow-up action, with the US department of defence cutting reimbursements for security assistance to Pakistan substantially.
There are prospects of further cuts in the future. The Pentagon is also considering drone strikes within Pakistan, in areas from where the Afghan Taliban and the Haqqani Network operate.
In its annual country report of 2016, the state department has averred that Pakistan did not take sufficient action against groups like Lashkar and Jaish that acted against India.
But action against Pakistan will only be escalated in a carefully calibrated manner.
In a recent book on the saga of Osama bin Laden's decade-long stay in Pakistan, authors Cathy Scott-Clark and Adrian Levy have given an insight into how Pakistan hid Osama, the world's most wanted terrorist, barely a mile away from its prestigious military academy in Abbottabad.
The book is a riveting account of the role of successive military chiefs and chiefs of the ISI ranging from Lieutenant General Hamid Gul in the 1990s to Lieutenant General Shuja Pasha during the 26/11 attack on Mumbai, in promoting terrorism in India and Afghanistan.
There is nothing to suggest that the Pakistani military intends to change its priorities, unless it finds the blowback unbearable.
IMAGE: Pakistan army chief General Qamar Javed Bajwa, left, with his predecessor General Raheel Sharif. Photograph: Inter Services Public Relations/Pakistan