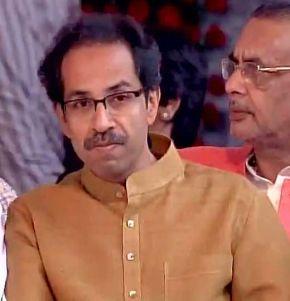 The Raj Thackeray-led MNS deteriorated thanks to its own doing and absolute lack of vision. Now it seems it is only a matter of time before the Shiv Sena goes the same way. Both cousins will ensure they finish the 'Sena', says N Suresh.
What a tragedy for the Shiv Sena! From demanding a number of portfolios it wanted to be forced to sit on the Opposition benches!
It is good that Sena founder Bal Thackeray is not alive to witness the pathetic state of his party in the state. After underestimating the Narendra Modi-Amit Shah duo and the BJP in the recent assembly elections, Shiv Sena President Uddhav Thackeray continues to make mistakes.
In one master stroke, the Modi-Shah duo showed Uddhav his place. They showed they don't care whether he approved or not, they wanted Sena man Suresh Prabhu to be a Union minister and they smartly anticipated the moves Uddhav would make.
Sadly, Uddhav was clueless about the BJP's moves. Some critics reacted sarcastically saying that he has built such strong walls around Matoshree that he remains clueless of moves that others make. Had Bal Thackeray been alive, forget the direct conversation he would have had with Prabhu, he would have deployed people to keep an eye on him going by newspaper reports.
During Bal Thackeray's time, Sena legislators expected to defect were kept forcibly in sprawling, suburban hotels under 24x7 watch. That was all required in this case too. Instead what we got to witness was of a clueless party chief seeing one of his leaders defect without getting a whiff. All he could do was order his closest aide, Anil Desai, who had flown to Delhi to be sworn-in as a Union minister, to return to Mumbai from the Delhi airport.
The Raj Thackeray-led Maharashra Navnirman Sena deteriorated thanks to his own doing and absolute lack of vision. Now it seems it is only a matter of time before the Shiv Sena too goes the same way. Both cousins will ensure they finish the 'Sena'.
If Uddhav was slightly smarter and shown more spine, he could have made life miserable for the BJP. All he had to do was what the Nationalist Congress Party president Sharad Pawar did -- extend full outside support. Imagine the tight spot the BJP would have been in. The Sena and Uddhav would have got huge respect.
Instead all we get was tantrum throwing, a leader who is constantly complaining and suffers from an attention-seeking syndrome. Uddhav has put the BJP on a pedestal and made the party rise in the eyes of the public. Nobody cares for Uddhav or his party today.
The public sentiment is that he is wasting time and the new government needs to begin work. Even if Uddhav had initially stated they would sit in the opposition, he would have earned more respect than he does today.
The fact is the public is tired of his histrionics. Like his cousin Raj, Uddhav too has constantly gone back and forth with his proposals. And for someone who has only 63 seats one would have expected him to quietly take the berths that came his way. Instead he stands exposed today. The bigger and stronger lobby within the BJP -- like Nitin Gadkari that always felt Uddhav would be a liability -- has been proven true.
Gadkari's stature has grown because of his reading of state politics. The Rashtriya Swayamsevak Sangh agrees with his reading of the situation. Uddhav in government would have created more problems than in the opposition. If the Sena does not let the government run properly, it will end up being the biggest loser. It will help seal the public choice and that is exactly what the BJP wants.
The point is now thanks to the Shiv Sena, things will only get better for the BJP. Firstly, they will opt for a minority government. Once they win the trust vote they can continue in power for a good six to 12 months. It is ample time for the BJP/RSS cadres to reach out to newer, untouched areas in the state.
If forced to go in for a fresh election, the BJP will hope that the public will vote out the Sena just like it did the MNS. There is no need for either the MNS or Sena to claim propriety over Marathi pride and other regional issues. Their violent means and absolute lack of political acumen have chalked a course of doom for them.
Seriously, in these days when information is so easily available and word spreads fast, none of this seems to have penetrated the walls of Matoshree.
It can only get worse for the Sena from here.