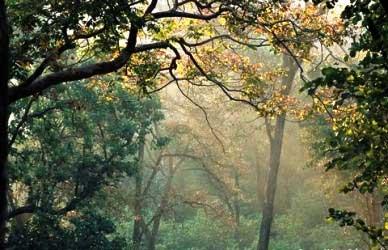 Prakash Javadekar's one year as India's minister of state (independent charge) of environment, forests and climate change has been an unmitigated disaster, says activist Himanshu Thakkar.
Prakash Javadekar has just completed one year as India's minister of state (independent charge) of environment, forests and climate change. How does one evaluate his performance in this one year?
To start this assessment on a positive note, let me say at the outset that I was very surprised one afternoon this summer to find a smiling Javadekar walking towards the escalator at Jor Bagh metro station in New Delhi. While this looked not only strong in symbolism, it seemed to suggest more virtues in terms of simplicity and accessibility. Let us see how much these values are reflected in Javadekar's performance.
The basic responsibility of an environment & forests minister is protection of environment & forests. So Javadekar's performance should be evaluated based on what he has done for the protection of environment and forests.
This can be done in various different ways. Firstly, one can see what explicit action the minister has taken for the protection of environment. It is difficult to find any significant steps in this regard.
Has he taken any step that would harm the cause of the environment? The biggest threatening action for environment of the country from Javadekar year is the constitution of the TSR Subramanian panel to change the basic legal architecture of India's environmental governance. The whole effort, as TSR candidly accepted, was for making the business easy.
This reflected poor understanding of what ails environmental governance in India. The whole process of the way the TSR committee was formed, the way it functioned and the way the environment ministry has gone about dealing with the recommendations of the committee shows how little respect it has for the people of this country.
What is really required is to strengthen the environmental governance, and here was an effort to dilute all the key laws and institutions that too in most non transparent, unaccountable, ambiguous and pro-business way!
A major responsibility of the ministry is administering and according environment and forest clearances to various developmental projects that are likely to be detrimental to environment and forests. So we can look at how the trend of clearances been. While it is true that in terms of rejection rate, Javadekar did not do better than Jayanthi (Natarajan), the numerous attempts at reducing the role of the people by negating even tokenistic public hearing, reconstitution of National Board of Wildlife and Forest Advisory Committee to reduce representation of independent members were not good signs.
Thirdly, one can look at how the government has performed in terms of controlling air, water and solid waste pollution. Here again we see no improvement, nor any credible sign that things on ground will improve in immediate future, unless of course the judiciary takes things in its hands. The government is also trying to clip the wings of the National Green Tribunal, if we go by what the TSR Subramainan report is saying.
We also need to assess how transparent, accountable, democratic and effective has the environment governance been in this year. Towards Transparency and Good Governance is a environment ministry publication listing all that they have achieved during first eight months of the new government, but there is nothing really convincing in this document.
The environment minister is credited with these claims: "The Narendra Modi government has performed miracles on the environment front… we have made process transparent… we have started taking decisions… we have converted the ministry into a facilitating and a very transparent ministry…"
However, the ministry's refusal to conduct public hearings for cumulative impact assessments or making public the report of four-member expert committee on Uttarakhand hydro or agreeing to do downstream impact assessment for Dibang (as also other projects) Hydropower project before giving clearance are only some of the major instances that show how little the Javadekar ministry has value for democratic decision making.
Since climate change was added to the name of this ministry by the Narendra Modi government, one expected them to do bring some focus on this major issue that is already affecting millions of people. Has the Javadekar-led ministry done anything noteworthy in this respect nationally or internationally? We do not see any evidence in this regard.
On the contrary, the reluctance to see climate change footprint in recent unseasonal rains, hail storms and floods that has affected millions of poorest people does not augur well.
Perceptions One can also assess the environment minister based on perception of some of the prominent persons or agencies.
In this respect, the statement of Supreme Court judge Justice Vikramajit Sen at a public function on May 13 is apt: It is the government's duty to protect the environment but they are unable to do so and instead they accuse the judiciary of encroaching upon its territory.
Former secretary, government of India, E A S Sarma said that while the only positive aspect of Javadekar year is that he gets some response of his letters to Javadekar, "Javadekar should realise that he is the minister in charge of protection of the environment, an obligation cast on him by Article 48A. He is more for the industry than the environment." We hope these words of Sarma have some impact on Javadekar since the minister seems to respond to hardly anyone else.
Here it would be useful to note that some of India's recent environment ministers include very interesting names: Bhajan Lal (1984-88), Maneka Gandhi (1989-91), Nilamani Routray (1989-1990), Kamal Nath (1991-95), Suresh Prabhu, T R Baalu (1999-2003), A Raja (2004-2007), Namo Narain Meena (2008-09), Jairam Ramesh (2009-2011), Jayanti Natrajan (2011-2013), Veerappa Moily (2013-14). Only time will tell how Javadekar's tenure compare with those of his predecessors.
However, Jairam Ramesh, arguably the best environment minister India has had, is not known to make comments without substance. His characterisation of Javadekar performance is clear: "On environment, the performance record of this government is very, very dismal."
It is noteworthy that Modi's election campaign prominently featured previous government's environmental governance in the phrase Modi used: Jayanthi tax. The least one would have expected from the new government is to institute an inquiry into this phenomena they called Jayanti Tax. But strangely, there is no move in this direction. One hopes the media will ask the government why it is not following up its most serious charge on the previous government's environmental record. So there are no bure din for those of the political opponents who were charged with corruption.
It is well known that Modi government strongly believes in symbolism. And Prakash Javadekar seems to excel in this regard. On April 25, his ministry and other official agencies organised a one-day workshop where Javadekar was in full flow. In his 45 minute speech there he indicated that he knows how poor are our environmental impact assessments and how all powerful the consultants are. But why is there no action against any of the guilty consultants?
Coming back to Javadekar's metro rides that we started with, it also seems to suggest values of simplicity and access. Will it be too much to expect that Javadekar also open up the ministry and its processes for the people and civil society of the country? Instead of closing the remaining open doors that he seems to be doing? Let us hope he listens to this Mann ki baat!
Himanshu Thakkar is coordinator of South Asia Network on Dams, Rivers & People