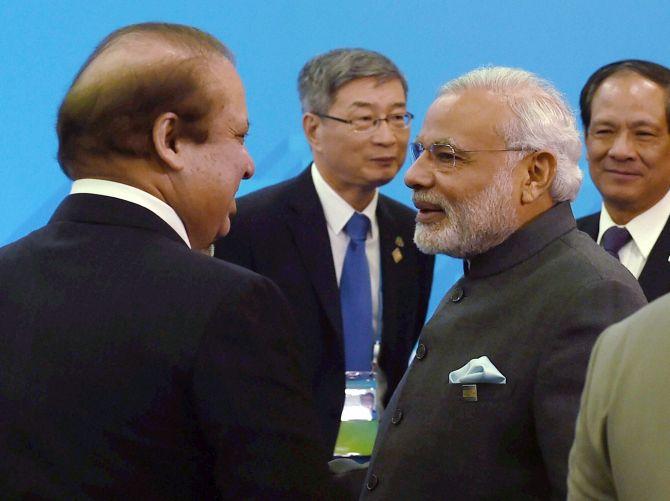 'The softening of India's attitude towards Pakistan -- whatever the compelling reasons -- opens up the BJP to harsh scrutiny.'
'This is a high stakes gamble with the potential for devastating losses,' warns Vivek Gumaste.
In terms of foreign policy formulations, it was a virtual earthquake of a significant seismic magnitude; a volte face nonpareil; a 360-degree reversal that conflicts with everything that the party stood for; an U-turn that collides violently with its own high decibel rhetoric and an abrupt change of heart that suggests a transcriptional error of its native nationalist DNA.
Try as hard as you want to put a positive spin on it, this is the only way you can describe Minister of External Affairs Sushma Swaraj's recent visit to Pakistan that served as a prelude to the resumption of stalled talks between the two inimical neighbours.
After a transitory period of pursuing a hardline policy of ';no talks with Pakistan' that signaled a departure from the unproductive meandering past and held out hope for a decisive future we are back to square one: Sucked back into a meaningless maze of status quo that leads to nowhere.
Terror is no longer the single point agenda of dialogue with Pakistan that India had insisted upon. The 'Comprehensive Bilateral Dialogue' announced on December 9 is to include 'Confidence Building Measures, Jammu & Kashmir, Siachen, Sir Creek, Wullar Barrage/Tulbul navigation project, economic and commercial cooperation, counter-terrorism, narcotics control, humanitarian issues, people to people exchanges and religious tourism.'
And when we agree to discuss everything, we essentially end up resolving nothing.
The immediate question that confronts this change of course is what prompted the current Bharatiya Janata Party government to embark on this seemingly contradictory venture.
Far more important than this obvious query or the factors that triggered this turnaround is the implications of this renewed process of dialogue for the BJP as a party and for the nation as a whole.
Has this move hurt the BJP's credibility and dented the prime minister's '56 inch chest' image? Did the BJP government make the right decision by agreeing to resume talks with Pakistan?
First, one needs to transcend the obvious and skirt the nuances to fully comprehend the hard realpolitik that underlines bilateral negotiations. It is highly inconceivable that the current government would have tempered its stance without being promised tangible results in return. And it is highly unlikely that Prime Minister Narendra Modi would have staked his credibility if the effort was not worth the while.
Nevertheless, having said that, this softening of India's attitude -- whatever the compelling reasons -- opens up the BJP to harsh scrutiny.
Unless a positive outcome becomes apparent sooner rather than later, the Modi government is setting itself up for a major backlash.
This is a high stakes gamble with the potential for devastating losses; a setback would not only result in a loss of face among its core constituency that seeks a no-nonsense firm handling of Pakistan, but would also have serious repercussions at the ballot box.
The BJP is in real danger of being labelled as a B team of the Congress vis-a-vis its new Pakistan policy. So was this a gamble worth taking is the question that the Modi government must mull over.
Symbolic gestures have a place in certain situations. But the temptation to bend over backwards must be avoided. By speaking in flawless Urdu during her recent visit to Pakistan, Sushma Swaraj may have warmed the hearts of her hosts and burnished her credentials as a liberal moderate, but bluntly speaking it was obsequious overkill at its worst; it may not go down well with the BJP's hard core supporters. It was a symbolism the external affairs minister could have done without.
Coming to the crux of the matter: Can Swaraj succeed with the same hackneyed modality of tete-a-tete wherein past efforts have bombed? Or is this another exercise in hopeless futility doomed to certain failure, a gesture of going through the motions with no hope of a positive outcome?
To answer this question, we need to revisit the notion of a hardline policy and re-evaluate the construct of the Pakistani State.
A call for a hiatus in a dialogue with Pakistan cannot be interpreted simplistically as a hostile measure to ratchet up the existing tension between the two nations or a dangerous grandstanding of reckless military jingoism.
Accurately speaking, it is the exertion of relentless pressure via diplomatic channels through studied indifference to achieve a positive outcome. It is a long way from actual warfare.
More realistically, India's hardline policy is a reflection of extreme frustration emanating from its innumerable good faith initiatives; an inevitable impasse reached after years of strenuously pursuing an excessively accommodating approach; a telling and insightful statement on the warped dynamics of Pakistan's internal politics that militates irrevocably against harmony with India.
And that malicious dynamics wherein a puppet civilian government acts as a front for an Indophobic military establishment working through non-State actors still remains firmly in place, making it highly implausible to accept at face value the rationale for resumption of talks.
Prime Minister Nawaz Sharif's recent missive to his ministers to refrain from mouthing anti-India diatribes is a welcome development. But this is an insignificant cosmetic touch to a rot that is far too deep rooted.
To be a credible partner to a dialogue with India, certain changes are vital: One, the civilian government must assert its supremacy over the military establishment; it must set the agenda rather than being a puppet of the generals.
As recently as December 18, Hina Rabbani Khar, Pakistan's former foreign minister made this remark on Al Jazeera English's 'Head to Head' segment: 'The military still plays a bloated role in Pakistan's politics... the prime minister has much less freedom than he ought to have.'
The Express Tribune commented: 'Despite the first-ever successful transition of power from one civilian government to another after the 2013 general elections, the ex-foreign minister believed the powerful military establishment dominates the office of the prime minister.'
Two, the terrorist elements in its midst must be brought to book not as a move to appease India, but as a genuine effort of a legitimate government to uphold the values worthy of a civilised nation.
To demonstrate a good faith effort and further the peace process, Pakistan must convict Muhamad Saeed, the mastermind of the Mumbai terror attacks post haste.
Unless these changes occur, talks with Pakistan will be a dicey proposition that could undermine the government's credibility and blow up in its face. The BJP must tread cautiously.
IMAGE: Prime Ministers Narendra Modi and Nawaz Sharif in Ufa, Russia, in July.