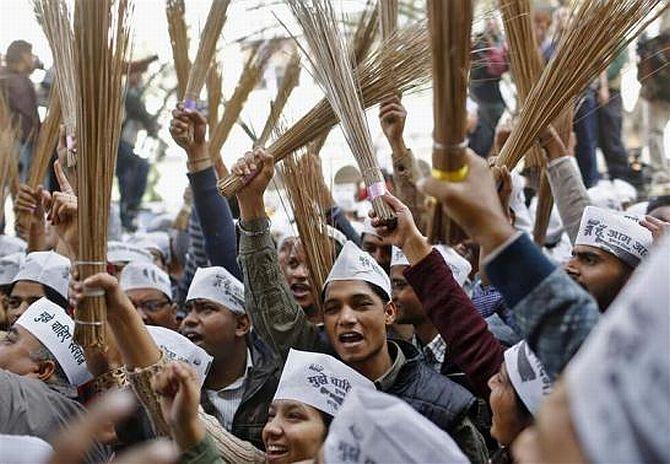 Now that the AAP has turned from an anti-corruption movement to a political party running a government in New Delhi, it may find that the media is no more a collaborator, says Mahesh Vijapurkar.
The media can be a friend or a foe, or if not much of the latter, can at least be a severe critic. The Aam Aadmi Party which came from nowhere as it were and formed a government in Delhi, probably discovered that the old relationship had changed. It had to impose, and then revoke, a ban on media entry into the secretariat.
For the AAP to expect a long, uninterrupted honeymoon with the media which started with its pre-formation days, when its leaders were gung-ho and part of the architecture of Anna Hazare's anti-graft movement, is unreasonable. Nor can the media afford such a relationship to endure after the AAP formed a government.
It may be a hyperbole to say AAP's success has been entirely media-driven but media did have a role, especially television. It helped with the enormous task of reaching out to the public and moulding a pro-people opinion in the country like never before. The idea of alternative politics secured traction.
Of course, TRP-driven television which finds print journalism mostly following at its heels went loud when a government of a people like us (PLUs) was formed in Delhi despite the party being only a runner up. But the media did not do a favour by joining the politicians' chorus asking AAP not to run away from a responsibility which was not its.
But suddenly, the media approach has changed, as it would. The media looks are the AAP with a split prism, one showing a movement that morphed into a government, and another, where a movement becomes a political party. The media is keen on look at AAP for flaws and the AAP is only too willing to oblige.
AAP does not appear anywhere near being alive to this change and is nowhere near changing its strategy in dealing with the media. As the ban and revocation, the boycott of a press conference by as minister showed, it is only stumbling. It is stuck with a media ready to pan it for a minor wrinkle.
The media scrum with microphones, cameras, notebooks and cell phones used as recorders -- earlier around Arvind Kejriwal when he walked and now when he sits side-saddle in a government car, of course sans the lal batti -- but the attention is unsparing. It is a new beat. The media maws demand stories by the minute.
Till the Lok Sabha polls are over, and thereafter dependent on how the fortunes of the AAP swings, the media would remain focused on the party and its Delhi state government. In this context, the AAP needs to gets its act together lest ordinary slip ups do not get magnified into a day's crisis which is how television tends to treat issues.
There have been sufficient such moments already which bear being listed.
Take, for instance, the Prashant Bhushan statement on a Kashmir referendum. It is not as if he had spoken out on the delicate issue for the first time only to retract. In October 2013, he had his face blackened on a similar contention. Kejriwal had to disassociate the party from it.
These 'personal views' which were alright in a public agitation needn't be aired with such aplomb because they cause severe damage to it. One has to recall how the quick-gun Bhushan had a personal view about the AAP support to BJP forming a government within a day of the votes being counted.
We had the row, now denied, between the law minister and the law secretary on the issue of convening a meeting of judges which goes against the protocol. It can be attributed to a misunderstanding the rules of business and attributed to the minister being a newbie, him being a law graduate notwithstanding.
Every uttered word and move made is going to be scanned but an AAP spokesmen had tried to justify that the party was constituted of several individual with several different ideas. There would be a democratic exchange till the individual or the party accepted the others' view. That does not reckon the confusion it can cause.
Transparency is desirable, confusion is not. The leaders, almost all living in Delhi can easily have their regular confabulations and set out clear policies. There needn't be, even if it be from ideologue Yogendra Yadav, a personal view which transforms into a party view without being told if the party discussed it.
To those used to be in power with which has the virtually unlimited capacity to make huge gains for themselves and or inflict difficulties upon others, the AAP government is decidedly an unforeseen crisis. Downsizing trappings of power, removal of the first of its possession being the lal batti, being the first step,would seem to be a serious infliction on their pride.
An outlier in their midst is a challenge to the entrenched players. However, in their cause of self-perpetuation, the Congress and the Bharatiya Janata Party cannot be expected to be kind but harness resources to thwart the AAP. There would be several hard-fought battles ahead.
That is why the AAP has to organise itself to protects its flanks and also deliver body blows to the rivals. It cannot let its guard down for Lok Sabha elections would provide a huge arena for the battles. Since the AAP's support outside Delhi is as yet unquantified, mainline parties have reason to panic.
This provides sufficient scope for laying traps. As a party and a government, they are new to it all and need time to settle down to work, not easy because one section it targets has to be its tool for execution -- the bureaucracy. The AAP had promised a lot without realising that delivery on promises are not easy in such circumstances.
It is in an unenviable position, learning the ropes by being in power and simultaneously running a movement to seize seats in the Lok Sabha a few months hence. Sobriety of being governors conflicts with the urge to be recklessly rhetorical in a campaign mode. If not finely balanced, there would be credibility loss or create confusion.
When the rivals and the media are hawkeyed and ready to pounce on its every word and move, the AAP needs to be careful.