'It is an important and significant election -- but there is nothing make-or-break about it. A victory is always great, but if the BJP wins, it can't make Mr Modi any stronger in his party and government than he already is,' says Shekhar Gupta.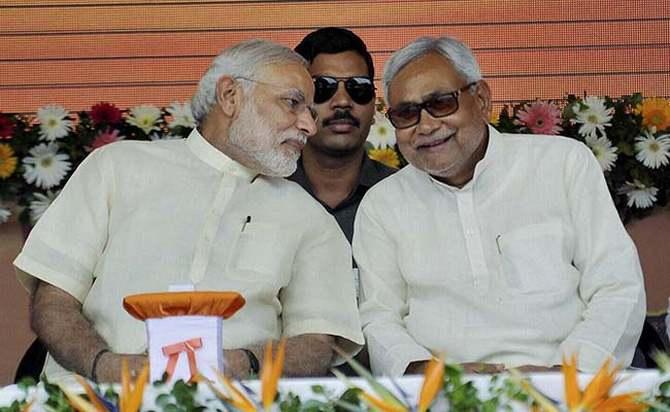 IMAGE: A win will raise Bihar Chief Minister Nitish Kumar's national stature and a defeat can end his career. Photograph: PTI
Two parallel, and sort of identical, images from last Tuesday, September 8, define our political reality. One was Prime Minister Narendra Modi meeting leaders of corporate India at 7, Race Course Road. And the other was Congress President Sonia Gandhi speaking to her party's top leaders. Both meetings were taking place at more or less the same time.
Mr Modi was searching for ideas to shore up faltering economic growth. He was also hoping to restore business confidence when it seems surprisingly shaky, given the huge expectations that the same lot had from him. Again, similarly, Ms Gandhi was apparently brain-storming to revive her party's fortunes and also shore up her party's morale.
My first thought when these images alternated on TV screens, however, was a little different: Which of the two audiences, corporate India or the Congress party, looked more pathetic. Both were deflated, if not defeated. And there is no doubt that none of them, in their respective meetings, would have dared to ask the questions that really mattered to them.
From corporate India to Mr Modi: When are you going to take a pause from campaign mode and return to normal politics and full-time governance? Normal politics means when Parliament functions, laws pass, and when Opposition and ruling party keep squabbling but the government doesn't languish in suspended animation.
From Congressmen to Sonia Gandhi, the questions could be something like: Do we have a revival plan beyond just being an irritating finger in Mr Modi's eye, ma'am? Or in short, what is our politics, going beyond the 'suit-boot' jibe? Second, of course, would have been about Rahul Gandhi's future and the party's succession plans, if any.
The reason I said both sets of people, though powerful, looked pathetic is because none of them would have the courage to raise these questions. Mr Modi and Ms Gandhi have not built or an ecosystem around themselves where even their own could ask questions. They can only applaud the leader, and they do.
The only problem is, what is it that they are given to applaud? In our broken politics today, all they applaud is brilliantly combative speechmaking in one case and straightforward negativity in the other.
India's politics is broken because, in their own different ways, both Mr Modi and Ms Gandhi are still trapped in campaign mode. Never mind that it causes them damage and harms governance. Sonia Gandhi and the Congress seem unwilling to accept the rout of 2014 and also the legitimacy of Mr Modi being in the prime minister's chair. They see no electoral redemption on the horizon -- whatever the result in Bihar and even the states to follow, including Uttar Pradesh in 2017, their role will be marginal. They see the instrument of using scandals to block Parliament as their only politics.
If noise is all it needs to bring Parliament, and thereby a government, to standstill, despite its large majority, the Congress will see it as a low-cost and lazy option. It is too much work to muck around in drought-hit Marathwada to rebuild your politics in India's second-largest state, which you just lost. A party that seriously wishes to bring itself back from the dead won't let a regional political force like Himanta Biswa Sarma in Assam drift to the Bharatiya Janata Party through contemptuous neglect.
Similarly, Mr Modi is trapped in a state of permanent hostilities in spite of the victory of 2014. He has brought along to Delhi the mentality of a leader who fought from the trenches a powerful combination of political, intellectual and activist adversaries over more than two decades, and is not able to move on even after vanquishing them.
Not for him the large-heartedness of a victor or even the thick-skinned nonchalance needed to govern in a noisy political environment. It follows that he is unwilling to do many of the usual things leaders in power do, like give-and-take deal-making, coalition-building around issues and law-making, cutting down negativity, solving with smiles rather than complicating with frowns. For him, as with the Congress, being in a permanent state of war is a lazy and low-cost option.
This is why I don't buy the hype around the Bihar election. It is an important and significant election -- but there is nothing make-or-break about it. A victory is always great, but if the BJP wins, it can't make Mr Modi any stronger in his party and government than he already is. If it loses, it will not make him any weaker. Not yet. The large caste coalition against him is a ready-made alibi, and in any case nothing like the Delhi rout is possible.
The result will not change much for the Congress too. The only leader for whom this election is make-or-break is Nitish Kumar. A win will raise his national stature and a defeat can end his career as, unlike Lalu Prasad, he doesn't own a caste vote-bank. But his rise or fall will have no real impact on national politics.
Once the Bihar campaign is over, politics will return to Parliament as the winter session approaches. Not only would this election have settled nothing, it would have left politics even more bitterly divided, whatever its result. Continuing loss of parliamentary time will impose a terrible cost on India and make Mr Modi lose governance time.
It will not work for the Congress in the long run. It was different when the BJP blocked Parliament under United Progressive Alliance-2. The BJP was then on the rise and while Sushma Swaraj and Arun Jaitley led parliamentary disruption, Mr Modi was working full time to fix politics on the ground. The Congress is now only seen as a bitter loser punishing the voter.
It is a truism that a government is for the ruling party to run and Parliament is an essential part of that. Even for India's economy to get its mojo back, normalcy has to be first restored in its politics. It can't happen unless Mr Modi accepts the idea and makes the necessary conciliatory moves rather than remain fixated on one state election after another.
He is no longer under siege in Fortress Ahmedabad. This is what leaders of corporate India should have told him rather than keeping on repeating the same old pitch for interest rate cuts and banking bailouts. But you know that is as unlikely as Congressmen telling Ms Gandhi that the suit-boot line, though smart, can't be a substitute for patient, old-fashioned politics for the lonely, long haul in opposition.