A promising young actor suffering from depression has had his life laid bare for the grubby public to paw through.
An ordinary family has been pitched into the middle of a nightmare of an investigation and arrested for no reason discernible at present.
And a young actress has had her reputation, and probably career, destroyed so that TRP ratings can soar, notes Sherna Gandhy.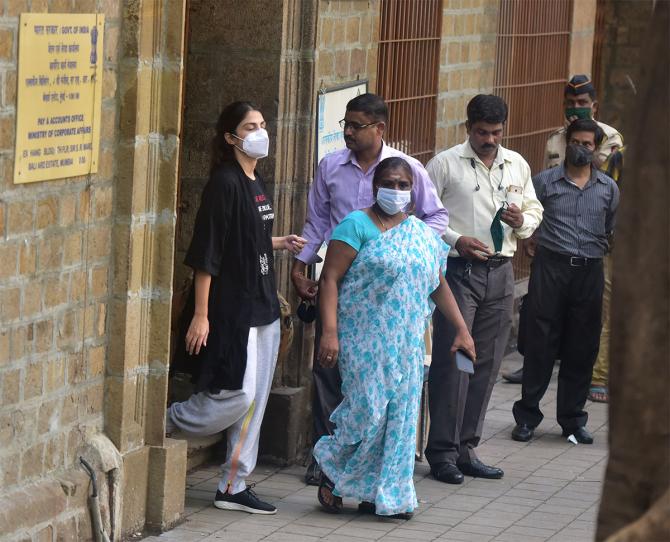 When Rhea Chakraborty's father retired Lieutenant Colonel Indrajt Chakraborty said bitterly that the investigation that was supposed to be into actor Sushant Singh Rajput's death, had effectively demolished his middle class family, he said nothing but the truth.
And it is a truth that should send shivers down the spines of all of us.
What started, quite rightly, as a police investigation into the actor's apparent suicide -- in case of all apparent suicides it is essential to rule out the possibility of murder -- has evolved over two months into a desperate hunt to prove something against his girlfriend Rhea Chakraborty by a bewildering number of federal agencies, a peculiar Supreme Court judgment, and most spectacularly, by the media, which has gone completely berserk.
Acting on a hunch of the late actor's Bihar-based father, the Bihar police registered his FIR accusing Rhea of swindling Rs 15 crore from his son's bank account.
The Supreme Court then directed the Central Bureau of Investigation to investigate the case, which until then was being investigated quite ably but perhaps not vindictively enough, by the Mumbai police.
The CBI is a federal agency, and since we know nothing about how that agency works (and even if we did know, we would not be able to make head or tail of it), one cannot say what it has found though it is more than likely that it has found nothing tying Rhea to Sushant's suicide.
'Abetment to suicide' was apparently what had to be proved, in addition to charges in Sushant's father's FIR of money being swindled by the Chakraborty family.
Since it is notoriously difficult to prove 'abetment to suicide', the money swindling angle soon became the focus of the investigation and the Enforcement Directorate entered the picture.
A wide variety of people have been interrogated -- cooks, accountants, psychiatrists, a hotelier in Goa who says he had never met Sushant, househelps, flatmate etc, etc etc.
Chakraborty and her family members have been interrogated for long hours at a stretch, on several days, something I am not sure is permissible.
All sorts of 'friends' of Sushant Singh have crawled out of the woodwork to put in their two bits worth and get their five minutes of fame.
Chakraborty's mother, father and brother have been booked by the CBI for criminal conspiracy, abetment to suicide, wrongful restraint, etc etc.
In the meantime, Sushant's father ups the ante by releasing a video in which he claims Rhea killed his son by giving him poison!
Since he was sitting several hundred miles away in Patna, I don't know how he knew this, but then the case is full of accusations and counter-accusations of the most bizarre kind.
The ED entered the picture to see if the Rs 15 crore that Rajput senior said had been swindled from his son's accoun, could be detected in Chakraborty's bank account, or if it could find evidence of 'money laundering', the ED's favourite pasttime, though I can't remember the last time anyone was convicted of this crime.
It doesn't look like the ED was having any more luck than the CBI, so in comes the third federal agency, the Narcotics Control Bureau.
Ah, success at last.
I am still trying to figure out why this agency thought it necessary to embroil itself in the case, but then many things about the case are inexplicable.
One way or another the sleuths of the Narcotics Control Bureau managed to get 'evidence' that Rhea's brother, and Sushant's two man servants had been buying marijuana for the actor and arrested the three and several others for procuring drugs or selling them or something like that -- no one is very clear on the exact charges.
The NCB then sniffed around some more and managed to find 'evidence' that Rhea too had a hand in the drugs thing and registered a case against her for consumption of narcotic drugs and for punishment in case of abetment and criminal conspiracy, though how they knew she had consumed anything remains another mystery.
Sounded like using a hammer to crack an egg, but on September 8, the NCB brought in the heavy artillery and arrested her and sent her to judicial custody. She was denied bail too.
The reason for the arrest?
'Rhea revealed her involvement in procurement of drugs and its financial transactions. It is clear that she is an active member of the drug syndicate.' (NCB in its remand application).
Well, well, buying marijuana for Sushant and paying for it has made Rhea part of a 'drug syndicate'.
That's all that three top investigating agencies have come up with thus far after a much hyped investigation into a murder or abetment to suicide or money laundering case.
A woefully small amount considering the grinder that Rhea and her family have been put through
We can only hope that there is more yet to be revealed so we don't think that us taxpayers's money has been entirely wasted.
Poor Sushant's death is forgotten because the far more salacious topic of drug procurement for a person who is now dead has become central to the investigation and the media is hoping against hope that all of Bollywood will somehow be implicated!
This is like manna from heaven for television newscasters who can see the TRPs zooming. As indeed they have been doing since the beginning of this case.
The most sensational rubbish has been spewed by television channels 24x7 and been gobbled up by mindless viewers.
Since I have eliminated Indian news television channels from the bouquet of channels I watch, I cannot describe at first hand the antics of the Indian television news fraternity in the last two months, but I have been sent video clips that have left me open-mouthed in amazement.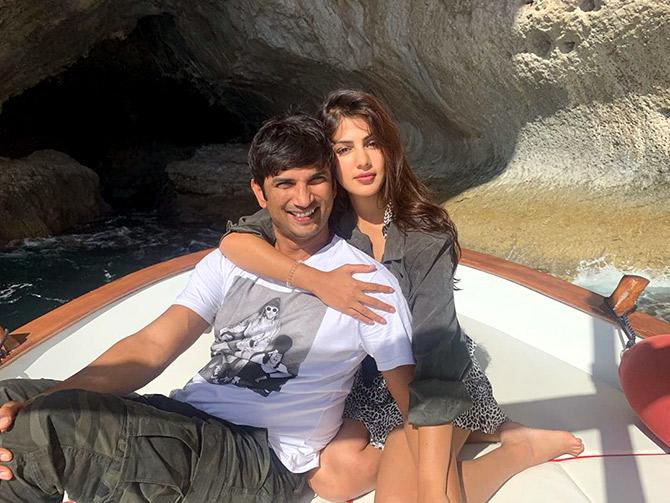 Arnab Goswami poking fingers at the screen as he bellows defiance at Maharashtra ministers, and actor Kangana Ranaut sitting in a throne-like chair, wearing a frothy white gown, and whining about how unsafe she feels in Mumbai (and getting Y-plus security in exchange from a gleeful central government), are astonishing examples of news reportage turning into soap opera.
If you are wondering how these two characters have got into the picture (bear in mind that it all started out as a police inquiry to establish Sushant's suicide), I can only say that the media and those who live by it are super excited to jump into any story that has the potential to put them at centre stage and up their ratings.
There is also a grimy political angle to this but we won't go into that for now.
The media -- television specially and social media too -- bear a heavy responsibility for turning a routine case into a circus, caring nothing for who it maligns, who it tramples over, what lies it tells and what flights of imagination it touches when it 'recreates' scenes it has no knowledge of whatsoever.
More and more, it looks like television persons are yearning for a career on the big screen and being unable to make it, are playing out their fantasies in their newsrooms.
Instead of turning away in disgust, television audiences are lapping it up. According to one survey, English news channels have tripled their TRPs since the Sushant Singh case began.
According to an article in The News Minute, reporters in several newsrooms have protested against the kind of reporting they are being made to do, but senior editors and managements have insisted they keep it up because it is minting them money.
A video clip of a reporter screaming at the top of her lungs at a watchman in Rhea's building, who would not allow her in, was a shocking example of how journalism has deteriorated.
The target of much of the media and social media's venom is Rhea Chakraborty.
A group on Facebook claiming to want justice for Sushant likens Rhea to the coronavirus and one of its members said in an interview that she should be hanged.
A large cut-out of her in a bikini-like top and skirt on the front page of a Mumbai tabloid the day after she was arrested was entirely unnecessary and obviously used to gladden the eyeballs of the salacious.
With truly grave issues such as the stand-off with China, seriously bad economic figures, high unemployment and a COVID-19 pandemic that won't go away, even otherwise sober newspapers have chosen to put the case on their front pages.
Much of the media coverage shows a shocking misogyny, painting Rhea Chakraborty as the villain of the piece for no discernible reason whatsoever except that she seems to be an independent minded woman who had a live-in relationship and stands accused of buying marijuana for her boyfriend.
Sexism continues to bedevil news reporting and people's thinking so that any woman named in a high profile investigation is always assumed to be guilty and the most awful things are said about her.
We saw this kind of merciless persecution in the Aarushi Talwar case, and the Indrani Mukherji case when news channels spouted their own theories of who did the killing and how, as if they were personally present. Ds Talwar was painted as a modern-day Lady Macbeth because she did not cry and was always calm and impassive!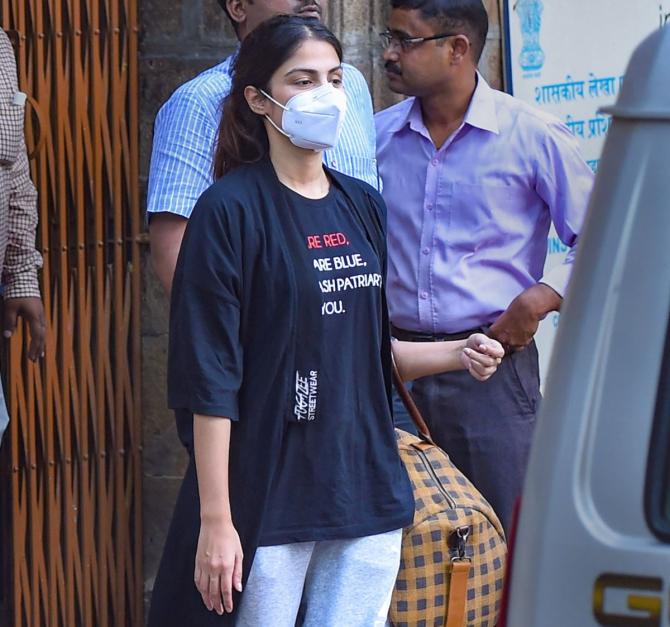 Such disregard for the truth, and what is clearly a trial by media, should claim the attention of regulatory bodies such as the Press Council of India and the News Broadcasters Association, but these are toothless tigers since neither has the power of enforcement.
I said at the beginning that this case should send shivers down our spines. It should because what has happened to this family can happen to any one of us.
A promising young actor suffering from depression and possibly drugs has had his life laid bare for the grubby public to paw through.
An ordinary family has been pitched into the middle of a nightmare of an investigation and arrested for no reason discernible at present.
And a young actress has had her reputation, and probably career, destroyed so that TRP ratings can soar.
Despicable is the only word to describe the antics of investigating agencies, the media, and the public.
Sherna Gandhy is a distinguished journalist and commentator.
Feature Presentation: Aslam Hunani/Rediff.com