If India follows smart cultural diplomacy in Sri Lanka, it has unmatched advantages over both China and Pakistan, says Colonel Anil A Athale (retd).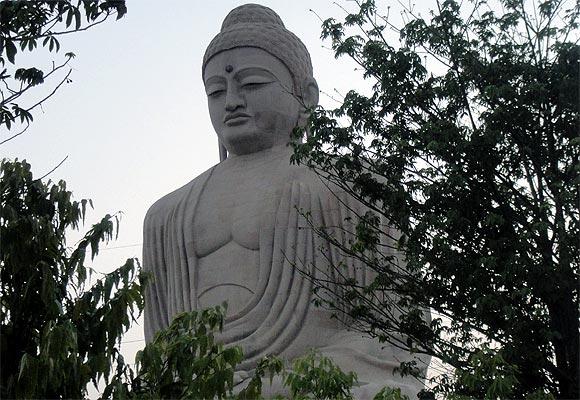 IMAGE: An imposing statue of the Buddha in Bodh Gaya, Bihar, one of Buddhism's most holy sites. Photograph: Archana Masih/Rediff.com
'Buddhists Sinhalas are deeply religious and everyone has a desire to visit Bodh Gaya and Lumbini (Buddha's birth place) at least once,' says Colonel Athale.
The situation in February 2018 was a far cry from that prevailing in 1996 or even 2012.
All the check-posts were gone and Colombo felt like a busy vibrant city. The Chinese presence seemed everywhere, from giant hoardings of various Chinese companies to massive construction going on at the Galle sea face.
The Chinese are reclaiming land from the sea and building a modern high-rise city in the heart of Colombo.
But like in Africa, so in Sri Lanka, there is very little street presence of the Chinese. Their workers stay in labour camps, work day and night on the new city and are transported by dedicated buses.
As one travelled to the interiors, to the east and north, the Chinese presence became virtually non-existent.
The Indian presence in Sri Lanka on the other hand is older, going back to beyond 2000 BC.
But in the fashion of countries like Pakistan or Bangladesh, all traces of its pre-Buddhist past are either obliterated or downplayed.
The magnificent ancient palace in Sigiria (Sinha Giri or lion mountain) dates back to the father of the legendary king Ravana. There are written records of this in Ravan Watha.
But like elsewhere, this ancient history is denied by the Sinhalas and the official Sri Lankan narrative.
Even the Ram Setu on the Sri Lankan side (whose Indian side is at Dhanushkodi in Tamil Nadu) is referred to as 'Adam's bridge' although there is no Biblical connection to it.
Archaeological finds, written records outside India (in Sri Lanka as well as Indonesia) be dammed! Access to the Ram Setu on the Sri Lankan side is banned by the Sri Lankan navy.
The entire Tamil dominated east and north are now peaceful and there are neither any check-posts nor a visible military presence.
At the same time, these two provinces have a large number of military garrisons of brigade strength.
The soldiers seemed to be confined to the barracks and carry out routine military training activity. There is a minimal police presence at major bridges etc.
Tamils seem resigned to their fate and find solace in cultural activity, which is on in full swing.
In Trincomalee, like in any Indian city, a Shiva temple festival was celebrated with loud devotional music (mostly Sanskrit prayers), roadside arches and decorations. One could almost feel one was in an Indian city.
As an Indian, one is pleasantly surprised at the self-discipline of the Sri Lankans.
If you cross a road at a zebra crossing, all traffic halts! Yes, even auto-rickshaws and two-wheelers, that too when no policeman is present.
The countryside is remarkably clean with very less litter.
The Buddhist influence in behaviour-earning merit is evident in low street crime rate. In many ways one saw this in other South East Asian Buddhist dominated countries as well.
Sri Lanka has everything going for itself to become another Singapore.
It has nearly 100 percent literacy, replacement rate of growth of population, sound agriculture, minerals and hydropower resources.
In the 1960s, it was way ahead of India economically and feared illegal migration from Tamil Nadu. What went wrong then?
In terms of sheer longevity, the Sinhala-Tamil conflict is the mother of all, dating back to the 67 BC war between King Elara (after whom Eelam is named) of Jaffna and the Buddhist King Duttagamini of Sri Lanka.
Unlike India, Sri Lanka did not have well-developed political parties at the time of its independence.
The Buddhist clergy was the most well-knit organisation in the country with an influence down to community levels. This was through the control the clergy had over educational institutions.
While not willing to play a direct political role, the clergy nevertheless had its own ideas of how an independent Lanka should be run.
S W R D -- Solomon West Ridgeway Dias -- Bandaranaike and his Sri Lanka Freedom Party provided that vehicle.
At its independence in February 1948, every major group in Lanka was a victim of a feeling of insecurity.
The plantation workers were afraid of deportation, the Moors (Muslims) were afraid of being lumped with the Tamils as they spoke the same language, the Sinhalese were afraid that the Jaffna Tamils together with the plantation workers would dominate them and the Burghers (a mixed race of Sinhalese-Europeans) simply migrated en masse.
The first target of Sinhala Buddhist chauvinism, however, was not Lankan Tamils, but the Christians.
Christian institutions of learning and teaching were discriminated against and forced to close down.
Having achieved success on the Christian front, the next target were the plantation workers who had come to Sri Lanka nearly 150 years ago.
Under the ill-conceived Lal Bahadur Shastri-Sirimavo Bandaranaike (SWRD's wife who became prime minister after her husband was assassinated in 1959) Accord, India took back the plantation workers who were in Sri Lanka for over a hundred years.
Interestingly, in this conflict, the Jaffna Tamils sided with the Sinhalas and not their Tamil brethren.
Sirimavo Bandaranaike played the Buddhist card to win elections.
Imposition of Sinhala as the 'only' official language of Ceylon -- as the island-nation was then called -- was interpreted not merely as a move to deny a rightful place to Tamil, but a direct attack on their 'identity', and not just language.
Sri Lanka was declared a Buddhist State with systematic discrimination against the Tamil minority.
From there on the road to a civil war was inevitable.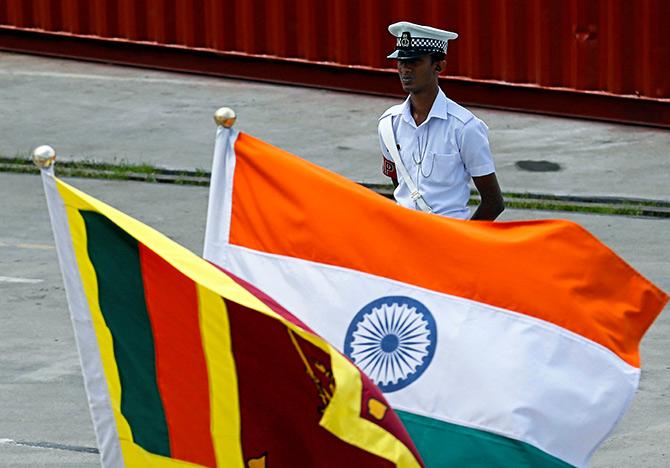 Photograph: Dinuka Linayawatte/Reuters
The Indian approach to Sri Lanka of late has been timid and indecisive, partly out of the memory of the failure of the Indian Peace Keeping Force and Rajiv Gandhi's assassination, but more due to the shrewdness with which the Lankans have used the bogey of China-Pakistan against India.
While in the short run the Lankans may have succeeded, they will suffer in the long run if they get involved in the potential big power rivalry in the Indian Ocean area.
Sri Lanka may yet discover that a giant India is far more benign than the Chinese dragon.
The Chinese built a deep sea port at Hambantota. The port hardly has any hinterland and there was no economic rationale for it.
It was obviously part of the Chinese 'String of Pearls' strategy of establishing naval bases in the Indian Ocean area. Unable to service the Chinese debt, Sri Lanka has now handed over Hambantota port to China.
Sri Lanka's hastily trained and oversized army will also have to be de-mobilised soon.
If the Sri Lankans do not show pragmatism and accommodate Tamil aspirations, the island nation is in for a long night of violence.
All in all, one must describe the situation as interesting and pregnant with possibilities, not necessarily pleasant ones.
It is clear that India's adversaries, China and Pakistan, have concentrated on winning over the Sinhala majority. India on the other hand suffers a double whammy.
The Sinhalas distrust it due to historical memories of Chola invasions, and the Tamils feel that India has stabbed them in the back.
On the other hand, if India is to follow a smart cultural diplomacy, it has unmatched advantages over both China and Pakistan.
Buddhists Sinhalas are deeply religious and everyone has a desire to visit Bodh Gaya and Lumbini (Buddha's birth place) at least once.
Many common Sinhalese asked us about the airfare to Gaya, etc. Luckily, from the Sri Lankan rail head at Talaimannar, the Indian rail head at Dhanushkodi is barely 12 km.
India could offer a dedicated and cheap pilgrim package to the Lankans.
Using that as a lever we must also insist on opening up the port of Kankesanturai in the Jaffna peninsula.
This will stop the current practice of goods from Tamil Nadu and the eastern coast going all the way to Colombo before making their way to Jaffna, and give a much needed fillip to economic activity in northern Sri Lanka.
Jaffna Tamils are the custodians of Indian Shaivaite religion and culture.
It is time we support this effort as precious Indian heritage, preserved by Jaffna Tamils with great effort.
India must emphasise the fact that despite its intervention in the civil war of the 1980s and 1990s, not a single Indian soldier remains in Sri Lanka.
Indians have always supported the unity of Sri Lanka, with adequate safeguards for the Tamil minority.
We have paid a price for it with the blood of Indian soldiers. Nearly 1,200 of who lost their lives fighting the Tamil separatists. There is great need to hammer home this message.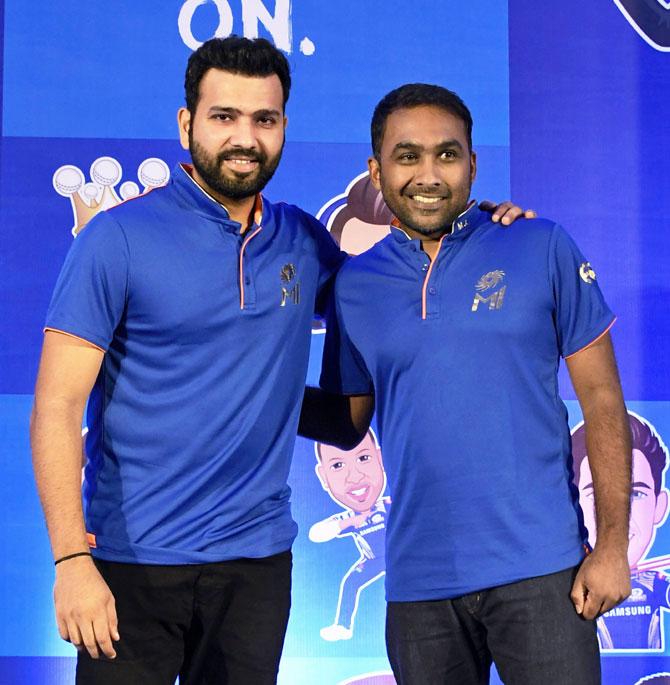 IMAGE: Sri Lanka Mahela Jayawardane, right, one of the finest batsmen of his time, is the Mumbai Indians coach.
Another Sri Lankan, Lasith Malinga, is the Mumbai Indians' bowling mentor.
Photograph: Shirish Shete/PTI
Next to Buddhism, cricket is the new religion in Sri Lanka.
The cricket crazy country has a natural cultural affinity for India. Cricketing ties are already quite strong and need to be strengthened further.
Unlike the Chinese, at the people to people level, India has the advantage of a common language -- English!
All these factors make for a vigorous cultural diplomacy by India.
Luckily, we have a government in Delhi that is not shy of owning up to Indian cultural heritage.
It is time to promote the Indian Ramayan circuit in Sri Lanka and Buddhist tourism (by rail at low cost) in India.
Neither China nor Pakistan really has any answer to this formidable cultural combination of Ram/Buddha and Sachin Tendulkar/Sanath Jayasuriya.
But do the mandarins in South Block have the imagination or the vision?