The Gandhi scion can't be central figure on land bill debate unless he completely changes the way he functions and immerses himself in politics 24/7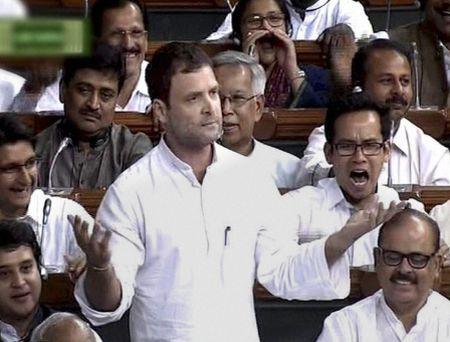 Rahul Gandhi attacking the Narendra Modi government on the land bill in Lok Sabha on Monday. Photograph: PTI
Congress vice-president Rahul Gandhi's utterances, be it in national debates, or on issues which the aforementioned utterances turn into national debates, have followed a predictable and rather tired script.
The dimple cheeked, affable, smiling prodigal son returns, much to the delight of India's Grand Old Party. He then roars and exhorts the masses to take on their oppressors. He gives the impression of taking up cudgels on behalf of the millions of poor, landless farmers (or labourers or, well, just the poor). Congress party supporters go into a collective state of ecstatic seizure. And then he simply disappears from public view.
On Monday, as Rahul led the attack on the Land Acquisition Bill in the Lok Sabha from the Opposition benches, one could not help but wonder if this too was a case of the Gandhi scion doing too little, too rarely. In all fairness, it was a spirited performance, though it was short on numbers and big on accusations, which most political speeches are.
But after a lot of false starts, there is no guarantee that Rahul won't retreat into his official residence on Tughlaq Crescent in Lutyens Delhi, inaccessible to the public, media, and even Congress party workers. He has done it so many times before -- after Bhatta Parsaul, after defeats in state and national elections, after promising to overhaul the party from within, to name just a few instances. Where is the guarantee that this time will be different?
Irrespective of the merits or demerits of the National Democratic Alliance government's amendments to the ordinance which is meant to amend the United Progressive Alliance government's Act, the issue of land acquisition needs a robust, loud, nationwide debate. And the opposition to the government's version of the land law, be it in Parliament or outside it, needs a central uniting figure.
But there is no way Rahul Gandhi can be that figure unless he completely changes the way he functions. Perhaps more than any other profession, politics is a 24/7 job which just does not allow you to switch off. Prime Minister Narendra Modi is a 24/7 politician. And so are various other leaders who carry the kind of political clout that just a family name isn't enough to provide.
Rahul Gandhi, though, does not treat politics as a profession. A pastime, whim, or even a burden, may be, but certainly not something he needs to immerse himself in. Unless he fully owns up to the responsibilities that come with his surname and his position within the Congress, he and his supporters should not claim to represent the interest groups which will be affected by the amendments to the land law. It would be a disservice to them, and to him.
Whichever profession you are in, try taking a 55-day leave, citing the need to introspect. See if your bosses warm to the idea. Even if they accept, you certainly won't be told to deal with a big client or take up a major project immediately after returning. You may not even have a job left by the time you come back.
Why should politics be different?