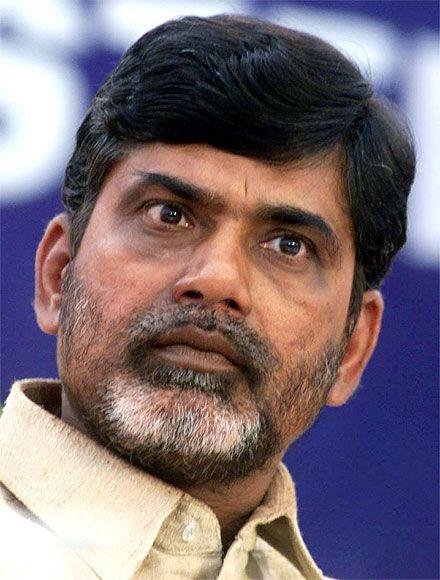 The truth is not that Chandrababu Naidu's centre-right policies led to his defeat but rather almost the reverse: his defeat, and for that matter that of the NDA at the Centre, was widely -- but falsely -- interpreted as a rejection of their economic policies, rather than put down to bad luck and conventional anti-incumbency., say Vivek Dehejia and Rupa Subramanya.

Economic reforms, by definition, imply the State yielding to the market, thereby suggesting a reappraisal of the government's role and responsibilities…. governments need to do less in those areas where markets can perform. Conversely, governments need to do more in those areas where markets alone cannot be relied upon… a lower quantity of government should lead to a higher quality of governance.'
If you were asked which Indian politician spoke these words, you might guess Narendra Modi.

But you would be wrong.

This open avowal of pro-market economic policies comes from 1995, years before Modi appeared in a big way on the political scene, and the speaker was the then finance minister of Andhra Pradesh, Chandrababu Naidu.

We often forget that following the liberalisation of 1991, the poster child for centre-right, pro-market economic policy in India was Naidu. He was a darling of the World Bank, the World Economic Forum at Davos, and the business media. Indeed, Naidu was often referred to as the "CEO" of Andhra Pradesh, much as Modi today cultivates the image of a being a chief minister who's more like a chief executive.

The parallels don't stop there. Those with short memories might think that Modi coined the language of "good governance" and catchy acronyms, but it was Naidu's Telugu Desam Party which came up with 'SMART' (simple, moral, accountable, responsive, and transparent) governance.

Nor did Modi pioneer a technocratic approach to governance emphasising technical solutions to problems of corruption or poor delivery of government services. Naidu's government implemented "e-sevas", which were self-service kiosks that allowed citizens to pay bills and taxes and access certain government services.

The fact that Naidu is not much talked about today is noteworthy indeed given his centrality to the discourse of economic reform in India from 1995 to 2004.

For almost a decade that he was in power, an open advocacy of pro-reform policies -- reform by "proclamation from the rooftops" rather than by stealth as has been the norm in most other states and at the Centre -- was the mantra and political formula of Naidu as chief minister. Almost surely the reason that Naidu is given short shrift today lies in the crushing defeat of the TDP in the 2004 Lok Sabha and Vidhan Sabha elections. This double defeat cast him into the political wilderness, where he still resides.

The flip side of being a poster boy for reform is being a whipping boy for traditional welfarists. A widely held view, especially on the Left, is that Naidu was punished by voters for his reform agenda, which, it's alleged, benefitted the rich at the expense of the poor and was egged on by international donors such as the World Bank.

The oft-repeated Indian trope that "good economics is bad politics" derives at least as much from the 2004 election defeats of Naidu as it does from the defeat of the Bharatiya Janata Party-led National Democratic Alliance in the national elections that year, which too campaigned on its economic policy accomplishments during its time in office ('India Shining').

Superficially at least, the numbers seem to support this conventional interpretation in both the Lok Sabha and Vidhan Sabha contests in 2004. The TDP and its ally, the BJP, saw a significant swing in the vote share against them. This, combined with the magnifying effect on seats of small swings in the vote share, benefitted the Congress and its allies and doomed TDP.

The real question is: was TDP defeated because those who voted against it opposed its centre-right economic policies?

One could easily be misled into thinking so, because Naidu's opponents, the Congress and the Left parties in particular, explicitly attacked his economic reform agenda in the run-up to the 2004 elections, arguing that he was little more than a puppet of the World Bank and international financiers and out of touch with the needs of the poor.

What this interpretation misses completely is that the attack on Naidu's policies was largely tactical rather than ideological. Rather like the BJP and Modi today, the TDP was entirely built around the persona of Naidu, who always took personal credit for his government's reformist agenda, all the better to distinguish himself from his populist and popular father-in-law, N T Rama Rao, who he had ousted in an internal party coup.

Naidu's opponents thus had no choice but to attack his policies directly if they were going to defeat him at the polls, whether or not their condemnation of his policies was sincere. He had built his political brand around economic reform, which became a lightning rod for the 2004 election campaign.

The plethora of post-election surveys reveal that voters were clearly dissatisfied with the Naidu government, but there is no persuasive evidence that the reason for this was a fundamental rejection of his government's policies.

Indeed, the fact that the swing against TDP was across the board -- including among groups that benefitted from reform -- itself disproves the claim that the vote was against Naidu's reformist policies.

Nor is it true that Naidu was some sort of doctrinaire free marketeer who did not believe at all in redistributive welfare schemes. While his emphasis was most certainly on development rather than welfare, he shrewdly deployed popular welfare measures in the mould of NTR as necessary for short-term political advantage -- without, however, blunting his overall reformist agenda. This formula yielded big dividends in previous elections but failed to work in 2004.

The most plausible explanation for the TDP's defeat in 2004 is that it was a victim of circumstance and of its own hype. Andhra Pradesh had experienced four years of drought, leading to real suffering among agriculturalists, including many well-publicised farmer suicides. While Naidu could correctly argue that his economic reform agenda wasn't to blame for the vagaries of the weather, his opponents succeeded in painting him as aloof, uncaring and arrogant.

The truth is not that Naidu's centre-right policies led to his defeat but rather almost the reverse: his defeat, and for that matter that of the NDA at the Centre, was widely -- but falsely -- interpreted as a rejection of their economic policies, rather than put down to bad luck and conventional anti-incumbency.

Having taken ownership of the mantle of reform, it was perhaps inevitable that Naidu's opponents would portray his defeat as representing a defeat for economic reform itself (although, in fact, they continued many of his policies).

The tragedy is that Naidu himself appears to have bought into this interpretation. Indeed, in defeat, he declared his party's agenda was now "pro-poor" rather than reformist.

In this self-defeating recantation of his reformist credentials -- at least as a public stance -- Naidu's turnabout mirrors that of the BJP's central leadership after the 2004 defeat in the national elections.

Setting the record straight on 2004 isn't merely an academic exercise. The absence of a credible non-sectarian, centre-right political party in India today is, we would argue, a direct fallout from this misreading by both the winners and the losers of the causes of defeat of Naidu in Andhra Pradesh and the NDA at the Centre.

C Rajagopalachari and the Swatantra Party might have talked about centre-right economics and politics years ago; Naidu actually did it. Today, there is a vacuum in that space waiting to be filled.
Image: Telugu Desam Party leader N Chandrababu Naidu, the original reforms man.
The authors acknowledge a helpful conversation with Professor K C Suri and others, but authors alone are responsible for the views expressed.