'Anyone on Indian Twitter, Facebook, or any of the other forms of social media that matter (except elite forums like Instagram) understands instantly that it is dominated by upper-caste North Indian men.'
'Other voices are silenced and attacked,' says Mihir S Sharma.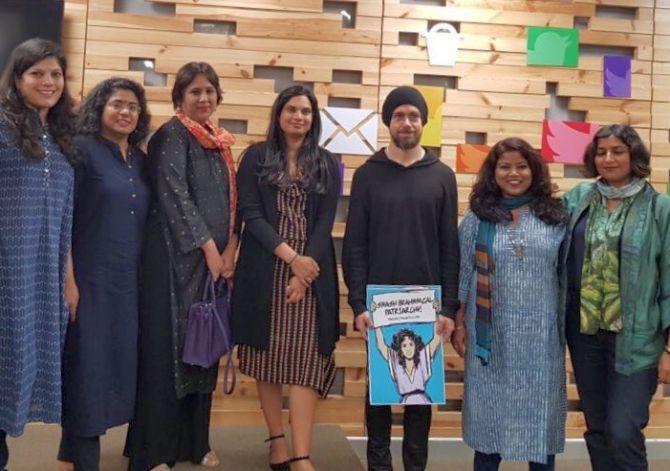 For Twitter Inc's global management, the fallout from the recent trip to India by its head, Jack Dorsey, must have been dumbfounding.
Out of nowhere -- to them at least -- they were embroiled in a typically Indian political kerfuffle, involving claim and counter-claim of hate-speech, whataboutery, insistence that the government should step in, insistence that the government had already stepped in, accusations of bias, intemperate prime-time television shows, and trending hashtags on Twitter itself.
The facts of the case are these: At a meeting with several women activists and journalists, the visiting Twitter leadership team -- looking to do damage control about its reputation as a Web site that hosts bigoted and violent speech -- was told by the Dalit activist Sanghapali Aruna that there was simply no way to report casteist hate speech on the platform.
This fact should not have come as a surprise to Twitter, but somehow it did.
As a mark of support, Dorsey then -- of his own volition -- posed with the women he was meeting while holding a poster made by Project Mukti, Aruna's organisation, that had on it the words: 'Smash Brahminical Patriarchy'.
This was subsequently tweeted -- perhaps at the request of Twitter -- and all hell broke loose.
To anyone who has been awake and literate for the past couple of decades, the notion that we live in a Brahminical patriarchy and that some people want to smash it will not come as a surprise.
But, tragically, this is not quite the world we live in.
Instead, Twitter was inundated with claims that -- get this -- it was Dorsey who was indulging in hate speech because he held up a poster attacking an 'oppressed minority.
Yes, that's right: In today's India, many people with Brahmin names genuinely believe that it is they who are the helpless, persecuted minority.
The attack was led by the helpless and persecuted former Infosys manager Mohandas Pai; the helpless and persecuted former Union minister Manish Tewari tweeted that Brahmins were 'the new Jews'.
This outrage would be funny if not for the fact that many people are deadly serious about it.
There is ample evidence worldwide that those at the top of social hierarchies respond to even a tiny decrease in their cultural and economic power with disproportionate anger.
Many members of Donald J Trump's movement within the Republican Party insist that white people are the victims of genocide, for example.
Across Europe, people systematically overestimate the number of their foreign-born neighbours, terrified that they are losing a monopoly over their neighbourhoods.
In India, upper-caste men retain extraordinary power to shape the national narrative and trajectory -- but even the small efforts at restitution and increasing equality fought for over the past seven decades are seen as an existential threat by many of them.
And thus the claim that an attack on 'Brahminical Patriarchy' is an attack on actual people of Brahmin descent.
It feeds into the desperate desire for an equality of victimhood with those who have been in fact persecuted for thousands of years.
Just for the record: As extensively explained by various historians and sociologists ever since the landmark academic paper by feminist historian Uma Chakravarti in 1993, 'Brahminical patriarchy' is not about 'Brahmins'.
It is about a system in which patriarchy is internalised and propagated, partly thanks to a system of belief that is known as 'Brahminical' because it sought the supposed sanction of religious texts and traditions of which Brahmins were for generations the only permitted interpreters.
The enduring truth of this insight is revealed by the fact that Rajasthan Congressman C P Joshi declared last fortnight that 'only Brahmins understand the meaning of Hinduism'.
There is nothing less like hate speech than a call to end 'Brahminical patriarchy'.
The existence of social media has not levelled the playing field in terms of control of the discourse.
Anyone on Indian Twitter, Facebook, or any of the other myriad forms of social media that matter (except elite forums like Instagram) understands instantly that it is dominated by upper-caste North Indian men.
Other voices are silenced and attacked.
There is no way to fix this except trying to ensure that more people, from more diverse backgrounds, access the digital economy and feel empowered enough to speak up online.
But we should not imagine that the contours of anger on the ground are the same as that on Twitter.
Think of the post-Bhima Koregaon Dalit demonstrations early this year, which were not heralded or discussed online.
Most importantly, companies need to prepare themselves.
Twitter got hammered for doing the right thing, and has ignobly retreated in the face of upper-caste anger.
But other companies in India will have a difficult road to walk.
They will have to balance lower-caste assertion and upper-caste resentment -- and if they kowtow to the latter without giving space to the former, they will find the political system decides to impose reservations on the private sector.
Which will have only itself to blame.