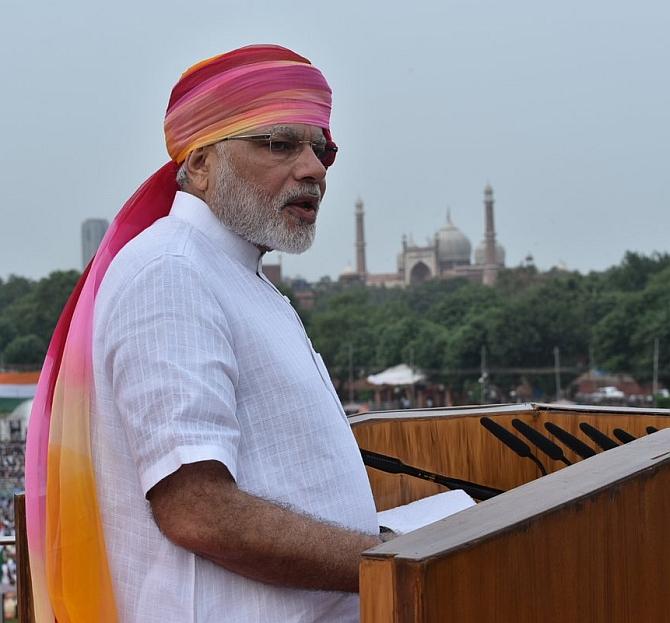 Modi talking about Balochistan, PoK and Gilgit is a tectonic shift in India's policy towards Pakistan, says Abhay Jere.
On Monday, it was extremely heartening to see Prime Minister Narendra Modi talking about Balochistan, Pakistan occupied Kashmir and Gilgit from the ramparts of the Red Fort.
India should have openly supported the Balochistan freedom struggle long ago and should have used the Balochistan issue as an effective lever to counter Pakistan's global propaganda against India over Kashmir, as the atrocities committed by the Pakistani army in Balochistan are far more gruesome and inhuman than the alleged human rights violation by the Indian Army in Kashmir.
According to some estimates, since 2000, more than 20,000 Baloch people (including 5,000 children) have been kidnapped and/or killed by the Pakistan army. Minorities, especially Hindus, have been specially targeted.
Modi talking about Balochistan, PoK and Gilgit can be certainly considered a tectonic shift in India's foreign policy towards Pakistan.
Undoubtedly, our National Security Advisor Ajit Doval has played a major role behind the scene as he always maintained that if Pakistan meddles in Kashmir, then it should get ready to lose Balochistan.
For the last six months, many so-called intellectuals said India's policy towards Pakistan is very 'confused' and the Modi government has neutralised all the gains of the past.
In my opinion, the Modi government's policy towards Pakistan was never confusing. Initially, his government was keen on giving Pakistan enough opportunities before going on the offensive.
Gestures like the prime minister's surprise stopover in Lahore or allowing Pakistan's intelligence team to visit India or meeting Pakistani envoys in neutral venues were all parts of the same strategy.
As a result, the Modi government was successful in impressing upon the world that India has made every possible attempt to normalise its relationship with Pakistan, but Pakistan has not reciprocated in the same spirit.
Moreover, in the last two years through aggressive diplomacy, India has been successful in conveying to the global community that Pakistan is not doing enough to curb terrorists and terrorism.
The global community has started accepting our version that there is nothing like good terrorists and bad terrorists and terrorism in every form should be condemned in the strongest possible terms.
This has resulted in the Americans cancelling the F-16 aircraft deal as well as $300 million (about Rs 2,010 crore/Rs 20.10 billion) in military aid to Pakistan.
Considering some of Pakistan Prime Minister Nawaz Sharif's recent statements eulogising terrorists attacking India and the Pakistan high commissioner's comments with reference to Kashmir, the Modi government has decided to go on the offensive.
More importantly, by talking about the Baloch and PoK people, the PM has sent a clear message to China that India will respect and support sentiments of the native populations of that region.
Currently, China is making huge investments in Balochistan through the China Pakistan Economic Corridor, but the Baloch population is completely against the CPEC as they believe that under the pretext of Balochistan's development, the real objective of Pakistan's government is to crush the Baloch freedom struggle and exploit the region's resources.
Under the CPEC proposal, China will invest $49 billion (about Rs 3.28 lakh crore) to build a network of roads and gas pipelines from Gwadar port in Balochistan to China through PoK, connecting Pakistan to Beijing's Maritime Silk Road, as part of China's ambitious One Belt, One Road initiative.
As part of CPEC, Pakistan handed approximately 2,000 acres of land in Balochistan to the Chinese government for the development of Gwadar port. This area is very rich in natural resources, especially oil and gas, and the Pakistan government is keen on tapping into these resources with Chinese support.
Now that India has openly decided to morally support the Balochistan freedom struggle, it should aggressively highlight the killings of the Baloch people by the Pakistan army and human right violations in Balochistan and PoK in all available international fora including the United Nations.
By talking about Balochistan and PoK, the Modi government has made a very strategic move in its attempts to further isolate Pakistan and China globally.
IMAGE: Prime Minister Narendra Modi at the Red Fort, August 15. Photograph: Press Information Bureau