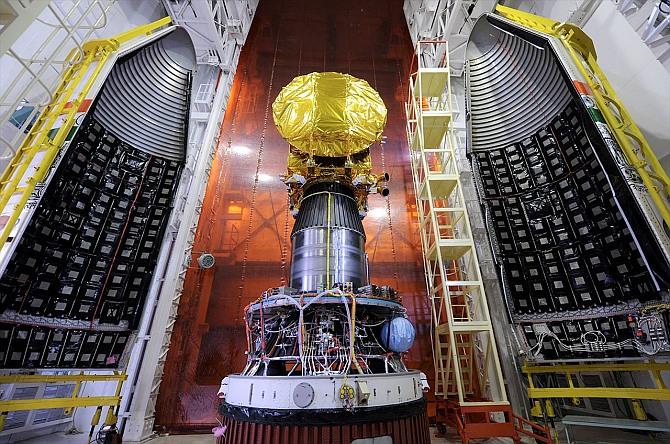 India has made a good beginning in the area of satellite navigation but still there is a long way to go, says Wing Commander Ajey Lele
For many years, India has been mostly dependent on the system developed by the United States called global positing system. Now, India is proposing its regional navigational network constituting of seven satellites to cater for navigational needs in the country and adjoining regions. On October 16, Indian Space Research Organisation successfully launched the third satellite in the IRNSS constellation, the IRNSS-1C, a satellite weighing 1,425.4 kg.
The ISRO is developing a navigation satellite system for the purposes of achieving self-sufficiency in the field of satellite navigation.
In all likelihood, ISRO would be launching the fourth satellite in this constellation by the end of this year, which would allow the Indian space agency to commence the limited navigational services. The IRNSS-1A and IRNSS-1B were launched during July 2013 and April 2014 respectively, and are fully operational.
The launch of IRNSS-1C has yet again proved the ability of ISRO's launch system called the Polar Satellite Launch Vehicle. This PSLV C26 rocket launch is the 27th consecutively successful launch of this vehicle. The success of recent launch speaks volumes about ISRO's professionalism.
India is not the only country in the world apart from the US to develop its own navigational system. Today, major global powers are found to be developing their own satellite based navigational systems, essentially for three reasons: one, to avoid over-dependence on the US; two, openly available GPS 'products' are suitable only for the civilian use and have very little utility for defence purposes; and three, satellite navigation offers various commercial opportunities.
Currently, apart from the GPS, there are three other major satellite navigational constellations which are either operational or in the making. The Russian system called GLONASS is one of the oldest navigational systems and was dormant/semi active for few years, particularly after the disintegration of the erstwhile USSR. However, the system is now operational.
The European Union's system called Galileo was announced with a lot of hope and enthusiasm and the project officially began during 2003, but economic compulsions have delayed this project significantly. Out of the proposed 30 satellite constellations, currently only four operational satellites are out in space (they could launch the first test satellite only by 2011) and it appears that it would take few more years for operationalising this project.
In comparison, China's BeiDou satellite navigation system consists of two separate satellite constellations -- a limited three satellite test system (operational since 2000). A new global navigation system known as Compass (BeiDou-2), a 35-satellite constellation, is being viewed as a system capable of challenging the supremacy of the GPS, and has both civilian and military utility.
It has been reported that its civilian service has a 10-metre location-tracking accuracy while the military service has a far better accuracy. Apart from the People's Liberation Army the military service also facilitates Pakistan's military establishment.
China's fourth-generation Beidou Navigation chips are capable of locating within an accuracy of 2.5 metres, higher than the international standard. The Beidou navigation market is estimated to be around US$ 3-5 billion and likely to grow further.
China's e-commerce giant Alibaba Group Holding Ltd is set to promote the Beidou satellite navigation system for civilian use. A capital of around US$160 million has already been invested, and is expected to increase tenfold.
India's own system has been designed to provide position information mainly over the Indian region and 1,500 kilometres around the Indian mainland. It also offers two types of services -- the standard positioning services (provided to all users), and restricted services (provided to authorised users).
According to ISRO, there are 15 ground stations across the country responsible for the generation and transmission of navigation parameters, satellite control, satellite ranging and monitoring, and other tasks. The seven-satellite IRNSS system is expected to get completed by 2015 and would become fully operational almost immediately.
The total cost of project is expected to approximately Rs 1,420 crore. It is also expected that India would make the regional navigational services available to the neighbouring countries in the region.
Currently, the GPS provides assistance to more than one billion civil users. This system mainly gets used for the purposes of rail, road, air and sea navigation.
It is important to note that various methods are also being used for the purposes of performance improvement of the existing GPS mechanism. This is required because the strength of the GPS signal at times gets compromised owing to weather, terrain and topography, oceanic regions and in some cases also due to the high rise buildings.
To overcome this, differential global positioning systems are developed for enhancement of GPS signals. Such arrangements have been done particularly by countries such as Australia and Canada. For this, ISRO has put in place a system called GAGAN in collaboration with the Airport Authority of India. Two years ago, GAGAN navigational payloads were placed onboard GSAT-8 and GSAT-10. This system provides satellite-based navigation services with improved accuracy for civil aviation purposes.
Exciting days are ahead for satellite-based navigational services. It is expected that this 'skill' would remain at the forefront of both military and civilian technological developments in coming years. India has made a good beginning in the area of satellite navigation but still there is a long way to go.
A fully operational IRNSS would make India self-sufficient in this field and would also help resolve various strategic requirements. However, it is important for India to expand its navigational network further. The civilian market for satellite navigation is expected to expand exponentially.
Also, the increasing military utility of such a system cannot be overlooked, particularly when China is making rapid inroads in this field.
Wing Commander Ajey Lele is currently a research fellow with the Institute for Defence Studies and Analyses, New Delhi.