'The conception of Make-in-India, Skill India, Smart Cities, Digital India, Beti Bachao, Beti Padao and so on show a visionary breadth of mind, and Modi is almost the first political leader in India to put them into effect with single-minded zeal,' notes B S Raghavan, the former civil servant.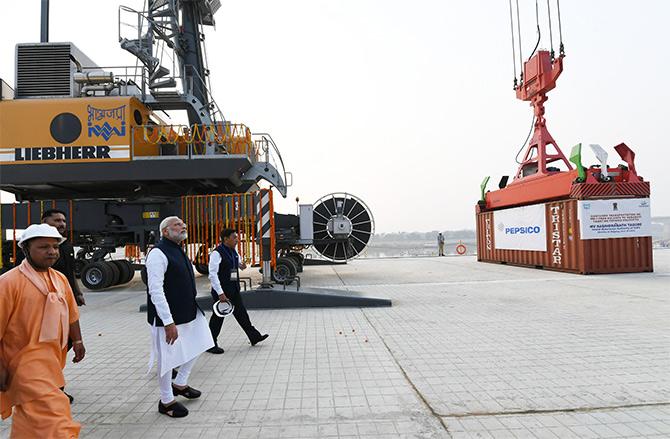 This morning I am feeling exactly like how Gautama, the Buddha, would have felt when, after years of deep contemplation under the Bodhi Tree, he suddenly got his enlightenment.
For long, perhaps like many round the world, I used to be completely puzzled by Narendra Modi's style of political leadership.
This very portal published many articles expressing my befuddlement, if not frustration, at his apparent indifference and total unconcern as to what is said about or against him and his determinedly spurning all contacts with the media, whether in the form of traditional media conferences, or special media interviews, or peopling his plane with media persons during the very many important foreign trips and meetings with powerful world leaders, or even having someone in his staff to help maintain relations with the media and keep them in good humour, or ever issuing even an inconsequential press note.
All of these were and are considered by political leaders everywhere in India and abroad as not only customary but also mandatory to build themselves up.
It was to me, and I am sure, to most in public life and familiar with public affairs a riddle wrapped in a mystery inside an enigma.
For instance, Modi had been hauled over the coals over the 2002 communal riots that occurred in Gujarat when he was chief minister, but he has consistently refused to answer the many accusations of complicity and connivance hurled against the state government headed by him or tender an apology or at least express regret as demanded by many quarters for the riots that happened under his watch.
Indeed, he contemptuously walked out of the television studio during an interview he surprisingly agreed to have with Karan Thapar, when Karan persisted in asking him to explain the actions and measures taken by the state government to contain and put out the conflagration.
He has similarly adhered to the policy of stoic silence whenever there is a public outcry at the outrages committed by fanatical fringe elements over beef eating, cow slaughter and the like, saying at the most, if at all, that it was a matter of law and order falling within the law and order responsibilities of the state governments concerned.
His response has been the same -- tantamount to a very nearly 'Dogs bark, but the caravan marches on!' attitude -- whether they were trenchant criticisms of his government's public policies at one end or virulent attacks on demonetisation and the Rafale deal, imputing all sorts of sordid motives and alleging all sorts of shady goings-on, at the other end.
Contrast all this with the scenario with which all of us are familiar.
Every prime minister (barring Jawaharlal Nehru), and indeed, every ministry and department, had an elaborate outfit to take care of their relations with the media.
Among the more notable were Kuldip Nayar who was close to Lal Bahadur Shastri, B G Verghese, followed by H Y Sharda Prasad, during Indira Gandhi's prime ministership, and Sanjaya Baru who was inducted by Dr Manmohan Singh as his first official act as soon as he took over.
Each of the PMs carried large contingents of media persons in their own, or in separate planes, during their foreign jaunts.
Even the Presidents, who are commonly seen to be ornamental figureheads, rubber-stamping whatever is placed before them, have expensive setups for media contacts.
Jawaharlal Nehru's case was unique in that, as freedom hero, next only to Mahatma Gandhi, he enjoyed public adulation on a nation-wide scale and could almost do no wrong.
The gatherings at his public meetings were never less than five lakhs and often touched double that figure.
He had instant rapport with the masses and they heard directly from him about all that his government was doing.
He stood heads and shoulders above everyone else in his life time, and no media person could measure up to him even by an infinitesimal fraction.
Only the Chinese perfidy, resulting in their invasion of India in 1962 resulting in a debacle which the nation yet finds it hard to forget caused a big dent in the aura of invincibility and infallibility he till then had, but he did not survive the humiliation for long, passing away within two years.
The next Lok Sabha election is fast approaching, and political parties have already begun the Indian-style no-hold-barred, no stops or punches pulled election campaign which, as it reaches a crescendo, is bound to become more and more raucous, if not rabid.
Is Narendra Modi worried?
No, not a bit, not by any length of chalk.
I was racking my brains asking why, until the answer flashed before me like lightning.
I noticed that it was not just criticism to which Modi was impervious.
He didn't take any special effort to tom-tom his achievements as well.
Take, for instance, the Goods and Services Act, the Statue of Unity, the Swachch Bharat and the Jan Dhan Scheme:
Other than the politically prejudiced, incorrigibly perverse and incurably purblind, any genuinely dispassionate person will call them truly historic.
Modi has not been excessively gloating over them (I am told the Sabarmati river waterfront in Ahmedabad, and Varanasi ghats have been impressively spruced up, but there has been no extensive coverage of it).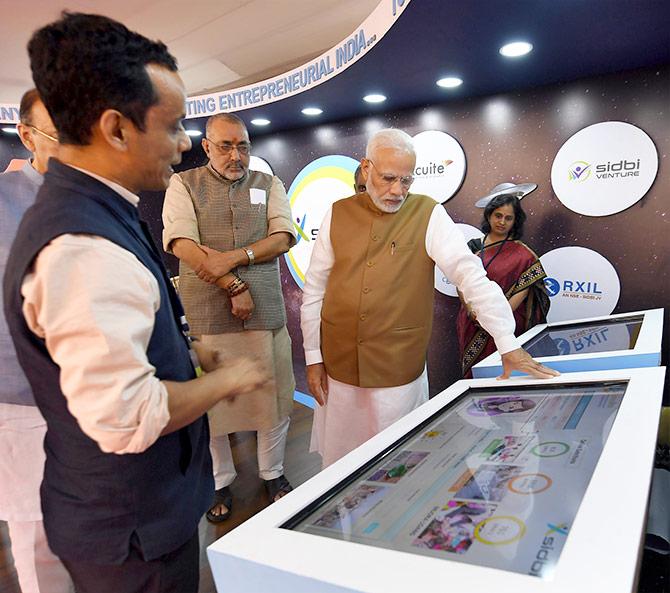 The conception of Make-in-India, Skill India, Smart Cities, Digital India, Beti Bachao, Beti Padao and so on show a visionary breadth of mind, and Modi is almost the first political leader in India to put them into effect with single-minded zeal.
Indeed, he was the first PM to mention the unmentionable toilets and cleanliness from the ramparts of the Red Fort in his very first address after taking over in 2014.
The driver-less Train 18 which the other day had a trial run at the speed of 180 kmph is also a first as evidence of Make-in-India.
Reputed international agencies have testified to India successfully notching up a high rank in Ease-of-Doing-Business.
Tax compliance, expansion of the tax base, performance by various government construction and manufacturing agencies and the overall state of the economy are visibly on the rise.
Modi has been pitching for making Ease-of-Living and dealing with bureaucracy one of his conspicuous planks.
Recently I read the account of a pleasantly stunned Indian visitor to the Indian embassy in Australia who was at a loss for words describing the speed with which he was attended to and his purpose served.
The image of our diplomatic establishments abroad and the harassment to which they subject fellow Indians are proverbial.
Such pleasant experiences are not yet commonplace in India and people still hesitate to approach a government office or police station, but some signs of improvement are visible as the first shoots of what might become a shady tree.
More than all, apart from the Congress vainly trying its worst to paint the Rafale deal as being full of hanky-panky, with nobody believing it, there is no foul odour of corruption emanating from the corridors of power at the Centre.
No doubt, Modi will mention all of these in his election speeches, but he has not been seen going about making a song-and-dance about them
His style is to let actions speak for themselves and to delegate in totality but enforce accountability by closely and quietly monitoring and reviewing performance from behind the scenes so that everyone functions at full throttle.
In short, both the Gandhian precept of 'Karo pehle, kaho peechey' has attained its full flowering in his leadership style.
B S Raghavan, retired member of the Indian Administrative Service, was secretary of the National Integration Council during the prime ministerships of Jawaharlal Nehru, Lal Bahadur Shastri and Indira Gandhi.