'The Congress in 2017 stands for nothing positive, not even secularism,' says Aakar Patel.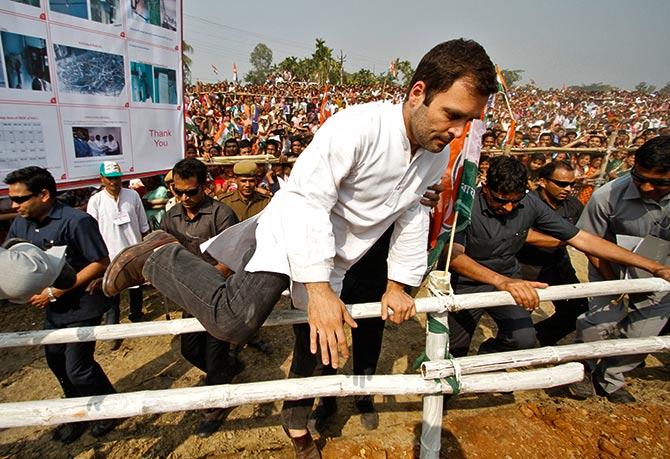 What exactly is the problem in the Congress?
India's oldest party is in its worst position in history and seems unable to revive itself.
Is it in terminal decline or is it awaiting renewal through a new leader? Let us examine the issue.
The first thing that seems visible is denial, meaning the belief that it is not in any permanent trouble.
This is understandable for two reasons. One, that only 34 months ago, the Congress was ruling India with a plurality of seats.
A Congress PM had ruled for 10 straight years, the first time this had happened since Indira Gandhi in the 1970s.
When such a period ends it is only natural to assume that this is temporary and that in time the electorate will turn again to the party.
The second reason is that in any family-controlled party, the courtiers or durbaris are not themselves popular figures.
They have no incentive to tell the truth to their leadership, nor are they themselves aware of ground reality since they have no pressure to do any mobilisation.
The second problem is not really a missing leader but a lack of narrative.
It is true that Narendra Modi is highly charismatic, a word which means leadership that inspires devotion in others.
He is a very good communicator as we all know.
However, his chief talent lies in reduction, meaning he takes India's complex problems and reduces them in an overly simple framework.
For example, he can say that terrorism happens because of weak and cowardly leadership and he will end it.
The fact is he cannot as we have found out, but there is no counter narrative.
Modi can define the terms of the political debate so well that even a policy that affects every single Indian negatively, like notebandi, can be effectively marketed as a great triumph against black money, terrorism and counterfeiters.
Rahul Gandhi's inability to produce a strong and compelling narrative is his biggest failure.
His dullness at public speaking and his lack of energy are secondary. He does not have the ability to own Congress success and Modi reversals on NREGA and Aadhar.
The third problem is the absence of a cadre on the ground.
The Bharatiya Janata Party has the Rashtriya Swayamsevak Sangh's foot soldiers available to do groundwork.
There are lakhs of them, many of them, though not all, being dedicated and highly motivated.
Till only a few years ago, we would often hear the term 'freedom fighter' used to describe individuals. These individuals were not physical fighters, they opposed the British through civil action coordinated by the Congress.
Someone born in the mid 1930s would have served Nehru and later Indira because of their continued association with the party of freedom, the Congress.
By the 1980s this person, the 'Congress worker', had begun to disappear and now the category does not exist.
The party has no ideology, like Hindutva or Communism, and no particular dedicated social base, like Mayawati or Asaduddin Owaisi have with Dalits and Muslims.
Few Indians have an incentive to mobilise for the Congress.
Because of this reality the local Congress leader must build their own supporter base, with their own money.
This brings us to the fourth problem, which is resource.
Elections require cash, and lots of it.
This cash comes to electoral politics in two ways.
The party collects funding, whether through official donations, membership fees or corruption.
Part of this is distributed to candidates and some sent to a general pool for national advertising, travel and rally costs and so on.
The second is the personal investment made by candidates.
I am revealing no secret when I say that it needs more than Rs 10 crore (Rs 100 billion) to fight an election in local assemblies and for Parliament the figure is much more.
The Congress today rules only two large states, Karnataka (which it has a strong chance of losing next year) and Punjab.
These two states cannot generate enough money to sustain the party nationally.
And candidates given Congress tickets no longer spend large sums of their own because what fool would invest heavily in a losing cause?
This has led to terminal decline. The Congress is losing nationally because it has lost states. Even in two party states like Gujarat, where the Congress is in Opposition, it cannot win elections.
The last time the Congress won an election in Gujarat -- whether Lok Sabha or Vidhan Sabha -- was three decades ago.
When the current governments of Shivraj Singh Chouhan and Raman Singh finish their term, the Congress will have been out of power in Madhya Pradesh and Chhattisgarh for 15 years. It seems to be permanently in Opposition.
In other states, like Odisha and West Bengal now and UP, Bihar and Tamil Nadu from before, it has even lost the status of a meaningful Opposition party.
Such parties cannot be revived by new leadership. They need a new message and a reason for existence.
The Congress in 2017 stands for nothing positive, not even secularism. Let us accept this.
It applauds the father of a dead Muslim boy who disowns his son's body because he is afraid of our current angry nationalism.
Even in death, the enmity and the hatred remains.
Such parties, with no values and no credibility, have no chance of survival and die, as the Congress is finding out.
Aakar Patel is Executive Director, Amnesty International India. The views expressed here are his own.
You can read Aakar's earlier columns here.
IMAGE: 'Rahul Gandhi's inability to produce a strong and compelling narrative is his biggest failure,' says Aakar Patel. Photograph: Utpal Baruah/Reuters
MUST READ features in the RELATED LINKS below...