He is among the contenders for the top job in the event the BJP gets fewer seats in 2019.
That may have something to do with him picking up the cudgels for Sushma Swaraj when many in the party kept mum, says Aditi Phadnis.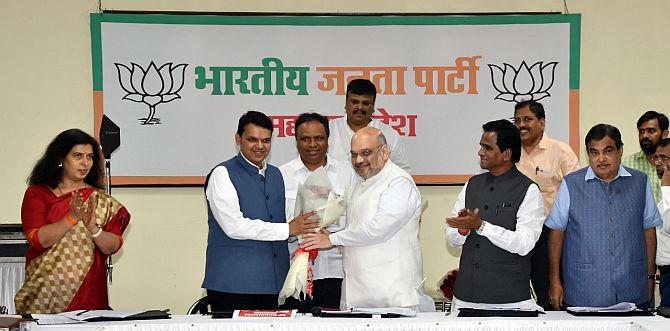 Roads and Highways Minister Nitin Gadkari was one of only two senior leaders from the Bharatiya Janata Party (the other was Home Minister Rajnath Singh) who spoke out in favour of Foreign Minister Sushma Swaraj when supporters of her party attacked her following her intervention to transfer a passport issuing official who asked embarrassing and unrelated questions when a Hindu-Muslim couple applied for their passports.
The officer reportedly asked questions about Tanvi Seth's name on her nikahnama, why she had married Mohammad Anas Siddiqui and why her married name was not endorsed in her passport.
Apart from the fact that nikahnama etc are no longer required to get a passport and a woman can retain any name she wants so long as her identity matches the documents she has presented, the officer is said to have asked intrusive questions.
When Seth tweeted about 'harassment', Swaraj, who was travelling, took action immediately.
Eventually, it was Gadkari who spoke up.
Prime Minister Narendra Damodardas Modi said nothing as abusive and insulting comments choked up social media about a perfectly legitimate intervention by one of his ministers.
What made Gadkari do this?
Does it have anything to do with the fact that his name is one of those circulating for the top job, should the BJP get fewer seats in the 2019 elections?
Originally from Nagpur -- where the RSS also has its headquarters -- Gadkari has been the leader of the Opposition in the Maharashtra Vidhan Parishad, or the Upper House.
He is not known for his vote-catching abilities in the state though he won the 2014 Lok Sabha election from Nagpur, defeating the Congress' Vilas Muttemwar by a huge margin.
The BJP had won from Nagpur only once in 1996 when Banwarilal Purohit had defeated Kunda Vijaykar of the Congress, the daughter of former BCCI president S K Wankhede. Purohit originally belonged to the Congress and had earlier won on the ticket of that party.
Alongside, the BJP won all the assembly constituencies with one of the seats going to Devendra Fadnavis, now chief minister.
Gadkari began life as a small-time contractor for the public works department who prospered and set up several companies.
While building roads in the tribal areas in Maharashtra, he saw how the tribals lived and confessed to having a secret affection for Naxalites.
His experience with government at the time was not happy and shaped his world view.
If you are a bureaucrat and he is a minister, you risk saying 'no' to him at your peril because he knows from personal experience how obstructive as well as malleable the bureaucracy can be.
His career as a contractor and businessman saw him foray into the complex world of cooperatives in the Vidarbha region of Maharashtra, traditionally short of capital which is why the cooperative experiment never took off there.
But Gadkari did start cooperatives in this region. He is the chairman of a group of companies called Poorti, which is into construction and furniture and retail supermarkets.
In 1995, after a career spent pretty much confined to the Upper House, Gadkari became a minister in the PWD.
He did some good work -- creating a scientific methodology of BOT projects by initiating traffic surveys, working out IRR (internal rate of return) and deciding the concession period of toll.
He made the Maharashtra government change the existing rules and formulated a new toll policy amid scepticism and outrage.
His election to the Upper House unopposed in 2002 was cause for heartburn.
He was proud of the fact that he had many friends in the Opposition including various Thackeray factions and Congress leader, the late Vilasrao Deshmukh.
But a section of the Maharashtra BJP felt he had compromised himself politically.
They said he showed a marked lack of enthusiasm for going for the government's jugular when the opportunity arose. They also said this was why no one opposed him in 2002.
Be that as it may, the fact is Gadkari has come to be regarded as a politician who understands issues of the interface of development and politics.
His tenure as BJP president was cut short by corruption charges that could never be proved and were largely a result of machinations by his party colleagues.
When he was made roads minister, he went about his task with zeal that few ministers could match.
He is considered a minister with a track record of solid performance.
All this gives Gadkari the confidence to speak up when he feels it is the right thing to do.
For this alone, he should be supported.