The Haryana 'incident is a manifestation of a far greater malady -- mobocracy -- that continues to afflict our society,' says Vivek Gumaste.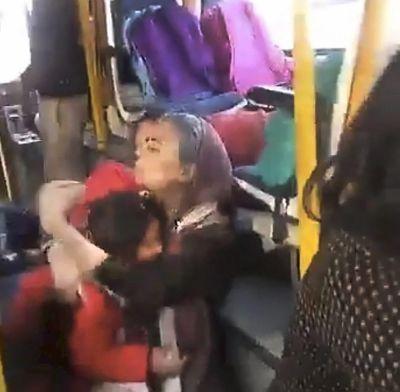 IMAGE: School children cower in fear following an attack on their bus in Haryana, January 24, 2018.
The 'protestors' were agitating against the film Padmaavat.
You can watch the video of how children were traumatised here.
The ghastly attack on a school bus full of cowering children in Bhondsi on the Gurgaon-Alwar Highway on January 24 by wayward goons allegedly from the Karni Sena protesting the movie Padmavaat is a horrendous act that no country, community or people can be proud of.
It signifies a descent into barbaric lawlessness and a disturbing social depravity that no civilised nation can justify or accept.
But to view this incident in isolation in order to castigate the current dispensation is to take a simplistic, naïve and partisan approach.
The present incident is a manifestation of a far greater malady -- mobocracy -- that continues to afflict our society: An illness that warrants objective and careful assessment for prompt remediation.
Public protest is the hallmark of a democracy and should be encouraged. However, this is a fundamental right with a non-negotiable caveat: The repudiation of violence.
Unfortunately, in India, violence and protest have become so inextricably intertwined that violence has become the sine qua non of protest.
The culture of violent protest is so ingrained in our society that it is now the norm rather than the exception.
No cause, community or political party is immune from this malicious virus that threatens our democracy
Violent protest is an anathema to democracy for it violates the principle of constructive debate.
It is blackmail pure and simple: Those exhibiting the most bravado succeed in arm-twisting society into succumbing to their demands however irrational and undeserved.
This is a certain recipe for anarchy and cannot be allowed to pass.
Apart from its Constitutional invalidity, violent protests result in loss of innocent lives and extensive damage to taxpayer funded public property.
When the Dera Sacha Sauda chief Gurmeet Ram Rahim was convicted in August last year, his supporters took to the streets, unleashing an orgy of unspeakable mayhem. Nearly 36 people died and the state of Haryana suffered losses to the tune of Rs 126,68,71,700, as per The Times of India.
In the Dalit protest that followed the disruption of the Bhima-Koregaon battle anniversary in early January daily life all across Maharashtra came to a standstill; scores of public buses were damaged and commercial establishments were compromised.
This culture that now prevails did not happen overnight.
It is the result of our own foibles and deficiencies that stretch back decades.
For one, the repeated capitulation of successive governments to strong-arm tactics has led to the perception that violence pays and avoiding culpability in public violence is not difficult. This has to change.
Second, political parties do not perceive violence as an evil that needs to be unequivocally condemned without any reservations; it is chanced upon as an opportunity to denigrate one's adversaries and put them on the defensive.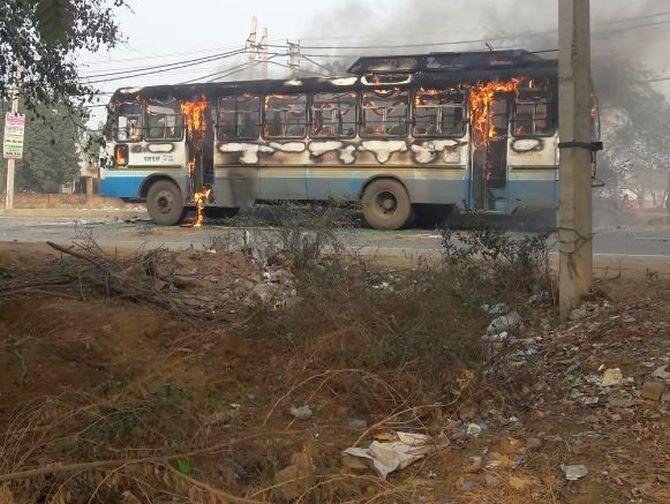 IMAGE: A bus torched by 'protestors' in Gurugram. Photograph: ANI.
Nowhere is this more evident than in the recent response to the attack on the school bus in Haryana.
The chorus of protest that followed was more intent on extracting political mileage as the following statements indicate.
Arvind Kejriwal used this occasion to smear the BJP with a broad brush, never mind the lack of evidence or logic. He remarked: 'They killed Muslims, burnt Dalits alive, thrashed them. Today, they have started pelting our children with stones, have started intruding into our homes. Don't remain silent now, speak up.'
Congress President Rahul Gandhi tactfully refrained from blaming the Karni Sena but instead accused the BJP of spreading hate and violence. He pontificated: 'There will never be a cause big enough to justify violence against children... The BJP's use of hatred and violence is setting our entire country on fire.'
Shashi Tharoor, the flamboyant Congress MP, carried the chicanery a step further. He used the incident to equate Hindutva with Wahhabism, using far-fetched extrapolation that was hard to comprehend: 'If people are going to burn effigies and attack buses of school children just to prevent somebody from expressing his creative freedom, that is something to worry about. Hindutva is like Hindu Wahhabism. It is high time that those of us who are better Hindus than them reclaim Hinduism.'
Political leadership of all parties must demonstrate a degree of responsibility in tackling this problem. This would certainly go a long way in resolving this issue.
However, the one element that would have the most impact on this seemingly intractable problem is the amendments proposed to the Prevention of Damage of Public Property Act, 1984.
This was an act legislated in 1984 to precisely address the issue of mob violence, but proved to be ineffective.
In 2007 the Supreme Court issued a directive to the government to make amendments to this Act to give it more teeth.
The main amendments proposed include:
The amended PDPP Act is to contain provision to make the leaders of the organisation, which calls the direct action, guilty of abetment of the offence which is to be incorporated under section 4B and 4C of the Act.
This addition is based on the conclusion that in almost all such cases of bandh, hartals etc, the top leaders of such organisations who really instigate such direct actions keep themselves in the background and only the ordinary or common members or followers of the organisation directly participate in such actions and therefore are vulnerable to the prosecution proceedings.
Enabling the police officers to arrange videography of the activities damaging public property with incorporation of new section 4D.
With the amendments brought in the Evidence Act, through Act 21 of 2000 permitting evidence collected through electronic devices as admissible in evidence, it will give authority to the in-charge of the police station within the limits of which demonstrations are being held to arrange for videography if s/he apprehends any damage to the public property.
The amendment will also specify the amount to be paid for damaging public property equivalent to the market value of that property, unlike the previous version which provided punishment with a jail term and an undefined fine.
The amendment is also eyeing stringent bail norms such that bail is to be granted only when there are reasonable grounds that the accused is not guilty of the offence.
The changes to the PDPP Act 1984 (external link) are long overdue. The government must act post-haste.
Vivek Gumaste is a US-based academic, political commentator and the author of My India: Musings of a Patriot.