'The corporate world and the private sector economy should take notice of the monstrous and apartheid-like division that exists in our offices.'
'The jobs we so casually take for granted in the upper class have come to us on the back of denial to others,' says Aakar Patel.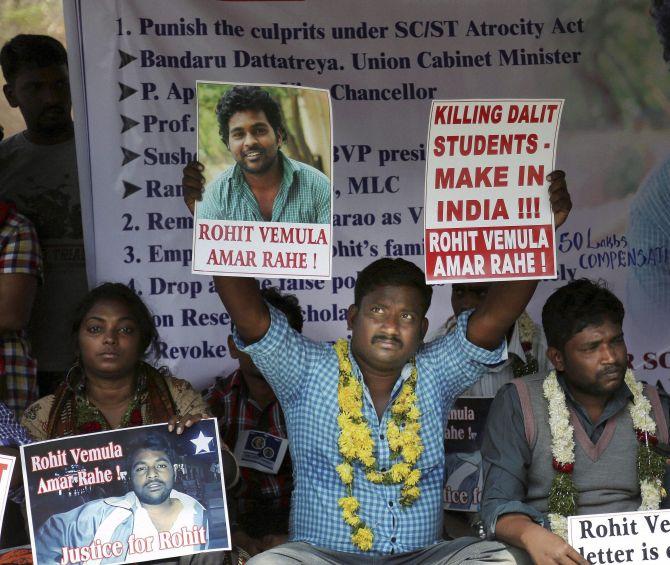 IMAGE: Students during a hunger strike to demand justice for Rohith Vemula's death in Hyderabad last week. Photograph: PTI
The 2011 Census in India showed the population of Indians belonging to the Scheduled Castes and Scheduled Tribes as being over 25 per cent of the population. Of these 16.6 per cent are Dalits and 8.6 per cent are Adivasis. These are the other names by which these communities (whom the British called Untouchables and Tribals) are known.
One fourth of India means 300 million or 30 crore people. If they were a nation by themselves, they would be the fourth largest in the world, after China, India and the United States. But in our white collar economy they have almost no presence.
The main reason for this is lack of access to quality education and historical lack of opportunity for employment. The Constitution has tried to correct this by introducing reservations in educational institutions and government jobs. But the middle class (which means upper caste) Indians of our cities feels that they are discriminated against by reservations and that their 'merit' should not be sacrificed.
I can guarantee that in any major, urban, white collar office the most likely place to find Dalits is in the list of Grade 1 employees. This comprises those who clean. There is absolutely no shame that is felt by these institutions over this fact. Such things are not even thought about. Both Dalits and Adivasis are totally marginalised in our economy and our media.
I am writing about this because of an event in Hyderabad where a Dalit student killed himself. Rohith Vemula, a PhD student, and four others were expelled from their hostel after pressure from the Union government.
They had squabbled with students of the BJP union over the death penalty. This resulted in a Union minister referring to the students as anti-national and casteist (a strange charge against Dalits) in a letter to the minister in charge of education.
This minister, Smriti Irani, demanded action against the students, sending four reminders to the university in a matter of days (one wonders if the ministry show this urgency in other aspects of its work). Following this pressure, the students lost their place to stay and their grants.
There is great dignity in Rohith's suicide note. Like Socrates, who while dying asks that his debt to the deity Asclepius be settled, Rohith asks his friends to settle his debt of Rs 40,000. He also asks that his 'enemies' not be blamed for his action, but the sequence is absolutely clear and there is no doubt why he died.
It is the humiliation, helplessness and the denial of money that made him kill himself.
It is this clarity that has made the story national news. It has also produced an unintended effect. So far a lot of the debate around two things -- the consumption of beef and the death penalty -- was seen in simplistic terms. The dispute was cast as one between the Hindu majority on one side and Muslims and 'liberals' on the other.
The events in Hyderabad show that on both these matters, there is no unanimity or consensus of Hindu opinion. And that it is essentially an upper caste consensus that is sought to be imposed on everyone else.
Dalits and tribals do not have the same anathema towards beef as upper caste Hindus do. And, of course, on the death penalty it is the majority across the democratic world that opposes it. Only a minority of nations still kills its citizens as a means of dispensing justice.
I hope there is a third fallout of this sacrifice by Rohith. And it is that the corporate world and the private sector economy take notice of the monstrous and apartheid like division that exists in our offices. The jobs we so casually take for granted in the upper class have come to us on the back of denial to others.
It is a lie to say that there is equal opportunity in India for education and employment. The voluntary adopting of affirmative action, meaning deliberately selecting candidates from Dalit and Adivasi and minority backgrounds, would make our offices more diverse spaces.
One thing should be made clear to those in the middle class and in the corporate world. It is impossible for India to meaningfully develop while we deliberately hold back the progress of a people equal to the fourth largest nation in the world. It is only with their uplift that India will finally lift itself out of its poverty and destitution.
And all of us, whatever our ideology or school of thought may be, want that.
Aakar Patel is Executive Director, Amnesty International India. The views expressed here are personal.