He is starting to realise that an era is ending. And he is not ready to have a five-decade career besmirched by two alphabets -- AP -- that have cropped up in the AgustaWestland papers, says Aditi Phadnis.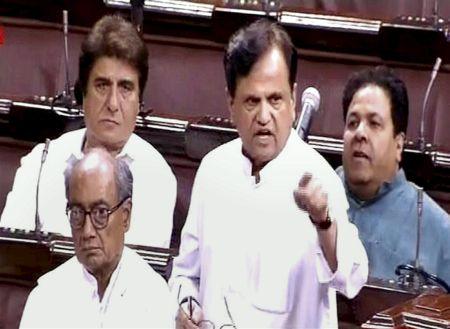 Whether the 'AP' in the AgustaWestland papers is Ahmed Patel or not, two things are clear: There is little about the Congress that Patel doesn't know; and when the Congress was in power, no decision was taken by the government without consulting him first.
He has never been a particularly profound or inspiring politician. His speeches are pedestrian, his interventions sensible rather than brilliant and he is a middle-of-the-road politician, an ordinary man of simple habits. Neither his children nor their spouses have embarrassed him by showing any inclination to join politics. Patel also handles money -- a lot of it -- but it leaves him unmoved.
When the rest of India fell to a wave of anti-Congressism and the Janata Party came to power after the 1977 general election, it was Gujarat that saved the day for the Congress, sending to the Lok Sabha a handful of members: among them, Ahmed Patel. Then under 30, Patel was elected from his native Bharuch district, a region that still swears by him, though it may not elect him from there any more.
The 1977-1979 period is important in Patel's career. Today, when younger politicians question Patel's political antecedents (he has been a member of the Rajya Sabha since 1993) they are probably unaware that he was not just a member of the 6th but also the 7th and 8th Lok Sabha and was president of the Gujarat unit of the Youth Congress from 1977 to 1982.
While his election to the 6th Lok Sabha established him as a political leader of promise, it was during his second term in the Lok Sabha -- 1980 to 1984 -- that Patel really came into his own.
Rajiv Gandhi was being groomed to take over and the young, slightly shy Patel found favour with the young leader. When Indira Gandhi was assassinated and Rajiv Gandhi came to power in 1984 with a 400-plus majority in the Lok Sabha, Patel was promoted rapidly as party apparatchik: He was made general secretary of the Congress in addition to his responsibilities as a member of Parliament.
By 1986, Gandhi had formalised his plan to substitute the older Congress leaders with his own boys. Patel was sent back to Gujarat as the president of the party unit in the state. After Rajiv Gandhi's assassination, P V Narasimha Rao offered him a place in his council of ministers. Patel had lost the Lok Sabha election.
The government -- his government -- was threatening to turf him out of his New Delhi house. It was the middle of the school exams and both his children were taking the boards. An eviction notice one day and a ministership the next? 'Accept something from that man,' his supporters said scornfully of Rao later.
What he did accept, however, was the secretaryship of the Jawahar Bhavan Trust, a project begun by Rajiv Gandhi, visualised as a think-tank for the Congress, but pushed in real earnest by Sonia Gandhi in the years after his assassination. It was Patel who worked tirelessly to raise money and drove contractors and others to finish the project.
The appointment, as can be imagined, gave him a unique opportunity denied to other Congress members -- access to Sonia Gandhi. Unlike Sheila Dikshit, equally close to Rajiv Gandhi during his days in power, or N D Tiwari, Patel did not join the group that tried to break away from the Congress during the Rao regime, although personally and politically he got little from the Rao years of the Congress except membership of the Congress Working Committee.
While he was unfailingly polite to Rao, he never accepted his authority. He never forgave Rao for allowing the Babri Masjid to be demolished and campaigned overtime for his removal when it became clear that there were alternatives to him.
But for Patel those were lonely years, mitigated only by the vast network he had created as a result of holding so many party positions. This was demonstrated most clearly during the party conference in Tirupati in 1993 where, after years, elections were held to the CWC. He got the third-highest number of votes.
There are two previous occasions when corruption charges were voiced against him: And he announced that if they were proved he would quit politics. One was by former Mizoram governor Swaraj Kaushal some decades ago; and the other, more recent, was his role in funding an operation to secure the support of some Bharatiya Janata Party members of Parliament -- to get them to quit their party and vote in favour of the ruling coalition during the final confidence motion against the Manmohan Singh government after the Left parties pulled out.
Patel was exonerated by a parliamentary committee that looked into the incident.
It is not that Patel is a particularly prosperous man. His money belongs to his wife whose family owns large tracts of land in Bharuch and were local zamindars. He himself is fondly referred to as 'Babu' in his village Piraman in Ankleshwar, Bharuch. It was he who encouraged the chemical industry development at Ankleshwar and especially the Jamnagar refinery, something that brought him close to the Ambani family.
But Patel is beginning to realise that an era is ending. And he is not ready to have a five-decade career besmirched because of two alphabets.