'It was never the quality of the CV that defined an incumbent's performance or legacy.'
'It was that other, unquantifiable quality: Stature,' says Shekhar Gupta.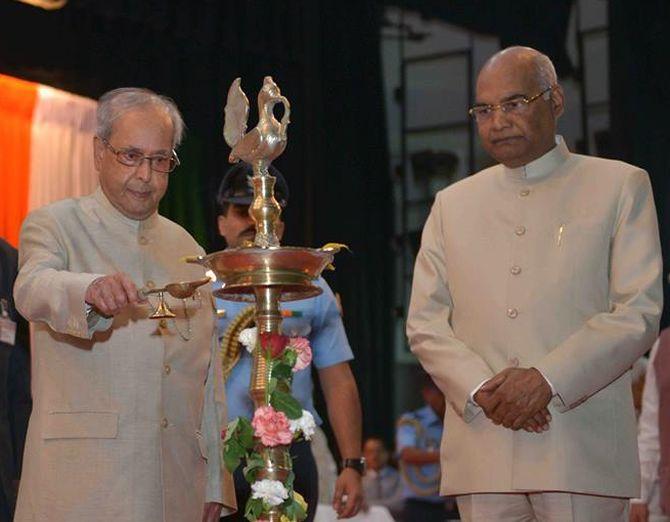 IMAGE: President Pranab Mukherjee with his likely successor, Ram Nath Kovind. Photograph: Kind courtesy @presidentofindiarb/Facebook
Whether Ram Nath Kovind has the credentials to be India's 14th Rashtrapati or not is now a non-question.
His committed backers will read his many achievements in public life 'in spite of' his humble origins, and even those on the margins may echo the answer embarrassed Congress leaders had given when skeletons were tumbling out of the closet of Pratibha Patil's past as she was nominated in 2007.
My newspaper, The Indian Express, was then trawling Patil's past and running a series of exposes on murky dealings in the business of sugar, cooperative banking, and private educational institutions.
Seeking a cessation of hostilities, a senior Congress leader came to see me very late one evening, with a basket of langda mangoes.
"All your reporters' stories are correct," he said.
So why should we stop running them, I asked.
"Because brother, for better or worse, come July 25, she will represent the glory of the Republic. So how does it help to dig all this dirt out and give your President-to-be a bad name?"
Some of the justifications the Congress then produced were comparable to what's on offer with Kovind now.
A long career as a parliamentarian, governor, first woman President (second Dalit now) and, finally, no better or worse than some of the others to have occupied the same position.
The numbers in the electoral college matter, so the Congress and the United Progressive Alliance brazened it out with Patil.
Critics, this columnist included, had warned (external link) that this marked a new trivialisation of what was, after all, a titular, yet highly symbolic office.
We had also warned that there will be consequences, and that a poor and tempting precedent was being set.
We are seeing it play out now.
Kovind may trail Patil in terms of political experience, but he certainly more than makes up for it with his academic qualification, legal track record, and most certainly a blemish-free ledger of personal or family integrity.
You can't grudge him the Presidency for any inadequacies in his CV.
A question, however, needs to be asked: Is a great CV all that one needs to qualify for the highest office in the country?
Conversely, will the lack of one disqualify another?
The succession of India's Rashtrapatis does not follow any pattern of academic qualification, social, or political background.
We had an intellectual giant like Dr Sarvepalli Radhakrishnan, and a largely uneducated Giani Zail Singh.
We have had political giants, such as Dr Rajendra Prasad and Pranab Mukherjee and R Venkataraman, even Neelam Sanjiva Reddy and Shankar Dayal Sharma or a relative lightweight like V V Giri.
We've had a widely respected and admired Muslim politician like Dr Zakir Husain and a forgettable Fakhruddin Ali Ahmed.
We have also seen two professional civil servants K R Narayanan from the foreign service, and A P J Abdul Kalam, a science-bureaucrat.
That pretty much accounts for all the Presidents we have had so far.
You can say with pride that none of them failed to maintain the non-controversial dignity needed of this highest office.
Two prominent exceptions: The Emergency, when Ahmed signed Indira Gandhi's ordinances without reading; and later a short phase when Singh allowed his office to become a den of intrigue against Rajiv Gandhi.
Relatively ordinary men can successfully grow into an office with such organised protocol, pomp, and really not very much of substance to do.
Let's now try a different test. Which ones were our most memorable Presidencies, and which the most forgettable?
We don't need to go so far as the 1950s or 1960s. But those born in the past 50 years, and certainly the millennials would likely not remember that India had a full-term President called Giri in spite of the fact that he became a vital pawn in Indira Gandhi's game of splitting the Congress and destroying its old guard.
And we will all remember Ahmed for the wrong reasons.
For my generation, his Presidency is defined by that brilliant Abu Abraham cartoon with Ahmed in a bath-tub, chest-hair showing, handing out a signed document and pen to his staff and saying, if there are any more ordinances, just ask them to wait.
Ahmed was very well qualified, from an Anglicised old social elite, and checked that all-important 'identity' box as well, as a Muslim.
Top of the memorable ones, on the other hand, will be Kalam, not merely for his vital intervention on Bihar and substantive nudging over some dodgy judicial appointments -- in spite of the collegium -- but also his calming influence over a post-Gujarat riots India in a period also fraught with war-like tensions of Operation Parakram.
Venkataraman and Sharma gave India confidence in the resilience of the 'system' through periods of much political instability and short-tenure governments, some running on daily wages.
Narayanan enhanced the moral and intellectual dignity of the office in a manner comparable to Radhakrishnan, much earlier.
Remember also his dignified confidence in the tricky period when Atal Bihari Vajpayee's government was defeated with one vote and had to lead the war in Kargil as a caretaker.
What was the difference between those we remember with affection and gratitude, those we have forgotten, and a few that we'd rather forget.
The history of our Presidency throws no connection with qualification, political record, caste, religion, or social background.
In short, it was never the quality of the CV that defined an incumbent's performance or legacy.
It was that other, unquantifiable quality: Stature.
Kalam, Venkataraman, and Narayanan had it.
Giri, Ahmed, and Patil didn't.
This is the question about Kovind. You can be raised to any office if you have the numbers with you.
The challenge is to raise your stature to that office.
Under our Constitution, the Presidency is even more titular and unimportant than the governor of a state.
A governor can at least play political games and also exercise real powers in periods of President's Rule.
The founding fathers had intended the Presidency to be the chief patron and symbol of the Constitution, the glory of the Republic.
We shouldn't pre-judge Kovind. As President he will deserve the entire nation's respect due for his office, irrespective of the politics.
Hopefully he will also surprise all sceptics.
Postscript: After saying tough things about Giani Zail Singh, it's fair to recall this example of his brilliant wit and political savvy.
Then Pakistan president Zia-ul Haq, in India on the pretext of watching cricket in February 1987, but actually to calm things with Rajiv Gandhi over Operation Brasstacks, called on Zail Singh and joked (in Punjabi) that now he too had a prime minister (Muhammad Khan Junejo) and was a mere ceremonial president like Zail Singh.
"There's one difference, Zia Sahib," Zail Singh replied, "I know the precise day my job (naukri) will come to an end. You can choose to go on for as long as you wish."
Gianiji demitted office, on due date in July that year.
Zia lasted a year longer, till fate took him down with that C-130 in Bahawalpur.