'"I have heard so much about Bollywood, Excellency... Oh, I am so excited to meet you," said the lady guest from Morocco.'
'We had entered another world.'
'Someone asked what was distinctive about the Method style.'
'The minister sprung up, with his face and features aglow.'
'He began demonstrating how a simple act, say, discarding your shoes is performed differently in Hollywood, under the Stravinsky model, by Brando and in Bollywood.'
Ambassador B S Prakash has fond memories of Vinod Khanna, his minister.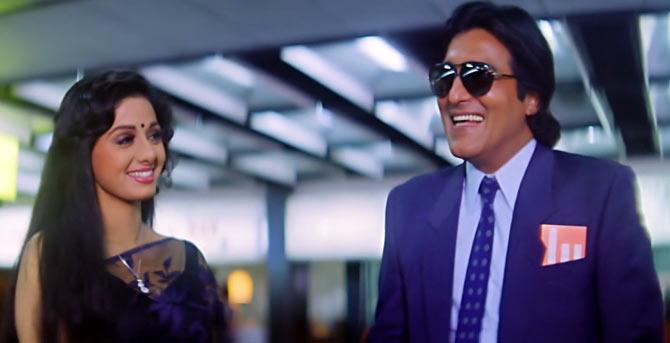 Tributes have poured in for Vinod Khanna, one of Bollywood's greats. He was also among the few who played a stellar dual role -- actor-politician -- with success on both sides of the hyphen.
I worked with him when he was a minister in the ministry of external affairs. My memories after two decades are of fondness and amusement about where we had all found ourselves at that point in time. A story below will explain, but first the backdrop.
In 2004, Vinod Khanna, who had won successive elections from Punjab, was made minister of state -- MoS -- by then prime minister Atal Bihari Vajpayee. I was then a joint secretary, the head of the UN division on the political side in the ministry.
In that capacity, I had to frequently meet the MoS and was often asked to join during delegation level talks with other countries.
My role was to explain India's approach to issues like conflict resolution, peace making or peace keeping, international terrorism, reform the UN Security Council etc.
As is obvious, these are all issues of general interest, non-technical or non-specialist, and are on every agenda.
I found that during such bilateral talks, the MoS seemed to listen and take an interest: Once or twice he even complimented me on my spirited exposition of India's perspective.
Ministers seldom do that.
In the sixties and seventies, like most of India's youth I too had grown up admiring Rajesh Khanna, Dharmendra and Vinod Khanna.
Growing up in the South, their 'fair and lovely' complexion, quintessential Punjabi good features, and rugged handsomeness were uncommon and appealing.
But even decades later, I was still impressed with how Vinod Khanna strode into the ministry, surrounded by his gun-totting security men and sundry escorts.
He oozed sheer masculinity in the sanitised corridors of a ministry in a purely visual sense, if you can imagine.
Normally in dazzling white clothes, and with an impressive mane, he cut a stylish figure. Later, the foreign ministry had other handsome junior ministers -- Omar Abdullah and Shashi Tharoor come to mind -- but Vinod Khanna was the original.
He also had more of the mystique, as if being a Star was not enough.
Everyone knew that in the eighties he had turned spiritual and had dropped his flourishing film career to follow Bhagwan Rajneesh or Osho, as he had come to be known.
Vinod Khanna in ochre clothes; that seemed like a poster to put up in college hostels. And then the political success. He had a persona, all right.
It may have been my imagination or mere vanity, but I believed that the minister liked having me around in his team.
As someone dealing with the UN, my involvement was with no particular country or region or subject. I could be invited to be a part of any team in the foreign office discussions and I found myself often being summoned.
One hot summer Friday around 12, I was told to join the minister at a lunch he was hosting at the Oberoi for a visiting dignitary. This had not been scheduled in the ministry's programme, the details of the visiting VIP were not known to me, and I knew that normally the MoS liked to leave for Bombay on Fridays, to spend the weekend there and return to Delhi on Monday to resume his ministergiri.
When I reached the hotel, I was told that the visitor was from Morocco, was someone influential with the royal family, was a 'special envoy' with the status of a junior minister. The result was that the local ambassador had to arrange some meetings in a hurry.
MoS Khanna had been persuaded to postpone his flight to Bombay and had agreed to host the visitor, albeit with some reluctance.
We had been told that the subjects were generic -- peace, world order and amity among nations. Maybe some discussion on the Palestinian issue as well.
I joined the minister, the protocol officials and a few of my colleagues. The minister was a bit distracted; his mind was already in Bombay and he did not particularly care to spend an afternoon with an unknown Arab emissary from an unimportant country.
As we thus waited in the glittering foyer of the Oberoi, I saw the Moroccan cars sweep into the driveway with the flag flying.
The Moroccan ambassador, whom I knew, descended. And lo and behold, from the other side of the rear seat emerged a diva -- tall, lithe and glamorous, in immaculate Parisian attire.
A peach colored outfit, a Pierre Cardin or some such, elaborate coiffure, and exquisite jewelry that I cannot describe.
She sashayed towards us, all the eyes in the lobby of the hotel glued to her progress, and our spirits including that of the Mantriji rose.
"How nice of you, Mr Minister... Allow me to present Madam... His Majesty's special envoy for Humanitarian Affairs..." the Moroccan ambassador was saying.
The minister with Bombay on his schedule was in his smart-casual mode -- a white linen jacket, chinos, stylish shoes -- and not in the standard kurta-pyjama.
He now assumed the role of the Bollywood superstar courting his heroine, say a stylish Zeenat Aman.
The visitor who had obviously been told by the ambassador that she was to meet not just a minister, but a great Indian heartthrob was equally enchanted.
As they met, she murmured some French terms or were they Arabic? Nobody could be sure: They sounded soft and intimate.
We proceeded for lunch. After the usual pleasantries across the table, there were some formal statements on both sides.
Both spoke about the cordial Morocco-India relations, how close they were and how much closer it should become etc etc.
It was the turn of the officials. I said my piece on major UN issues. The Moroccan official talked about the Palestinians and Western Sahara.
The two leaders looked a bit preoccupied.
"I have heard so much about Bollywood, Excellency... Oh, I am so excited to meet you," said the lady guest, coming into her own. "Do you follow the Method school of acting?"
"When I started my acting career, I was such a fan of Marlon Brando and the Method style," began Vinod Khanna.
We had entered another world.
Someone from the other side asked what was distinctive about the Method style.
The minister sprung up, with his face and features aglow. He began demonstrating how a simple act, say, discarding your shoes is performed differently in Hollywood, under the Stravinsky model, by Brando and in Bollywood.
The talk turned to cuisine and the crafts.
How is couscous cooked differently in Morocco and Tunisia?
Will Egyptian cinema ever have a revival?
For the next ninety minutes, the rest of us listened spellbound, as the conversation sparkled with references to Casablanca, Cannes and the lure of the desert.
It was time to say good-byes.
As the two 'leaders' stood up to shake hands, "it was such a pleasure Vinod..."! When had the MoS become "Vinod"? "Hope our paths cross again."
If this was a Bollywood script, I would follow my imagination and take the trajectory forward.
But as this is a bureaucrat's tale about a minister, I have to report that he took his flight to Bombay as we trudged back to the ministry.
B S Prakash is a former Ambassador and a long-standing Rediff.com columnist.
Please read his earlier columns here.
MORE features on THE AMAZING VINOD KHANNA in the RELATED LINKS BELOW...