'It all became clear when I was asked to lodge myself on the couch in the lounge,' says Kishore Singh.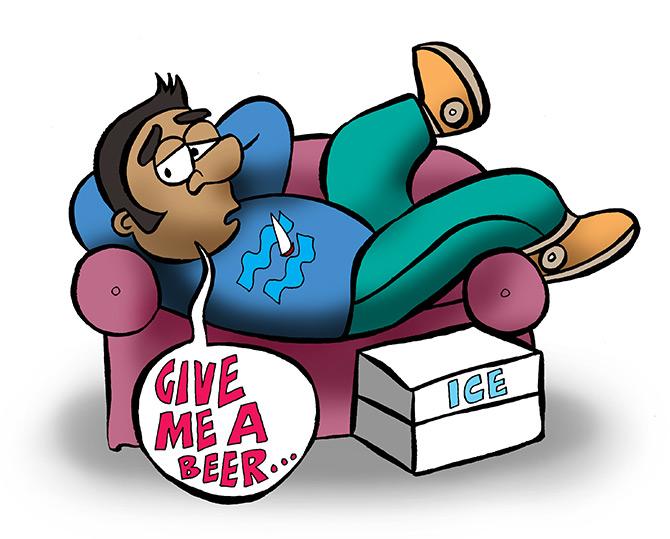 A few weeks ago, I returned from California, which now has the largest number of cases testing positive for coronavirus in the US.
When my wife was testy with me, at first I didn't make much of it, since it is her default setting for the family. But when she began to take up cudgels over small issues such as my inability to tell the difference between kale, watercress and lettuce leaves, I suspected she was snowballing them into fights for a purpose.
It all became clear when I was asked to lodge myself on the couch in the lounge -- I was in quarantine.
"You can never be careful enough," I agreed with my wife, but perhaps she was being a little extreme.
I washed my hands frequently, carried sanitiser in my bag, and even used a disinfectant spray for the toilet seat in our shared washroom. I only balked when asked to eat from disposable plates and have my evening tipple in a Styrofoam glass, though I'd reported no signs of fever, cold, cough or other ailment apart from the chronic fatigue of being constantly under my wife's watch.
"You might be an asymptomatic carrier," she declared grandly, when I protested about the pariah treatment.
I thought that rich, especially since it was my son who was displaying evidence of a dry cough, and my wife who woke up with sneezing fits which she blamed on spring allergies. They'd cough and sneeze in tandem, burying their noses in their elbows -- exactly what WHO has forbidden -- but they are not much for following rules, both mother and son.
It caused my daughter-in-law to despair, though she was as likely a carrier as him, both having recently returned from a vacation in Goa where they were more likely to have mingled amidst travellers and viruses from around the world.
When she tried to coax her husband to go visit a doctor, he declined. "I'm more likely to pick up an infection there," he bandied with his wife. I suspect she may be considering packing him off to the lounge to share the couch with me.
By coincidence, and unrelatedly, my daughter had been in Goa. My wife, pointing out the risk air travellers are exposed to, suggested she stay not with us on her return, but with her brother and his family, since their house is closer to our daughter's office -- thereby putting them at risk.
Because she has never before been solicitous about such matters, my daughter declined, but it doesn't matter anyway since the office decided to self-quarantine staff by asking them to work from home instead.
She has created a working perch for herself on her bed, positioning her laptop and shutting the bedroom door -- "to work", she says, but she's likely bingeing on Netflix.
The cleaning lady hasn't been well, the gardener reported a cold, the cook is hounded by mysterious aches and pains. "We should give them some weeks off," I suggested to my wife, "just in case -- you know..."
"Pshaw!" said my wife. "There's nothing wrong with any of them, they are all faking it."
If they don't show signs of getting to the task at hand, they are in danger of being relegated to the lounge as well.
That's good news, as then I might be allowed back into our bedroom.