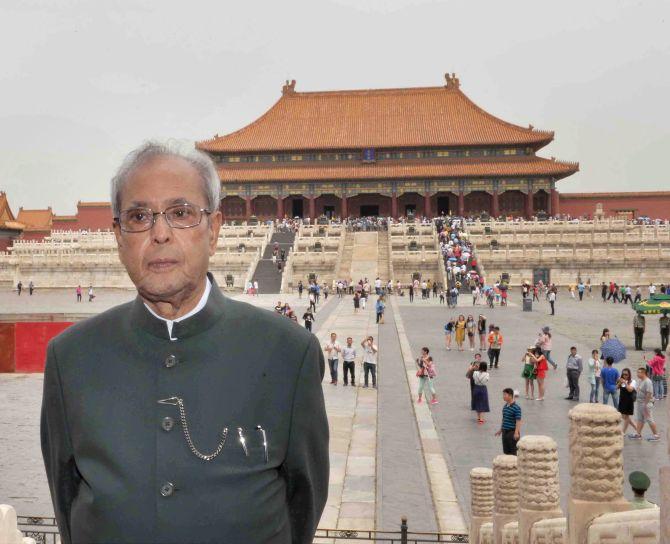 IMAGE: President Pranab Mukherjee at the Forbidden City in Beijing. Photograph: PTI
On his recent visit to China, the President made eminently sensible suggestions to improve relations except that they can't work in the present atmosphere.
Rajeev Sharma explains why.
India and China have learnt to live with their differences -- a fact that was noted when President Pranab Mukherjee was in the Middle Kingdom last month.
China and India quibble over the delineation of the boundary since the 1962 war, though it is a different matter that Chinese troops sometimes stray into what India considers its territory.
After the long period of no talks in the wake of the 1962 war, India and China have been talking to each other -- no matter how sporadically -- for well over 30 years. During that time nothing much has happened that can pave the way for a real all round healthy relationship between the Asian giants.
India and China agreed to expand trade ties, but it is turning out to be a one-way street with India continuously increasing imports from China and China refusing to agree to India's request to open its market to India's IT, pharmaceutical and other sectors to boost Indian exports.
China has firmly entrenched itself in Pakistan, freely using that nation to unsettle India and put obstacles in the way of India's efforts to achieve its full potential as a big power.
Without China's cooperation and help Pakistan would not have been able to position itself as the number one 'nuisance' for India.
The troika of border delineation, the opening of Chinese markets and the China-Pakistan nexus will determine whether India and China move forward in their relations. There has long been a status quo, meaning an absence of booming guns and bomb raining jets at the border and tensions are not allowed to go out of control. But, I feel, this is no 'improvement' in relations.
While waiting for a real improvement in India-China relations, India has also to put up with unfriendly and provocative Chinese actions. Indian nationals from Arunachal Pradesh and Jammu and Kashmir can travel to China only on a 'visa' issued on a piece of paper.
Then there is Chinese torpedoing India's effort to join the Nuclear Suppliers Group and its blatant partisanship at the United Nations in preventing a Pakistani terrorist on being placed on the UN sanctions list.
China's increasing expansionist policies, laying claim to the South China Sea and almost all the islands nearby has threatened international maritime trade. China has asked India to desist from helping friendly countries in the region explore oil and gas in the South China Sea. Surely, these two developments add to the sourness of relations with China.
President Mukherjee reportedly suggested an eight-point plan -- eight 'pillars' -- to improve India-China relations, basing his optimism on 'political acumen' and 'civilisational wisdom'.
These include more people-to-people contacts, exchange of think-tank scholars, and closer partnership to foster mutual cooperation which will discourage the talk of two countries competing against each other.
All these are eminently sensible suggestions except that they can't work in the present atmosphere which remains anything but friendly.
A big factor is the nature of the Chinese polity; China is a one-party State where the entire nation rallies behind the government's view on relations with foreign countries.
People-to-people exchange won't work with China if the citizens of that country are brainwashed to 'hate' those of another country. Public opinion polls in China invariably reveal that most Chinese don't have a favourable view of India or Indians.
Think-tanks in China reflect the government view; they are not known to have independent opinions that may appear to be in opposition to government thinking on various issues. If the Chinese think-tanks have anything to say about India, it is only to repeat the official line which leaves no room for looking for an opening in breaking a deadlock.
In free countries, think-tanks play an important role in Track II diplomacy. It cannot be so in China where little or no flexibility is possible once a decision has been taken.
Any process of achieving a major breakthrough will have to start from the Chinese government. President Pranab's visit seems to have contributed to the process.
How then to deal with China? It's a one-way street and all one can do is wait for a signal from Beijing!
Rajeev Sharma, an independent journalist and strategic analyst, tweets @Kishkindha