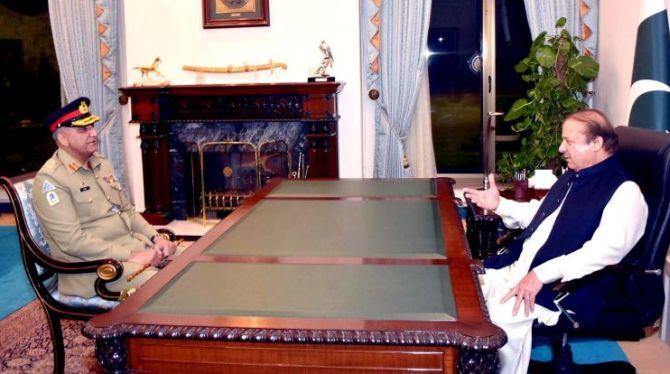 IMAGE: Pakistan Prime Minister Nawaz Sharif with Pakistan's next army chief General Qamar Javed Bajwa in Islamabad. Photograph: PID/Reuters
General Bajwa, who commanded the 10 Corps that looks after Pakistan's border with India, is unlikely to change his army's and nation's policy on Kashmir,' says Ambassador M K Bhadrakumar.
The appointment of the new army chief in Pakistan invariably becomes an edifying spectacle for Indian observers. The 'new normal' -- namely, that a superannuating general calmly and with head held high walks into the sunset -- underscores that Pakistan is getting accustomed to orderly transitions.
Pakistan Prime Minister Nawaz Sharif's choice of General Raheel Sharif as the army chief three years ago proved to be judicious. His choice of General Qamar Javed Bajwa as the new army chief also appears to be motivated principally by the estimation that the general is a thoroughbred professional and 'apolitical' who would apparently leave politics as the concern of politicians.
From the Indian perspective, though, there is bound to be much curiosity that General Bajwa commanded the 10 Corps, which is virtually in charge of the eastern border, and is highly experienced in calibrating Pakistan's posturing toward India in the Kashmir region and responding to threat perceptions. He had served thrice previously as well with the 10 Corps -- as colonel, brigadier and major general.
In this business, no one is a 'hawk' or a 'dove.' The important thing is to keep the nerve and be familiar with the enemy, his ethos and ways, and, of course, the terrain where wars need to be fought, including asymmetrical wars.
Nawaz Sharif could not but have kept this in mind while choosing General Bajwa.
Raheel Sharif acquitted himself brilliantly as the army chief. He took over at a time when Pakistan's internal security situation was extremely fragile. He could salvage the security situation to a very great extent, the odd terrorist attack notwithstanding.
The successful counter-terrorism operations in the tribal areas bordering Afghanistan, stabilisation of the Karachi situation and virtually turning the Baluchistan situation around -- these have been major achievements.
Having said that, one feels tempted to say 'You ain't seen nothing yet' -- to borrow the expression from former Amercian president Ronald Reagan. For, the best days still lie ahead insofar as the counter-terrorism operations are yet to be mounted in right earnest in the heartland province of Punjab.
How General Bajwa goes about it -- that is to say, abiding by the decisions taken by an elected government whose power base after all lies in Punjab -- will largely determine Pakistan's tryst with destiny.
The real turning point will be when Pakistan gets its act together in Punjab not because of India's prime minister or his national security advisor but because Pakistan simply wants to do it in its own interests.
The hopeful part here is that, firstly, China is also closely watching, being a stakeholder in Pakistan's long-term stability, which gives impetus to Pakistan to perform better on the security front, and, secondly, Pakistan's ruling elites, especially the military, seem to have understood, finally, that the China-Pakistan Economic Corridor can unlock the door that opens into a rose garden.
The point is, the CPEC opens a tantalising prospect that while India may keep boasting about its highest growth rate in the world, Pakistan overtakes India on the ground in its overall development agenda -- infrastructure development, job creation and so on.
Quite obviously, the regional security scenario would have been far better if the situation in Jammu and Kashmir hadn't gone out of hand and neither India nor Pakistan had come under compulsion to ratchet up tensions either as a distraction or as a way to complicate matters on the ground in the Kashmir valley.
Having said that, for obvious reasons, it is highly improbable that Pakistan will lower its guard as long as Prime Minister Narendra Modi remains in power.
The fact of the matter is that Modi also is going to be in perpetual election campaign mode right up to the general election in 2019, with a string of important state elections due through 2017 and 2018, which he is determined to win for his party no matter what it takes, to make his own bid for renewed mandate at the Centre credible.
General Bajwa's tenure will be co-terminus with Modi's.
Former Indian army chief General Bikram Singh, who served in a United Nations mission with the new Pakistan army chief, summed up neatly when he reportedly said, 'In the UN operations, Bajwa's performance was totally professional and outstanding. But a military officer's conduct in the international environment is different from the way he conducts himself back home. There, he is governed by his country's national interests. Bajwa has commanded the important 10 Corps in Pakistan. So, he is acquainted with his country's policy towards India. I believe there will be no let-up as far as the Pakistan army's Kashmir policy is concerned.'