The characters in the movie knew that water was of utmost importance.
This is something the BCCI ignored as it insisted that IPL games be played in drought-hit Maharashtra, says Syed Firdaus Ashraf.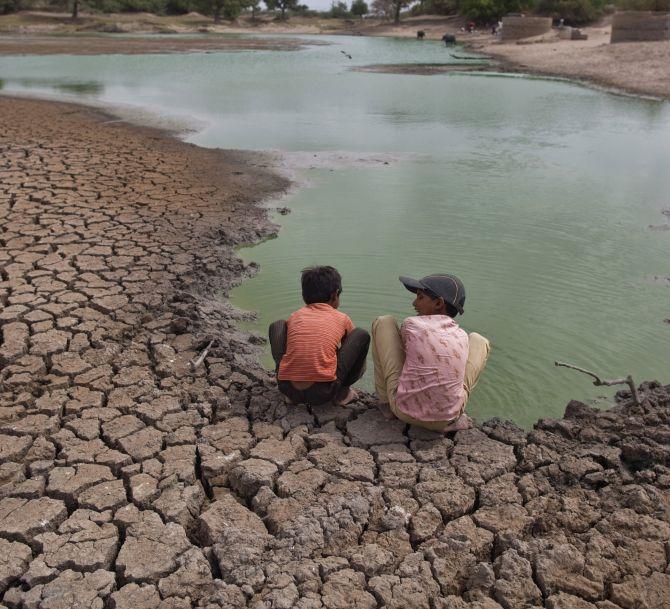 IMAGE: Children at a partially dried-out natural pond. Nearly 9 million farmers in Maharashtra have been impacted by the drought. Photograph: Reuters
As a child, I used to stand in queue quite often at the ration shop, waiting to buy kerosene and sugar for my family. Many a time, we stood in queue for wheat and rice too, which were sold at subsidised rates. In the 1980s, this was not unusual for middle class families as essential goods were always in short supply.
Many from my locality would join me in the queue to get their essential goods from the ration shop.
One day I saw my friend Narayan whizzing past in his chauffeur-driven car while I stood in queue at the ration shop. It was then that a question popped into my head: Why hadn't I seen Narayan standing in queue with me at the ration shop?
Why was it so? Why was Narayan more privileged than the rest of us?
Troubled, I asked a cousin what Narayan had done so differently in life that he was treated unlike the rest of us.
'Narayan is a businessman's son,' my cousin said. 'They are rich and rich men don't eat what we eat.' An answer that rings in my ears to this day.
I then asked what rich men ate to which my cousin said, 'They buy food from the open market and not from the ration shop like us. Food from the open market is more expensive, which we can't afford. Therefore, you have no choice until you become rich.'
By the time my teens arrived, I had learnt much more about the rich and when I heard the ABBA song, it made me rather ashamed to live in a rich man's world:
Money, money, money
Must be funny
In the rich man's world...
All the things I could do
If I had a little money
In a rich man's world...
When BCCI (the Board of Control for Cricket in India) Secretary Anurag Thakur declared that shifting IPL (Indian Premier League) games out of Maharashtra on account of the drought would cost the state Rs 100 crore (Rs 1 billion) I remembered the Swedes' song.
But before I go onto Anurag Thakur and the IPL, let me mention The Jungle Book, a film I saw last weekend.
At the beginning of the movie, all the animals assemble at Peace Rock to drink the last remaining water accumulated there. Even the deadly Sher Khan does not want to harm Mowgli because he knows that in times of distress water came first, food came second.
I guess the characters in The Jungle Book knew something that Anurag Thakur doesn't -- the BCCI boss believes 'IPL entertainment is more important than drinking or eating'!
Thakur -- a BJP MP who represents Hamirpur, Himachal Pradesh, in the Lok Sabha -- was upset that fellow partyman and Maharashtra Chief Minister Devendra Fadnavis said he had no problems if IPL matches were moved out of the state.
Fadnavis' statement came after a PIL (Public Interest Litigation) was being argued in the Bombay high court about the wastage of 60 lakh litres on cricket pitches while people were dying of thirst. (On Wednesday, the high court ruled that all IPL games after April 30 must be moved out of Maharashtra.)
But the case did not appear to bother Thakur and his BCCI ilk. IPL 2016 is worth $4 billion (about Rs 26,000 crore/Rs 260 billion) if reports are to be believed and Rs 100 crore is mere loose change for the BCCI.
Thousands of people are dying of thirst in Maharashtra and I find it shocking that a wealthy organisation like the BCCI can brandish money at an elected government and virtually ask it to buzz off.
Why then do we need Fadnavis ruling Maharashtra? Why did we, the people of Maharashtra, vote the BJP to power? Why not elect the BCCI to rule Maharashtra?
Thank heavens, the high court stepped in on Wednesday afternoon and stopped the BCCI's nonsense.