Nitish should be portrayed as an upholder of political dharma, a leader who had the heart to not sack his senior partner's son even though he was tarnishing his clean image, argues Sudhir Bisht.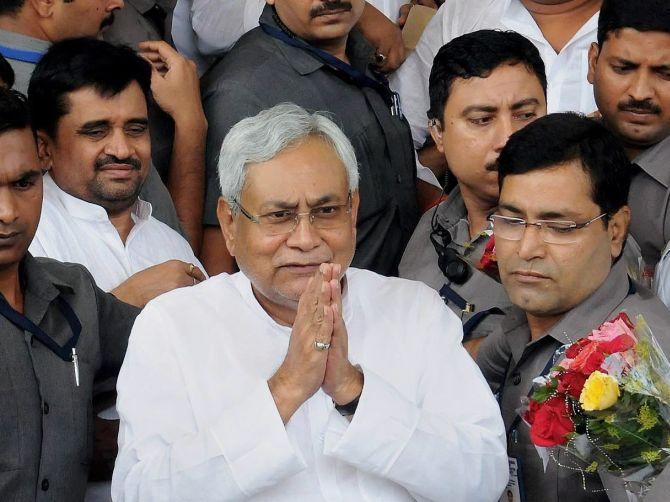 Ever since Nitish Kumar resigned as Bihar chief minister, only to resume duties in less than 24 hours, he has been labeled a 'pretender of morality who eventually shunned the pretence and showed his true colours'.
Rediff.com published articles that were downright critical of Nitish Kumar's jumping off the Grand Alliance bandwagon which consisted of the Janata Dal-United, the Rashtriya Janata Dal and the Congress.
Amulya Ganguly wrote, 'Nitish Kumar's journey from the 'communal' camp to the 'secular' and then back to 'communal' again within the space of four years is not going to enhance his reputation for political steadfastness. Instead, he is courting the danger of being seen as a maverick with no rooted beliefs.'
Mohammad Sajjad wrote on July 28, 'Nitish Kumar knows he has lost his credibility with his opportunistic hopping. He is now a much weaker ally of the BJP (Bharatiya Janata Party) than he was before and more dispensable.'
There was another article, a tear-jerker, by Syed Firdaus Ashraf, one of the columnists I admire but I rarely agree with, who lamented, 'Conscience is dead. Thank you Nitish Kumar for letting us know'.
Mercifully, there's one article by another favourite columnist of mine that doesn't haul Nitish Kumar over the coals, but says, as a matter of fact, that 'Nitish Kumar has only done what any smart politician will do in his place'.
To those who have just returned from Mars, let me put in a nutshell what happened over the last few weeks.
Lalu Prasad Yadav -- former Bihar chief ministe and arguably the most brazenly power hungry, parochial and proven corrupt leader -- was unwilling to let his younger son Tejashwi Yadav resign as deputy chief minister even though he is being probed by the Enforcement Directorate and the Central Bureau of Investigation in a number of cases of corruption.
Nitish Kumar, then head of the Grand Alliance government, had asked Tejashwi to explain his position on the cases of alleged corruption. He hadn't even asked Tejashwi to resign directly, but just hinted at it.
If Tejashwi had resigned, the Grand Alliance government could have been saved, at least for the time being.
But, egged on by his father, Tejashwi didn't explain his position to the CM. He kept saying that the cases of corruption against him date back to the time when he was not even an adult.
Tejashwi had profited politically from his father's legacy by becoming the deputy CM when he was just 26 years old.
He was seen as the inheritor of his father's political fiefdom, but he didn't want to face the charges of corruption levelled against him due to his father's misdemeanour.
Tejashwi could have survived with his logic and it is reliably learnt that Nitish Kumar too would have backed him if he had said that he was not a party to the transgressions that his father had committed.
He could have openly distanced himself from his father and would have survived. But Tejashwi wanted to keep his position and play a perfectly loyal son to his tainted father as well.
Nitish Kumar was then left with no other option but to resign as CM.
It is to Nitish Kumar's credit that he didn't sack Lalu's son. He had the morality not to do so as he had become CM due to Lalu's support.
It was, after all, Lalu's RJD that was (and still is) the single largest party in the Bihar legislative assembly.
Why then should Nitish Kumar be made a fallen man in the eyes of the public?
He should be portrayed as an upholder of political dharma, a leader who had the heart to not sack his senior partner's son even though he was tarnishing his image of being 'Sushasan Babu' or the leader of good governance.
Lalu has been convicted in a corruption case by a court of law. Since he himself can't occupy any position in the administrative machinery, he has been trying to put his wife and his sons and daughters in powerful positions. He was seen to be interfering with the law and order machinery of the state.
Owing to his self proclaimed status as Nitish Kumar's elder brother, Lalu, in association with his cohorts, was conniving with dubious elements to run the state.
A television channel released an alleged taped conversation between Lalu and Mohammad Shahabuddin, the gangster-turned-politician currently imprisoned in Delhi's Tihar jail.
It is also learnt that Lalu, by repeatedly attacking the Union government, was attempting to destroy the working relationship that Nitish Kumar had established with the Centre.
And yet Nitish Kumar didn't utter a single word against Lalu during his 29 months of being the leader of the Grand Alliance. He deserves a lot of credit for his patience and perseverance.
Political writers have scorned Nitish Kumar for teaming up with the BJP to return as the chief minister within hours of resigning. I would again beg to differ. Kumar had been a very successful CM of Bihar from November 2005 to June 2013.
He had ruled the state in collaboration with the BJP. The hard working pair of Nitish Kumar and BJP leader Sushil Modi, his deputy, is credited with giving Bihar the most efficient and unequivocally honest government in recent years.
Bihar saw major administrative reforms and spurts in economic growth under the leadership of Kumar and Sushil Modi.
Kumar broke away from the National Democratic Alliance in 2013 when Narendra Modi was named as its prime ministerial candidate.
He was probably swayed by the successful demonisation of Modi by his opponents. He had perceived Modi to be the ultimate antithesis of secularism and religious inclusiveness.
Kumar's ill-will towards Modi had continued even when he defeated the BJP in a resounding manner in the Bihar assembly elections in November 2015.
However, it took Kumar some time to reconcile to the fact that even if he disliked Modi, he needed to establish a sound working relationship with the prime minister of India.
To his credit, the CM of Bihar did take many personal initiatives in warming up to the PM.
His personal invitation to the PM to be the chief guest at the Prakash Utsav celebration at the Patna Sahib gurdwara was an indication of how much Kumar wanted to leave behind the bitterness of the assembly elections.
On the issue of demonetisation, Kumar supported the PM. He said that he supported demonetisation as a matter of principle.
To Modi's credit, it should be said that ever since he became the prime minster, he has consciously tried to govern India on his avowed tenets of 'India First'.
Even though some crazy, unruly and disruptive elements have tried to propagate some polarising ideas, the prime minister and his Cabinet colleagues and nearly all the members of Parliament -- and I am deliberately not saying all, but 'nearly all' -- have remained steadfast to the idea of India that is pluralistic, all-encompassing and humanitarian in its approach.
Kumar must have done a reality check on the track record of the NDA government at the Centre.
His initial assessment of the BJP under Modi as a party that is out to launch an onslaught on anything that wasn't saffron may have disappeared. He may have seen in Modi someone with whom he can work with for the development of his state.
Kumar, who was facing the moral turmoil of remaining in the proverbial bed of power with a Lalu Yadav -- who was corrupt and an epitome of nepotism to boot -- saw a perfect opportunity of freeing himself in Tejashwi's refusal to even explain the charges of corruption against him.
And he took the plunge when the opportune moment arrived.
I personally believe that Kumar's resigning as Grand Alliance CM and aligning with the BJP is an act of extreme courage. He has invited scorn, disparagement and ridicule, but his conscience remains clear.
Among all the leaders of Bihar, Nitish Kumar is the only one -- along with Sushil Modi -- who isn't corrupt, is not promoting his son or daughter to take over from him and is willing to stick his neck out to lead his state to the progress.
Among all the leaders, Nitish Kumar is the only one who has it in him to convince the people of Bihar that whatever action he takes is in the best interest of the people.
Kumar represents the Bihar that is educated, that is decisive, that is seriously fighting corruption and one that is capable of taking a corrective action mid-course without bothering for the backlash.
I trust the jodi of Kumar and Sushil Modi to make Bihar great again and I am sure that it will have the backing of the people.
Sudhir Bisht, author and columnist, tweets at @sudhir_bisht