'What does the nation get out of the CBI's fabulous infrastructure? Very little that is useful,' says Aakar Patel.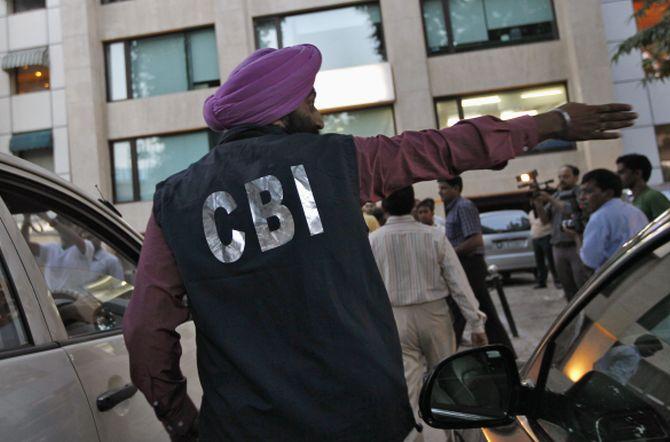 Photograph: Mansi Thapliyal/Reuters
The Central Bureau of Investigation is our elite instrument against crime.
Like America's Federal Bureau of Investigation, the CBI was formed to tackle something specific. The FBI initially was set up to go after Communism, the CBI was meant to take on corruption.
So how effective is it actually? We hear of demand that the 'case be given to the CBI' every time there is something that is in the news.
The CBI is a central agency, reporting to the Union government, unlike the police, which report to individual states.
The FBI today works on terrorism and many other things. The CBI also is supposed to fight crime on several issues. So what sort of cases should the CBI work on? This is not clear and it could be anything.
It could be a murder, merely because it has become big television news (the Arushi case or the Sheena murder), it could be the various things that are called scandals (like the 2G scam or the Nirav Modi scam), and it could be things that have to do with government corruption.
The CBI network comprises of 10 regional zones: Mumbai (looking after Maharashtra, Gujarat and Goa), Hyderabad (Andhra, Telangana, Karnataka), Chennai (Tamil Nadu, Kerala, Pondicherry), Guwahati (Assam, Arunachal, Manipur, Mizoram, Meghalaya, Nagaland, Tripura), Kolkata (West Bengal, Orissa, Port Blair), Patna (Bihar and Jharkhand), Lucknow (UP and Uttarakhand), Chandigarh (Punjab, Haryana, Himachal and Jammu and Kashmir), Bhopal (MP and Chhattisgarh) and Delhi (Rajasthan and NCR).
Then there are Anti-corruption Headquarter Zone, Economic Offences Zone I and II, Bank Security and Fraud Zone, Special Crime Zone, Special Task Force Zone, Multi-Disciplinary Monitoring Agency (which still, believe it or not, till a few months ago was still 'investigating' the assassination of Rajiv Gandhi), the Policy Division, the Technical, Forensic and Coordination Zone and the Central Forensic Science Laboratory, which itself has an impressive 11 divisions: ballistics, biology, chemistry, computer forensic, DNA profiling, document, finger print, forensic psychology, photo and scientific aid, physics and serology.
I was surprised to know this because having been a court reporter, I know that the quality of all forensics material produced by the government in trials is poor.
All in all some 6,000 people work in the CBI. So what does the nation get out of this fabulous infrastructure? Very little that is useful.
The CBI's conviction rate was 65.6% in 2005, 72.9% in 2006, 67.7% in 2007 and 64.4% in 2009.
In 2017, the Lok Sabha was told that the rate of convictions under this government was 69.02 in 2014, 65.1 in 2015 and 66.8 in 2016.
However, these numbers are misleading because they are absolute.
In the book Curbing Corruption In Asian Countries: An Impossible Dream? Jon S T Quah quotes an Indian writer S S Gill as saying about the CBI data: 'If there are 30 cases of heinous crimes and 70 cases of minor thefts, and you get conviction in 60 cases of theft, it would be sheer deceit to claim a 60% rate of success.'
What does he mean by that? This report from a couple of days ago, on March 8, was published under the report 'CBI arrests AIIMS staff on graft charge'.
It said that an individual, K D Biswal, was 'caught while demanding and accepting a bribe of Rs 19,500 from a civil works contractor for clearing pending bills.'
Biswal is an assistant engineer at AIIMS and the report said that the investigating agency also conducted searches at the residential and official premises of the accused.
Is this the sort of thing that we think of when we hear the words 'CBI'? Probably not. But this is where most of the convictions come from.
The CBI's rate of convictions on major crimes is 3.96% according to Vigilance Commissioner R Sri Kumar.
The other problem of the CBI is that of institutional mischief.
The CBI's founding director D P Kohli, said 55 years ago to his team that 'The public expects the highest standard from you both in efficiency and integrity. That faith has to be sustained. The motto of the CBI - Industry, Impartiality and Integrity: These must always guide your work. Loyalty to duty must come first, everywhere, at all times and in all circumstances.'
The CBI has not met these high standards. Indeed, they are part of the problem and not the solution.
In their book Scam: From Harshad Mehta to Global Trust Bank, Debashis Bose and Sucheta Dalal wrote: 'Instead of quickly completing the probe and filing charge-sheets, the Central Bureau of Investigation, acting as the government's handmaiden, was busy spreading stories that CBI joint director K Madhavan resigned because he could not get a promotion and that Harshad was financing the narcotics trade. It also repeatedly held back crucial information from JPC.'
'Madhavan embarrassed the CBI and its chief, by telling the committee that his suggestion to probe the foreign accounts of the scamsters was disregarded. As if to save face, the CBI crudely planted a report on the night of Sunday, 14th February 1993 in government-owned news agencies such as Doordarshan, PTI and UNI.'
'It said: CBI had frozen Harshad's Swiss bank accounts. The Indian Express checked with the Swiss authorities and discovered it to be untrue. The CBI made a cruder attempt to fudge, stating that some accounts were frozen earlier, but had since been released. This too, said The Indian Express, was a lie.'
'Continuing to wield its main weapon, the CBI arrested K Margabanthu, former chairman of the United Commercial Bank, and kept him in custody for weeks together.'
'Was anyone internally punished for this? Of course, not.'
This has continued to this day. The way in which the law enforcement agencies work in India is that there is a lot of noise they make.
Arrests are made and sensational stories are spread. The court is told that further custody is needed because more evidence is being gathered. This is how the big scandal usually unfolds.
And then in court, the thing comes apart because the work has been sloppy and the claims exaggerated, as we found in the 2G scam.
Readers should remember this the next time the newspapers and channels report that the CBI has cracked the case.
Aakar Patel is Executive Director, Amnesty International India. The views expressed here are his own.