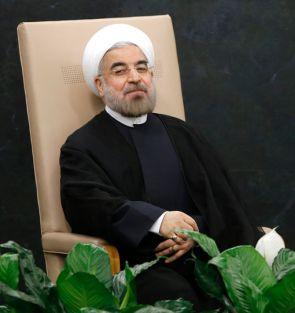 From being on the verge of war and violence, West Asia has actually got a sudden reprieve. Seema Mustafa explains
The United States has finally given West Asia a reprieve. Given the fiasco in Syria where Washington's desire for a regime change was overtaken by the Al Qaeda and other extremist groups in the region, US President Barack Obama was really left with no option but to save face.

More so, as Russia's Vladimir Putin dug in his heels and made it crystal clear that a US-led military attack on Syria would not be without severe repercussions.

So the axis of evil has, for the moment at least, disappeared with the US opening a dialogue with Iran and lowering the heat on Syria.

Given the unrest in Libya, and the continuing terror attacks in Iraq, it is apparent to all rational and sane Americans that the policy of war has not paid dividends, and has instead strengthened the terrorist groups and virtually institutionalized violence in the region.

This, on the eve of the crucial pull out of American troops from Afghanistan, does not really paint a rosy picture for US strategy and design in this part of the world.
As a result of this dawn of wisdom as it were, Iran was part of a dialogue with six world powers in Geneva.

The election of the new Iranian President Hassan Rouhani in August this year has provided the fig leaf for the US to open new doors, although given the current environment it has created in West Asia it probably would have been left with no other choice regardless of who came to power in Iran.

A rare joint statement emerged from Geneva, signed by Iran's foreign minister Mohammad Javad Zarif and the foreign policy chief for the European Union, Catherine Ashton.

Both spoke of a "substantive" and "forward looking" discussion on the Iranian nuclear program and agreed to meet again early November, thereby giving continuity to the initiative.
The last was the success of the dialogue where old positions were re-stated, a desire to move ahead expressed with the US of course insisting that it was important for Iran to stop or pause its nuclear programme while the negotiations continued, and Iran clear that it should be allowed to retain the right to enrich uranium as part of any comprehensive agreement. Tehran has also pressed for the removal of sanctions on its banking, oil and other industries.
Interestingly, after the formal round of talks Iran's deputy foreign minister Abbas Araqchi and his team met with the American delegation led by senior State department official Wendy Sherman for about an hour, according to reports.

The details were not disclosed, but the meeting was unusual and hence extremely significant.
Iran's strategic importance for the US cannot be underestimated. Even when Washington-Tehran relations were at their lowest ebb, there were reports of the US seeking Iran's help in controlling parts of Iraq after the 'shock and awe' tactics had failed to restore calm and peace in the beleaguered country.

Rumours and whispers spoke of levels of cooperation between the two countries in pursuing their respective interests in Iraq, finding more in common with each other than with others in the region.
Iran is a recognized stakeholder in Afghanistan with considerable influence within. The US is worried about the fall out of withdrawal of troops, and needs all to be on the same page to contain the expected violence in Afghanistan.

Opposition from any one of the neighbouring countries at this stage could escalate a civil war situation, and hence peace with Iran has become more than desirable. Iran on the other hand is visibly tired of being on the fringe of world events, and would like to have a bigger say in West, South and Central Asia. It also has large economic ambitions that have been curtailed with the crippling sanctions.
Thus, the ongoing dialogue strangely enough is between two equal nations insofar as needs and aspirations and strategy is concerned.

The US has not been able to acquire a position of strength as it had set out to do with the use of military might, and is instead as strategically vulnerable at this stage as Iran.

Actually more so, because of Afghanistan, as failure to contain the violence will place the Obama government in the dock insofar as the American people and the Congress are concerned.

Peace and understanding will help both nations, continuing strife will worsen the situation. It does seem from the Geneva talks that both seem to have realized this, and are stretching out to make the initiative work in the short, and long term.
From being on the verge of war and violence, West Asia thus has actually got a sudden reprieve.

A strong government in Syria that refused to cow down to American pressure; a sophisticated people that rallied around the government to ensure that the decision of a change in government remained in their hands and was not taken away by a foreign government; good friends like Russia who hunkered down and refused to support any resolution or move to attack Syria have all together demonstrated that the world is no longer unipolar.

And if all countries realize the potential of their independence and sovereignty, military might can be forced to bow to global will.
Iran is benefiting from this, having supported Syria and led the resistance to US hegemony and Israel in the region.

Hence, Washington's move to talk to Iran amounts to eating dust, as despite the years of sanction and threats to war, it has been left with no option but to talk to the country it had sworn to put down.

The Gulf countries are really useless strategic partners, with little strategy and more money. Strategy and political sense has remained in the domain of Iran, Syria, Egypt, Lebanon, all countries that are not really sympathetic now to the US and its global allies like Israel.

The November round of talks will give a better idea of where the process is heading, and whether the US-Israel strategy of quelling resistance with military might can ever really be a successful substitute for dialogue and peace and of course, justice.