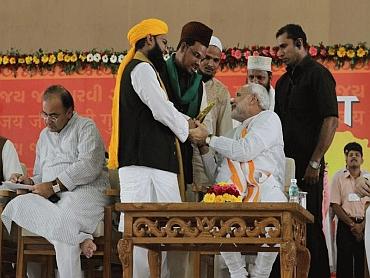 The moment any party says it will do x, y or z only for a certain section, it is insulting that section and separating them from the rest of the nation, says Jiten Gajaria
The last few days I have read a few articles and letters making an attempt to demystify the relationship between the Muslim voter and the Bharatiya Janata Party. Sajid Bhombal's article on Rediff.com, What the BJP needs to know about Muslims, is another such attempt.

To start with, I would like to debunk the generalisation that the BJP is 'anti-minority'. Being a part of the government in Punjab and running our own government in Goa, I think the BJP has clearly shown that there is no unease between the it and 'minorities' (I hate the term but will use it since it is better understood). I don't think till now the BJP has done anything that will harm the interests of any group in those two states. The same is the case in Jharkhand or Chhattishgarh where there is a sizeable Christian population.

That leaves us with the Muslim voter and the larger generalisation that they don't and won't vote for the BJP anytime or anywhere. One can argue this with specifics but let's for now agree with the generalisation of them not voting for the BJP.

Do I need to advise the Muslims on how they should vote? No, I don't think so. The fact is, the Muslim community, in terms of political acumen, has been the smartest group. They have voted as per their wish and on the issues that they feel matter. So I won't treat them like a novice and tell them how to vote or how not to vote. That would be insulting. But I would surely like to point out a few facts.

The BJP has been in power in many states like Gujarat, Madhya Pradesh, Chhattisgarh for two terms and more. I don't recollect any decision taken by these three states which can be called communal. I have asked this question on open forums too – 'can you give me three examples of policies or decisions taken by these governments which hurt the interests of Muslims?' I have never got a response to my question.
I am leaving sentimental issues aside because in Indiasentiments are brittle and get hurt all too quickly. The reality is that only sentiments don't guarantee a great life. Good governance does. And I am sure the Muslim voters are smart enough to know what they should give priority to -- livelihood issues, or other issues. Whether they look at our track record or other factors, the choice and decision are theirs. I don't think anyone should abuse or mock them for the choices they make because that's against democracy.
So what does the BJP need to do to win the votes of Muslims? Well, nothing more than what it is doing in terms of governance or future policies. Sounds arrogant? Actually it isn't. The moment any party says it will do x, y or z only for a certain section, it is insulting that section and separating them from the rest of the nation. So I would rather say that the BJP just needs to continue the all-inclusive development mantra it followed when it ruled at the Centre as the National Democratic Alliance or it follows in states it rules alone or with allies. This mantra does not discriminate and treats everyone as an individual and not as a section.

'You vote for us and we will give you good governance leading to roads, power, good economy, jobs, education, good health, sanitation, affordable housing and everything for you to lead your life happily and with self-respect'. This appeal that the BJP makes holds valid and true (without discrimination) for every individual of this country. And I am sure every Muslim would love to hear this appeal and be treated with respect as an individual voter and not as a vote-bank.

Some will be surprised that I have not written anything about who is to blame for the BJP's relationship with the Muslim community. Well, that is what I think both need to steer clear of. We can't walk ahead if we are looking behind our back. Similarly, I don't think both can make a genuine attempt at building bridges if the finger-pointing continues.

Like in every democracy, the BJP has to appeal to every individual to get his/her vote. And this will include the Muslim community. And the BJP's slogan of 'Justice for All, Appeasement of None' coupled with its development track record is as strong an appeal as it can get.

The Muslim community too needs to acknowledge and respect the fact that the BJP has been in power at the Centre and will come to power at the Centre again. And they will have to be an equal partner in the development journey that the BJP undertakes.

I end this piece with a few valid lines.

Chaman mein har tarah ke rang-o-bu se baat banti hai
Tum hi tum ho to kya tum ho, hum hi hum hain to kya hum hain.
Jiten Gajaria was co-convenor of the BJP's intellectual cell in Maharashtra
Image: Muslims greet Gujarat Chief Minister Narendra Modi during his sadbhavana fast in 2011