India's news broadcasters are a national shame that have polarised Indians, observes Vanita Kohli-Khandekar.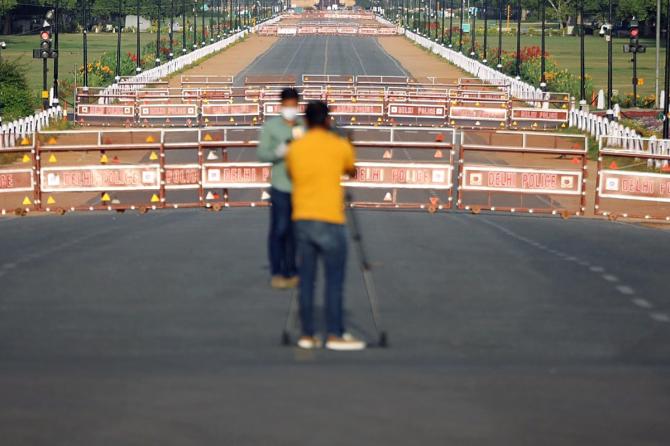 The police officers on Shetland are quiet. They don't use four-letter words and whip out guns while breaking down doors a la Hollywood. They wear warm, practical jackets, understand the locals and then catch the murderer, rapist et al.
The award-winning series, set in the eponymous islands North of Scotland, is melancholic, grey, undulating and beguiling, just like the land. A haunting background score adds to the feeling of sadness, and of peace, that Shetland evokes.
That is how the Indian media and entertainment (M&E) business feels like. In one of the toughest years ever, Indians had their TV, newspaper, OTT and radio.
The Rs 182,200crore M&E industry delivered even while being pummelled by lack of revenues and job losses. This phenomenal job notwithstanding, it stares at a 20 to 30 per cent revenue drop. It survived; rebuilding business will take years.
There is sadness, and there is peace.
That is the first thing that strikes you as you look at the debris of 2020.
The second is the cesspool that news media and by association professional journalism has become.
In 1992, after a degree in management, I stumbled into journalism. My parents were aghast. They envisaged a foreign bank or consumer products job with a fat salary; their focus being my financial independence.
Soon, being a business journalist was paying well enough, thanks to a liberalising India gobbling up all the media it could get. And I loved it. There is nothing quite like journalism.
The sheer variety of people you meet, the research, analysis, the learning on every story is phenomenal -- at least it has been in my area of business journalism. Except for a brief stint with EY, I have been a business writer for over 25 years and still enjoy it.
That is why the state of news media appalls and embarrasses me. It is not just the misleading, misinformation-heavy news channels but many newspapers and Web sites too have lost their way.
They are not on the ground looking at issues, researching them and bringing facts and analysis that feed the information needs of India. Instead they seek to shape decisions by using falsehoods, fake videos, cherry-picked data or suppressing facts.
TV journalists have become politicians with a mike and a camera. The sheer gracelessness, indignity, bigotry and hate they have brought to the word 'journalist' is sad. The image of the snarling, judgemental, TV anchor who shouts down any opinion (and facts) is now the motif for popular journalism.
Last July, on a panel in the UK, I tried (rather ineffectually) to respond to questions on why Indian news channels did what they did. The answers are -- dodgy money, political ownership, a not-independent public service broadcaster and media owners whose business interests clash with editorial independence.
India's news broadcasters are a national shame that have polarised Indians and put them off its national pride, cinema.
That brings me to the third thing that emerges from the debris of 2020 -- the damage done to the Indian film industry by painting it as a den of vice and the constant vilification of its stars, directors and others, in the wake of actor Sushant Singh Rajput's suicide in June.
At least half a dozen people in the last week alone have told me how they are "off Bollywood" and will only watch OTT, which is fed, ironically, by the film industry.
A few people smoking marijuana cannot be enough to tar an entire fraternity. That is like criminalising the entire medical community for a couple of bad doctors or all of corporate India for a few crooked businessmen.
The oft-repeated charge of nepotism simply doesn't hold. Indian cinema is completely merit-driven. There are no reservations or quotas.
Whether your father is Amitabh Bachchan or Yash Chopra, if you don't have talent you cannot make it, even as some outsider like Shah Rukh Khan, Ayushmann Khurrana or Pankaj Tripathi does.
News channels are busy destroying a cinema that has stood for over 100 years without any support from the state. What they won't tell you is that globally only two cinemas have withstood the might of Hollywood -- that of India and Korea.
In a world swamped by Hollywood, over 85 per cent of our industry's revenue comes from Indian films. Roughly one-fourth of all television viewing, over 70 per cent of all music sold and almost all the originals on OTT come from the film industry. It employs 7 million people and has won international acclaim and awards.
Delhi Crime's Emmy is the latest. This potent symbol of India's soft power and diversity is celebrated and studied across the world. To denigrate it is like cutting your nose to spite your face.
What will this shrinking, bloody-nosed industry do next?
What it has always done -- its job.
There are hundreds of thousands of journalists who bring you accurate news and analysis without shouting and screaming. Sometimes they get arrested and harassed but they will continue.
So will the millions of people sitting in offices, production studios, uplink centres, dubbing theatres, newsrooms, cable or DTH control centres who bring your TV, newspapers, film, OTT, radio and music.
That is what 2021 will be about; doing your duty much like the officers on Shetland, without any hope, fame or glory.