'The Modi government would chaff at the very idea of holding talks with Pakistan, facilitated by Washington and under close US monitoring, when the 2019 poll is sailing into view.'
'But in politics and diplomacy, there may be moments when drinking from the chalice of poison is necessary,' says Ambassador M K Bhadrakumar.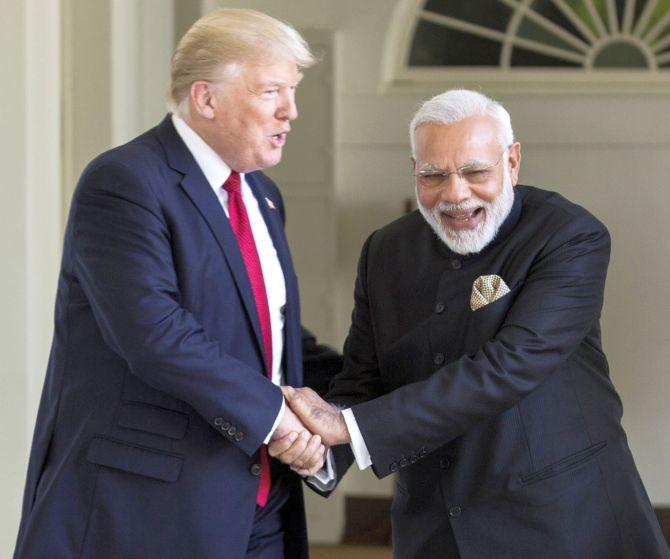 Alice Wells, principal deputy assistant secretary for South and Central Asian affairs in the US state department, is visiting India from April 3 to 6.
This is strictly not a 'bilateral event', but Ambassador Wells' discussions with senior Indian government officials are expected to cover 'regional and global issues', according to the US state department announcement.
Presumably, Afghanistan will be top of the agenda of discussion.
Ambassador Wells has emerged as the Trump administration's key interlocutor on the Afghan problem.
A career diplomat, low-key but very effective in the absence of turf rivalries, she has galvanised the search for a political process in Afghanistan in such a short period of time.
Ambassador Wells has succeeded in building up a good rapport with Pakistani officials who are in a position to make or mar her project.
During her extraordinarily open-ended visit (for 'several days') to Pakistan last week, Ambassador Wells was received by army chief General Qamar Javed Bajwa.
Ambassador Wells' consultations in Delhi come at a sensitive juncture.
For, no matter what the Pentagon commanders might like, President Donald J Trump wants the war to end before his campaign for a second term begins and Ambassador Wells' task is cut out for her.
Delhi must understand that this is not a routine visit she is undertaking for an exchange of views with think-tankers and officials on the sidelines of the US-India-Japan trilateral taking place on Wednesday.
In fact, the trilateral is the sideshow.
The Taliban is tiptoeing toward the negotiating table and Ambassador Wells' persuasiveness and diplomatic skill has made all the difference.
For the uninitiated, let me introduce to them her masterly briefing (external link) on March 9 at the US Institute of Peace in Washington, DC.
The traffic on the diplomatic track has become dense lately since the meeting in the White House in Washington between Pakistan Prime Minister Shahid Khaqan Abbasi and US Vice-President Mike Pence on March 17.
The international conference in Tashkent on March 26-27 served the purpose of generating a modicum of regional consensus. The Russian daily Kommersant reported, quoting 'sources', that although there was no formal invitation was extended to the Taliban to participate in the conference, 'at the last minute, they expressed a desire to come to Tashkent.'
Be that as it may, the Taliban was surely eavesdropping outside the conference hall and would have noticed from the Tashkent Declaration that there is not a single voice in the international community that disapproves of the Afghan government's unconditional offer of peace talks.
Ambassador Wells proceeded to Kabul after the Tashkent conference and then moved on to Islamabad last Thursday.
Interestingly, Pakistan handed over a 'terror dossier' to Kabul last Thursday containing evidence of terrorist sanctuaries on Afghan soil.
It is a veritable action plan for the Afghan side and their American mentors as to what Pakistan expected them to do by curbing the terrorist activities from bases within Afghanistan.
And, four days later, Pakistani Foreign Secretary Tehmina Janjua, accompanied by Director General Military Operations Major General Shamshad Mirza and other senior officials travelled to Kabul for downstream talks.
These talks are expected to prepare the ground for Prime Minister Abbasi's visit to the Afghan capital on April 6. (Abbasi is proceeding from Kabul to China on a 3-day visit.)
We may expect Abbasi's visit to Kabul on Friday to be a watershed event.
It is entirely conceivable that in a not-too-distant future the Taliban may announce its formal response to the Afghan government offer for peace talks.
The coming days and weeks, therefore, are of critical interest.
Meanwhile, the Afghan government announced on Sunday the dates for the long-delayed parliamentary elections and the first-ever local council elections -- October 20.
Of course, there is a big question mark about the feasibility of holding elections in Afghanistan in the prevailing circumstances with roughly half the country contested by insurgents.
On the other hand, it is the Taliban's participation in these elections that can make a world of difference, giving them the legitimacy they badly need and providing the country's democratic process the traction that it never could really acquire in the past decade or more.
The US' allies are extremely keen that the political legitimacy of the Afghan political system gets enhanced.
The speech made by European Union foreign and security policy chief Federica Mogherini at the Tashkent conference was particularly notable for being a stirring call to the Taliban to rise to the momentous occasion in their country's history.
Suffice to say, any Pakistani-Afghan consensus to put a moratorium on cross-border terrorism will be a major development.
The US is actively promoting it. So is China. Pakistan can be expected to reciprocate. But we aren't quite there, yet.
Pakistan foreign ministry spokesman Mohammad Faisal told Radio Free Europe/Radio Liberty, the US government-funded media organ, that Islamabad and Washington are yet to find 'common ground' on a range of issues.
Faisal didn't specify the problem areas, but it stands to reason that a principal one will be Pakistan's tense relations with India.
Quite obviously, we should anticipate that the Trump administration hopes to bring India on board.
Put differently, the Trump administration's 'regional approach' for Afghanistan demands that India-Pakistan tensions do not complicate the path of peace and reconciliation in Afghanistan.
Ambassador Wells is likely to meet with Foreign Secretary Vijay Gokhale and National Security Adviser Ajit Doval in Delhi.
Significantly, on the eve of Ambassador Wells' departure for India on Monday, the US state department amended its designation of Lashkar-e-Tayiba, identifying the Milli Muslim League and Tehreek-e-Azadi-e-Kashmir as LeT affiliates, making it impossible for them to register as political parties in Pakistan.
Clearly, the Trump administration hopes that Delhi will appreciate this as a friendly gesture, underscoring that Washington is receptive towards India's genuine concerns in regional security.
It doesn't need much ingenuity to figure out that Ambassador Wells would also have taken Pakistani officials into confidence that capping Muhammad Saeed's political ambitions can be an important confidence-building measure at this point.
Now comes the big question: How does India respond to the totality of the emergent situation surrounding Afghanistan?
Sadly, the explosive violence in Kashmir just at this juncture will make things very difficult for Delhi to rise to the occasion and optimally align Indian foreign policies with the broader trends leading toward peace and reconciliation in Afghanistan.
On the other hand, the bottom line is that India is a stakeholder.
Clearly, a leap of faith is needed.
The Modi government would chaff at the very idea of holding talks with Pakistan, facilitated by Washington and under close US monitoring, when the 2019 poll is sailing into view.
But in politics and diplomacy, there may be moments when drinking from the chalice of poison is necessary -- to borrow the memorable words of Iran's spiritual leader Ayatollah Ruhollah Khomeini in an analogous situation in his country's contemporary history when he allowed himself to be persuaded to agree to a ceasefire against the Iraqi aggressor who had bled his country white in the eight year war.
Given the complete policy breakdown in Kashmir, what is the alternative?
And the crisis in J&K is only deepening; the wounds are threatening to turn gangrenous.