'N Ram and I met on the lawns of Mani Shankar Aiyar's bungalow.'
'I pulled out a rolled printout from my jacket and handed it to him.'
'In the cut-throat world of journalism, this was like high treason.'
'But letting a story be killed because you can't publish it is a bigger crime than passing it to the competition,' recalls Shekhar Gupta.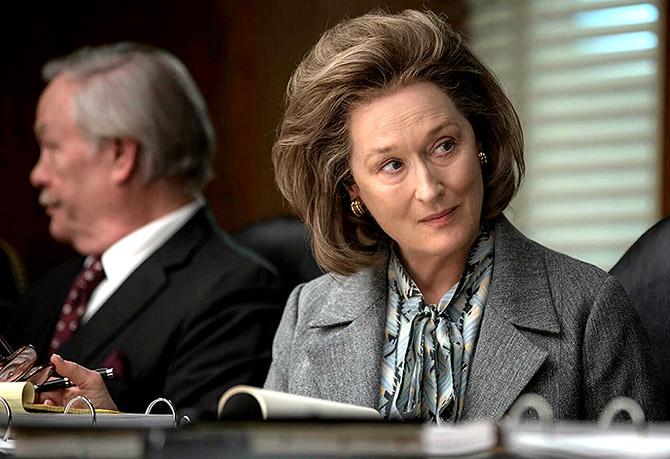 IMAGE: Meryl Streep in Steven Spielberg's film, The Post: You can read the Rediff Review here.
Besides politics, this is a time marked by talk of The Post, the film about how The Washington Post and its great editor-publisher (as Americans call the newspaper proprietor) duo of Benjamin Bradlee and Katharine Graham made history, and set new standards in courageous journalism.
The story has been told many times before, in books (both Graham and Bradlee have written stellar autobiographies, and then, indeed, All The President's Men).
You can never have enough of hearing, reading and seeing it.
Watergate and the Pentagon Papers remain the gold standard globally for journalistic courage. Generations of journalists have drawn inspiration from them.
Since enough time has passed, I can now talk in some detail about how the Pentagon Papers became an inspiration for something unusual we did at The Indian Express in the winter of 2006.
Or, even at the risk of giving some suspense away, what was done between The Indian Express and The Hindu, together.
The two papers were not direct rivals in either's important markets, but competed furiously in the realm of ideas and philosophies, particularly economic and strategic policies.
Comparisons with The Post-NYT situation would be pompous, so we won't go there.
We'd just limit ourselves to saying that the philosophical, ideological and therefore editorial worldview of the two papers was quite contrary, unlike The Post and NYT, both rooted in the same American liberal space.
The Hindu, under N Ram's editorship, was inclined to the Left on economic and strategic issues, and we to the Right. Both were socially liberal.
In today's over-simplified if not idiot-proofed discourse, you'd call The Hindu then Left-liberal and us, at the Express, in search of a non-hyphenated liberal utopia: Liberal on society, liberal on the economy. But very impatient to break out of old Cold War foreign and strategic policies and burdens.
It is important to understand these facts underlying the drama that is about to unfold.
In fact, it only makes it more dramatic -- and I'd say for Mr Ram and The Hindu, enormously more creditable.
Let me also give some more suspense away: This story also involved one institution making so much news last month, the Supreme Court Collegium.
In the weeks leading up to November 2006, Ritu Sarin, who owns the chief investigative reporter's hallowed spot not just in The Indian Express but the entire Indian media, broke two brief stories on our page one.
These were about then President A P J Abdul Kalam objecting to the elevation of Delhi high court Justice Vijender Jain as chief justice of the Punjab and Haryana high court because of some collegium members' reservations.
Each time, then prime minister Manmohan Singh asked him to consult then Chief Justice of India Y K Sabharwal, who insisted that the appointment should go through.
Kalam was persistent. He returned the file for the third time. This time he did something no President had as yet done -- and I am not sure if any President has done subsequently.
He wrote, in two succinct paras his reservations.
He said, in the consultative process, three senior judges had raised doubts on the appointment.
Further, that to still push it through, the size of the collegium had been increased by a judge, which was against the procedure.
Quite inevitably, Ritu landed in the newsroom, 'scoop' painted all over her face, with a copy of Kalam's note.
There was the usual buzz as we got down to processing it, and questions were asked from the relevant high offices.
We were all set to publish and then catastrophe struck.
This, Delhi-wallahs would recall, was the year of large-scale demolitions and sealing of illegal, irregular or unlicensed constructions all over Delhi by an empowered high court committee set up by the bench headed by Justice Jain.
Our offices were located in two buildings on the southern edge of the city in what is called Qutub Institutional Area. These lands had been allotted cheap to charities and trusts for institutional purposes, but many had been sold, over-built or had rented more than they were permitted to.
The committee's enforcers arrived that November 18 afternoon, sealed seven buildings where ownership had been changed, and added the two where we were located. We were suddenly homeless.
Worse, however, was the realisation that we could no longer publish the story with Kalam's note.
How could a newspaper ever publish a story 'against' the judge whose orders had just locked it out of its newsrooms?
We consulted every top lawyer in the country. They all figured the issue, but had the same advice: You can't publish.
It will be seen as vengeful and be a possible case of contempt. So here we were, working literally from the pavement and our homes, with that never-before wrench: Having a story we couldn't publish.
I keep a closet filled with the copies of the paperback edition of Benjamin Bradlee's A Good Life to use as a gift for fellow -- especially younger -- journalists.
Flipping through a copy absent-mindedly I stopped at the mention of the Pentagon Papers. My colleagues and I thought we had found a way out. Not to get back to our old newsrooms, but to get that story out.
I called Mr Ram in Chennai and, after pleasantries, asked if he remembered what happened when a judge injuncted The New York Times from publishing Neil Sheehan's scoops on The Pentagon Papers?
Of course, he said, the papers were then given to The Washington Post, which started publishing because it hadn't been injuncted.
I said we had a similar situation. We readily became complicit in ensuring this story would not remain unpublished. Never mind our arguments.
Ram said he and I might conclude this at Mani Shankar Aiyar's daughter Yamini's wedding lunch-reception in Delhi, for which he was coming.
We met on the lawns of Aiyar's bungalow. I pulled out a rolled printout from my jacket and handed it to him.
In the cut-throat world of journalism, this was like high treason. But letting a story be killed because you can't publish it is a bigger crime than passing it to the competition.
The story was the front-page flier in next morning's The Hindu.
Its reporter had added much value to it, also by talking to a key collegium judge quoted anonymously in the story.
The CJI still insisted on going through with Justice Jain's appointment as chief justice of the Punjab and Haryana high court. But that was between him and Kalam.
It was never our objective to block the appointment. Nor do we know if that story in The Hindu had any impact on the choices the collegium made for the Supreme Court subsequently.
We were only obsessed with a most important and factual story that had 'Must Publish' written on it.
That it was published is a tribute to the large-heartedness of The Hindu and Mr Ram. The inspiration -- if not instigation -- had come from The Pentagon Papers.
Reporter's luck: Dainik Jagran was the first Indian media group to bring Foreign Direct Investment.
Its first investor was the company owning the Irish Independent. In early 2007, it threw a party in Delhi to introduce the board of its investors.
I found two familiar faces. The first looked just like, and was, Sean Connery. He was on the board of the Irish Independent.
I walked up to the second, a very distinguished-looking old man, and told him he looked just like Benjamin Bradlee.
"I am Bradlee, young man," he said. He was also a board member.
I told him the Express-Hindu story and how it had been inspired by his exploits and got him to agree to an interview on NDTV's 'Walk the Talk' the next morning.
It is a conversation to cherish even if so non-TRP friendly.
By Special Arrangement with ThePrint