'The Trump administration is on the same page as India that Pakistan is not the solution, but the problem itself,' says Rajeev Sharma.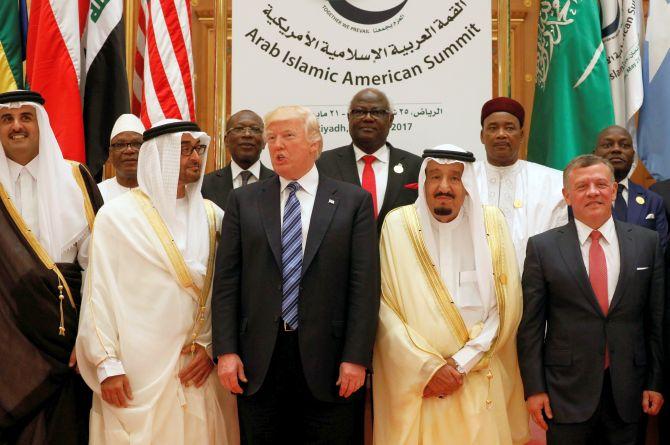 IMAGE: US President Donald Trump with from right Jordan's King Abdullah II, Saudi Arabia's King Salman bin Abdulaziz Al Saud, Abu Dhabi Crown Prince Sheikh Mohammed bin Zayed al-Nahyan and Qatar's Emir Sheikh Tamim Bin Hamad Al-Thani at the Arab-Islamic-American Summit in Riyadh, May 21, 2017. Photograph: Jonathan Ernst/Reuters
On the face of it, India has reasons to celebrate US President Donald Trump's first speech on foreign soil at the Arab-Islamic-US summit in Riyadh on Sunday, May 21, where he specifically named India as a 'victim of terrorism' though he did not mention Pakistan.
Trump did not mention Pakistan even once in his speech (though Pakistan Prime Minister Nawaz Sharif was seated in the front row of the audience) and poured boiling water over Pakistan's strategic establishment by not referring to the so-called sacrifices made by Pakistan in combating terror.
This is a double whammy for Pakistan, a country which despite being the creator of the Frankenstein's monster called terrorism has been projecting itself as a victim of terrorism.
Pakistan has successfully sold this recipe to the international community, including previous US regimes that its 'contribution' to the global warming against terror is second to none as it has lost more than 70,000 civilians and over 6,000 soldiers due to terrorism.
But apparently this is not enough for the Trump administration.
What looks worse for Pakistan is that the Trump administration, whether it tightens up the screws on Pakistan or not, does not appear to be in a mood to mollycoddle Pakistan on the terror issue.
Perhaps as a corollary to this argument, Nawaz Sharif was not allowed to make his speech at Riyadh (external link). This completes Pakistan's humiliation.
On the face of it, it looks good for India -- Trump calling India a victim of terrorism and not hyphenating Pakistan in this context.
The Indian glee doubles up by the fact that Pakistan was not extolled for its 'services' in the cause of fighting terrorism, indicating that the Trump administration is on the same page as India that Pakistan is not the solution, but the problem itself.
If Trump really wanted to hear Pakistan's views on terrorism, no one could have prevented Nawaz Sharif from making his speech at the Riyadh summit.
Worse, there was no Trump-Sharif meeting on the sidelines of the Riyadh summit as Islamabad had anticipated.
Instead, Trump allowed Sharif just a handshake opportunity though it is another matter that the Pakistan government's spin doctors may blow this pull-aside as more than a photo op.
In his speech Trump specifically mentioned four countries that have been victims of terrorism. Apart from India, he mentioned China and Russia (rivals with whom he wants to improve relations) and Australia, an ally.
It is his way of sending positive vibes to these four nations, India included.
Of course, if you look at the Riyadh summit from Trump's point of view his maiden speech on foreign soil as US president was not aimed at India-Pakistan relations. That seems to be way down on his priority list.
Make no mistake about it! The Trump speech was aimed at just one foreign policy objective: Show of solidarity with Saudi Arabia and to bare American fangs to Iran, Saudi Arabia's arch rival. This is what he did boldly and unambiguously.
Trump described Iran as the 'spearhead of global terror' and called upon the international community to isolate Tehran. Here is the relevant quote from Trump's speech: 'Until the Iranian regime is willing to be a partner for peace, all nations of conscience must work together to isolate it.'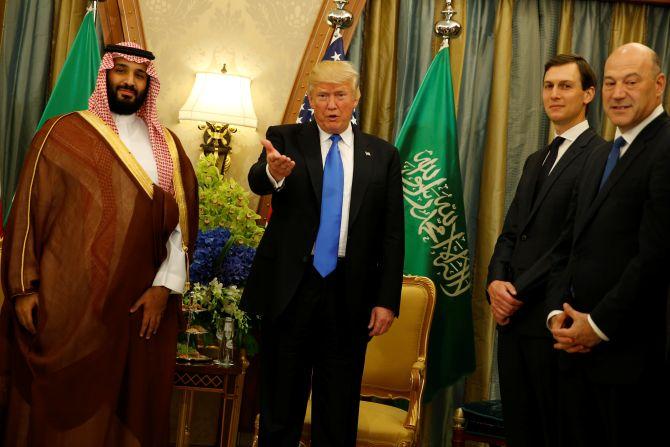 IMAGE: President Donald Trump, flanked by his son-in-law White House Senior Advisor Jared Kushner, second from right, and Chief Economic Advisor Gary Cohn, right, delivers remarks to reporters after meeting with Saudi Arabia's Deputy Crown Prince and Defence Minister Mohammed bin Salman, left, (who is also King Salman's favourite son) at the Ritz Carlton hotel in Riyadh, May 21, 2017. Photograph: Jonathan Ernst/Reuters
Why did he say so? Why did he toe the Saudi line and heap criticism on a country with which six of the world's major powers, the US included, signed a landmark deal in 2015?
Why did he shut the US doors on Iran which has just re-elected the moderate Hassan Rouhani as president?
That is because Trump is a businessman president. He is eyeing $480 billion from Saudi Arabia, $110 billion of which would come from a single arms deal!
Mark his words here: 'For Americans, this is an exciting time. A new spirit of optimism is sweeping our country: In just a few months, we have created almost a million new jobs, added over 3 trillion dollars of new value, lifted the burdens on American industry, and made record investments in our military that will protect the safety of our people and enhance the security of our wonderful friends and allies -- many of whom are here today.'
Trump, the shrewd businessman, knows which side of his bread is buttered and which is not.
Saudi Arabia can give his country business worth hundreds of billions of dollars. Iran has zilch to offer in comparison.
And in one stroke he has put the US-Saudi relationship firmly back on the rails, a relationship which had badly soured in recent years.
So folks, the moral of the story from India's viewpoint in this context is this: Rejoice over Trump's speech in Riyadh but keep your fingers crossed on what Trump's strategy would be vis a vis Pakistan.
Trump is yet to unveil his cards on India and Pakistan.
Rajeev Sharma, a strategic analyst, tweets @Kishkindha