'Fall in line or you will be in the line of fire.'
Illustration: Uttam Ghosh/Rediff.com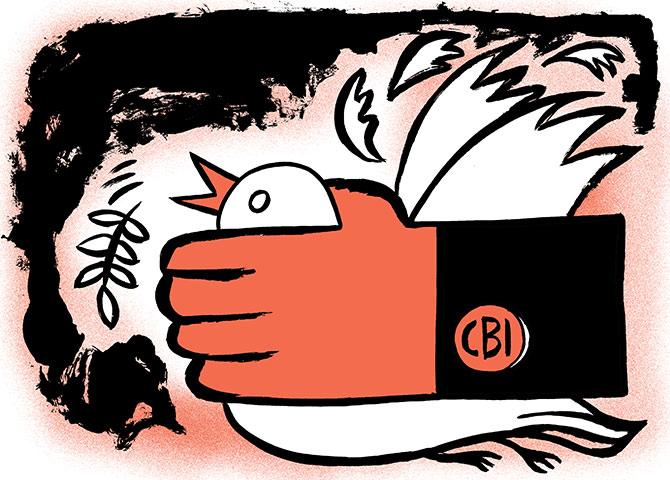 On Monday, June 5, the homes of NDTV promoters Dr Prannoy Roy and Radhika Roy in three cities were raided by the Central Bureau of Investigation.
Since the raids, independent journalists and others have alleged that the raids were intended to muzzle NDTV, which has refused to take a pro-government line unlike some other television channels.
On Friday, a well attended meeting at the Delhi Press Club -- addressed by the likes of legal legend Fali S Nariman and Dr Arun Shourie -- condemned the government's alleged efforts to intimidate the independent media.
Gurbir Singh, a veteran journalist and a former chairman of the Mumbai Press Club, reflects on the NDTV raids:
The raids on NDTV and Prannoy Roy is sad because very few are standing up for them and in support of them.
Most television networks are gloating; some PR types are distancing themselves from the 'Commie'; others are conjuring charges of 'fraud'.
It is time again to quote Bertolt Brecht:
'First of all, they came to take the gypsies
and I was happy because they pilfered.
Then they came to take the Jews and I said nothing, because they were unpleasant to me.
Then they came to take homosexuals, and I was relieved, because they were annoying me.
Then they came to take the Communists,
and I said nothing because I was not a Communist.
One day they came to take me,
and there was nobody left to protest.'
You have to remember that Indian banks have NPAs of 4 lakh crore rupees. Every big industrialist's name is on that list.
How come none of them have been raided? Compared to them, NDTV's default (NDTV says it paid back the loan in full) is miniscule.
The ED (Enforcement Directorate) has been threatening NDTV with notices for a while now, and now this CBI raid.
Just because NDTV is criticising the government -- particularly their gau rakshaks -- the government is using their financial problems against them (NDTV).
This is clearly a case of crony capitalism. Those who are with the government can get away with anything and those critical of the government will be harassed.
What is happening is that the minute you criticise the government they will have every investigative agency pursuing you.
Normally when you default on a bank loan, the bank seizes your property. They don't set the CBI on you.
Also, the bank involved is ICCI and it has not complained to the CBI. It is a private bank.
This is politics being used against the media.
It is also a warning to other media outlets to fall in line or you will be in the line of fire.
As told to A Ganesh Nadar/Rediff.com