'As the weeks passed, we saw our group changing.'
'It was becoming a microcosm of the world outside -- a world we had hoped would never intrude into this space,' says Veenu Sandhu.
Illustration: Uttam Ghosh/Rediff.com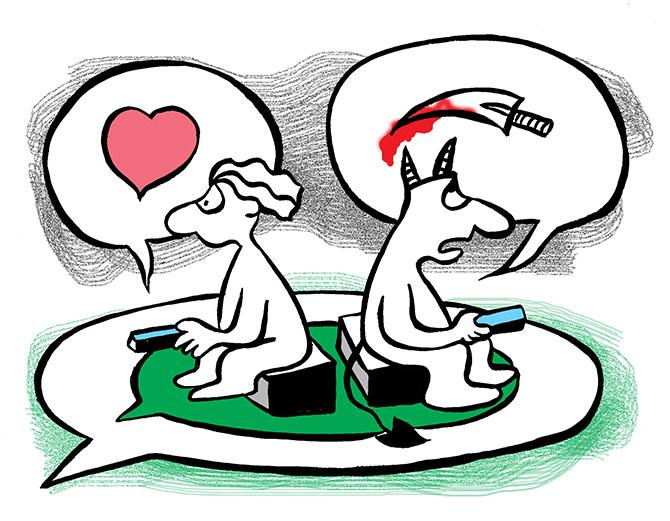 It was the September of 2014, and a Sunday, when my phone was struck by a blast from the past.
A long-lost classmate from school I hadn't communicated with in over 20 years had added me to a newly created WhatsApp group of other such classmates.
"Welcome to the Batch of 1990," he announced, opening the door to nostalgia.
Sunday went by, with my smiling foolishly and typing furiously into the phone. So did Monday. And a good part of Tuesday, too.
By Wednesday, things started cooling a bit as we slipped back into life in the present.
As the days went by, I put the group on mute mode but would return to it every now and then to send a birthday message or to see who was up to what, who had shared a picture or had wasted everyone's time posting a joke.
It was a nice, warm place to visit. Born nearly a quarter of a century since school and four months after the new government in India was sworn in, the group was by and large untouched by the world outside.
Some other places, both virtual and actual, were, however, beginning to get toxic. Twitter was one of them. Facebook was still holding out, though the divisive undercurrents had started creeping into it as well and the trend of 'unfriending' people had started.
Our group, we thought, would remain insulated from these goings on. One fine day, the group's administrator (let's call him 'A') started posting videos, pictures, Web links and messages about the occurrences in the country.
Faith was one of the subjects that would be raked up now and then. There would be rude comments about Muslims and those from Pakistan.
Initially, we avoided reacting to these remarks. People's faiths or religions were personal matters in school, never discussed nor criticised.
Sometimes, when it became unbearable, someone would say, "Oh god, A! Let's not get into these things." The response would invariably be a laughing-face emoji.
As the weeks passed, we saw our group changing. It was becoming a microcosm of the world outside -- a world we had hoped would never intrude into this space.
The group was now divided into four kinds of people: Those who mocked and despised Muslims; those who countered these views and pushed for the idea of live and let live; those who watched with dismay as the first two engaged with each other, and hoped the group would go back to being what it was when it was created; and those who simply stayed out of the conversations.
The first two also started posting all kinds of fake news to buttress their views. Some of us then took it upon ourselves to call out such news from either side.
By now the group had transformed into something completely unrecognisable. It was four years old. So was the government.
The kind of passion that divided us -- and the country -- was, however, missing from the government which showed no eagerness to curb such emotions.
Around this time, a little nomadic girl was gang-raped and murdered in Kathua in Jammu and Kashmir. As a population rose in support of the rapists, a debate about who was right and who was wrong broke out on the group as well. The child victim became incidental.
In the midst of all this ugliness, A forwarded this message that had been circulating on WhatsApp: 'Congratulations girls, good news for you all. Finally, a new law passed by Modi govt today. As per Indian Penal Code-233, if a girl is suspected to be raped or getting raped, then she has the supreme right to kill the man, or harm that person as dangerously and girl won't be blamed for murder. Tell as many as you can. It's your power (sic).' (Thumbs-up emoji)
Someone told him to stop the "bull***t" and that IPC Section 233 concerned counterfeit currency, not rape.
Besides, the Right to Private Defence (Section 96 to 106 of IPC) already gives this power to every individual to defend one's (and another's) body or property.
A replied: Everyone is passing bull***t! So why not me (emojis with tears of laughter)?
With that all hell broke loose. All kinds of charges were traded, women got name-called, the one person who desperately asked everyone to stop and posted a video about "unconditional love" got ignored.
In the end, three people (yours truly included) got thrown out of the group. Some others exited in solidarity and formed a new group of like-minded people. Other like-minded people stayed on in the initial group.
Now we exist in two echo chambers. In these silos, we talk only to those who share our views. We do not engage with the Other.
Life -- at least on WhatsApp -- is harmonious, peaceful even. It is a perfect world.