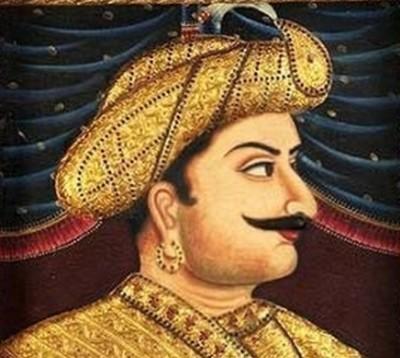 'Tipu Sultan was no doubt a valiant fighter who vigorously opposed the British but that cannot mitigate the fact that he was also by all accounts a religious bigot -- a figure incompatible with modern secular times,' says Vivek Gumaste.
Was Tipu Sultan, the legendary ruler of Mysore (1750-1799) a courageous fighter who rallied against the British in defence of national interest?
Or was he a religious zealot who callously massacred innocent Hindus and Christians by the thousands and indulged in widespread forced conversions?
Can he be eulogised as a Kannada icon?
Or is he the hapless victim of a modern-day smear campaign orchestrated by right-wing ideologues, as some claim?
These are the million-dollar questions that cry out for answers and need to be addressed in light of the Karnataka government's decision to persist with this contentious commemoration of Tipu Sultan.
First, Tipu Sultan stands condemned of religious bigotry, not by the motivated accusations of his antagonists but by the evidence of his own words.
Listed below are excerpts from Tipu's correspondence, reviewed by K M Panicker (a noted historian) in Basha Posini magazine in August 1923 (Tipu Sultan: Villain or Hero, edited by Sita Ram Goel):
1. Letter dated March 22, 1788, to Abdul Kadir: 'Over 12,000 Hindus were honored with Islam. There were many Namboodri Brahmins among them. This achievement should be widely publicised among the Hindus. Then the local Hindus should be brought before you and converted to Islam. No Namboodri Brahmin should be spared.'
2. Letter dated December 14, 1788, to his army chief in Calicut: 'I am sending two of my followers with Mir Hussain Ali. With their assistance, you should capture and kill all Hindus. Those below 20 may be kept in prison and 5,000 from the rest should be killed from the tree-tops. These are my orders.'
3. Letter dated January 18, 1790, to Syed Abdul Dulai: '... almost all Hindus in Calicut are converted to Islam. I consider this as jihad.'
These excerpts indicate a brutality that is unpardonable; they cannot be wished away as reminiscent of the times especially when it involves the killing of such a large number of people.
Moreover, the fact that these excerpts were published in 1923 when there was no raging controversy on the role of Tipu Sultan and hence no dubious motive for their publication, makes these statements all the more plausible.
Kodagu (also known as Coorg, a district in Karnataka), which has seen the most strident opposition to this questionable veneration in recent times, was another area which bore the brunt of his religious monstrosity.
'His raid wasn't that of an emperor intent on expanding his empire. It was a cultural and religious invasion... He followed the policy of Islam or death... Tipu targeted and assaulted temples... Some historians claim that he killed about 40,000 Coorgis and converted an equal number...' (I M Muthanna, Tipu Sultan X-Rayed, Usha Press, Mysore 1980).
Christians too were the victims of his religious xenophobia.
Fra Bartolomeo, a Portuguese traveller who happened to be in the vicinity of Tipu's campaign in 1790 writes (in A Voyage to the East Indies): 'Tipu was riding on an elephant behind which another army of 30,000 soldiers followed. Most of the men and women were hanged in Calicut, first mothers were hanged with their children tied to necks of mothers.'
'That barbarian Tipu Sultan tied the naked Christian and Hindus to the legs of elephants and made the elephants to move around till the bodies of the helpless victims were torn to pieces.'
'Temples and churches were ordered to be burned down, desecrated, and destroyed...'
Francois Fidele Ripaud de Montaudevert, a French soldier who travelled to Mysore from Mauritius to aid Tipu Sultan against the British, was totally disillusioned with him.
In documents discovered in Paris in 1988 he writes: 'I'm disturbed by Tipu Sultan's treatment of these most gentle souls, the Hindus. During the siege of Mangalore, Tipu's soldiers daily exposed the heads of many innocent Brahmins within sight from the fort for the zamorin and his Hindu followers to see.'
'Kozhikode was then a centre of Brahmins and had over 7,000 Brahmin families living there. Over 2,000 Brahmin families perished as a result of Tipu Sultan's Islamic cruelties. He did not spare even women and children.' (Outlook, The Tyrant Diaries, April 15, 2013 (external link)).
Tipu Sultan was no doubt a valiant fighter who vigorously opposed the British, but that cannot mitigate the fact that he was also by all accounts a religious bigot -- a figure incompatible with modern secular times. An isolated report of support for the Sringeri Mutt cannot transform him into a secular icon.
Finally, Tipu Sultan's much proclaimed status as a Kannada icon proves to be a shaky one when one scrutinises the pages of history. In fact, he spared no efforts to make Persian the lingua franca of Karnataka at the cost of Kannada.
Dr Suryanath Kamat, chairman, Karnataka Itihasa Academy, quotes a book written by a historian Kirmani, Tipu's contemporary, to indicate that Tipu passed an order in 1792 making Persian the official language in place of Kannada (Deccan Herald, September 22, 2006). Does this make him a Kannada aficionado?
Let us credit him for the valour that he showed against the British. But when the evidence for his wrongdoing is so overwhelming, he needs to be relegated to a footnote in the broader history of India.
To persist with the celebration of such a dubious personality (with documented evidence of bigotry), one that could trigger widespread communal disharmony in present times, smacks of poor judgement at best or ulterior motives at worst.
In 2016, Chief Justice Mukherjee of the Karnataka high court, responding to a PIL, posed this pertinent question to the Congress government intent on celebrating Tipu Jayanti: 'What is the logic behind celebrating Tipu Jayanti? Tipu was not a freedom-fighter, but a monarch who fought the opponents to safeguard his interests.'
Justice Mukherjee went on to question the wisdom of such a move that was certain to escalate communal tension in Kodagu and other parts of the state as in prior years which had resulted in a few deaths.
Chief Minister H D Kumaraswamy was wise to feign illness and stay away from last Saturday's unwarranted celebration of a tainted historical figure. In fact, last year Kumaraswamy had objected to the then Congress government's decision to celebrate Tipu Jayanti citing the plight of farmers suffering from drought conditions.
The Congress dominated coalition government in Karnataka has erred in continuing the Tipu Jayanti celebrations. It is an extravaganza that is misplaced, erroneous and insensitive, one that Karnataka could have easily passed over in the interest of communal harmony and historical objectivity.
Vivek Gumaste is a US-based academic, political commentator and the author of My India: Musings of a Patriot.