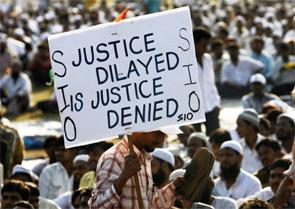 One hopes the higher courts take the extraordinary steps needed to secure justice for the victims. The Gujarat carnage demands nothing less because of its unique nature and sponsorship by the State, argues Praful Bidwai.
Ever since Ahmedabad Magistrate B J Ganatra rejected Zakia Jafri's petition in late December and held that Chief Minister Narendra Modi was not part of the larger conspiracy behind the butchery of nearly 2,000 Muslims in Gujarat in 2002, the Sangh Parivar has run a raucous campaign of triumphalist celebration, and tried to turn the tables on the Congress by blaming it for the 1984 killings of Sikhs in Delhi after Indira Gandhi's assassination.
But two wrongs don't make a right.
Even if the Congress failed to prevent the 1984 massacre, that can't absolve Modi for the 2002 pogrom. The pogrom wasn't spontaneous, but planned and proactively instigated.
There is overwhelming evidence for this in official records and 30-plus inquiries by national and international commissions, many of which quote eyewitnesses.
The last legal word on Modi's culpability has not been pronounced. That will happen when the appeal being filed by Jafri is finally decided under India's multi-tiered justice system.
Meanwhile, confusion has been sown by media articles which support Magistrate Ganatra's verdict, and argue that no legal case could be made out against Modi; harping on his role, these articles say, distracts attention from punishing the culprits of the massacre and its State-sponsored cover-up.
Such analysts base themselves mainly on the allegation that Modi had a meeting with top officials at his home on February 27, the day a train coach was burnt at Godhra, killing 59 people, and asked them to stand by as Hindus vented their anger against Muslims -- in keeping with his infamous action-reaction proposition.
These analysts hold that the Supreme Court-appointed Special Investigation Team under former Central Bureau of Investigation director R K Raghavan rightly concluded that the allegation against Modi was not proved.
The only person who claims to have heard Modi was police officer Sanjeev Bhatt, who kept quiet for nine years, and whose wife contested an election against Modi.
In the SIT's eyes, this made Bhatt an unreliable witness. All others present at the meeting denied the allegation. The SIT went along with them.
But the Supreme Court wasn't satisfied with the SIT report. In an unprecedented move, it appointed senior lawyer Raju Ramachandran as amicus curiae (court's friend) to assess the evidence collected by the SIT and give an independent view.
Ramachandran recommended that Bhatt be put in the witness box to verify his account and Modi be prosecuted for hate speech and other unlawful acts from February 27 onwards under Sections 153A and 153B of the Indian Penal Code (spreading enmity between two groups, and making imputations prejudicial to national integration) and Section 166 (public servants disobeying the law with intent to cause injury to any person). Magistrate Ganatra dismissed the recommendation.
Jafri's petition was not limited to the February 27 meeting.
It cited other actions, including Modi's decision to bring the Godhra victims' bodies to Ahmedabad; handing them over to Vishwa Hindu Parishad activists who paraded them; ignoring faxed intelligence warnings to allow large mobs to gather and kill; neutralising the fire brigade; permitting Parivar elements to stockpile arms; and posting ministers at police control rooms.
This case against Modi was backed by former director general of police R B Sreekumar's detailed diary entries and affidavits by whistleblowers like deputy commissioner Rahul Sharma. Magistrate Ganatra exonerated Modi, terming the massacre spontaneous.
A researcher has unearthed persuasive evidence that it wasn't spontaneous -- as would be the case if the worst violence occurred where the BJP was strong. Killings were also unlikely where the BJP was notably weak.
It is where the BJP faced the greatest electoral competition, having won 35 to 40 percent of the vote in 1998, that the worst violence occurred. (www.thehindu.com/opinion/lead/deliberateness-and-spontaneity-in-violence/article5519691.ece)
Magistrate Ganatra observed that Jafri's expressions 'ethnic cleansing' and 'genocide' are foreign terms respectively originating in Yugoslavia and derived from Greek and Latin, and hence inapplicable to Gujarat.
The judgment stands in sharp contrast to the National Human Rights Commission's reports of 2002, which held that there was a comprehensive failure to protect the Constitutional rights of Gujarat's citizens.
The Supreme Court too indicted the Modi government in 2003-2004 for failure to observe its Raj Dharma and accused it of criminal negligence. It transferred some Gujarat cases to Maharashtra for investigation and trial.
Revealingly, the conviction rate in these trials was reported at 39 percent, nearly eight times higher than in the cases prosecuted by the Modi government.
That government cannot be expected to honestly prosecute the culprits or expose the cover-up it itself organised, including filing rolling First Information Reports against unnamed persons, intimidation of witnesses, appointment of VHP office-bearers as the victims' lawyers, and outright destruction of records.
One can only hope that the higher courts take the extraordinary steps needed to secure justice for the victims, which build further on imaginative solutions like transferring trials.
The Gujarat carnage demands nothing less because of its unique nature and sponsorship by the State.
Gujarat 2002 was much worse than Delhi 1984, when Congress leaders like Sajjan Kumar and H K L Bhagat incited anti-Sikh violence and the State indulged them.
The Congress government's responsibility was constructive, not direct. In Gujarat, the BJP-led government's responsibility was direct -- and far graver.
Prime Minister Manmohan Singh has apologised for the Delhi carnage. Narendra Modi doggedly refuses to show remorse for Gujarat's pogrom despite the victims' unending agony, and the damage caused to the public's faith in official claims to secularism.
The Congress in Gujarat has never confronted Modi or the BJP on the issue of communalism. It fielded leaders like Shankarsingh Vaghela who praised the Rashtriya Swayamsevak Sangh and capitulated to Hindutva.
The task of taking on Hindutva has been left to secular people's movement activists and NGOs, which are weak given Gujarat's communally charged climate.
This must change. The Congress has no future as a soft communal party or the BJP's B-team. Hopefully, it will take Sonia Gandhi's renewed charge against the BJP of 'sowing poison' to its logical conclusion -- if not on its own, then at least under external pressure which may be generated by the emergence of an anti-communal front of 11 Left and regional parties.
An electoral defeat now stares the Congress in the face. Opinion polls suggest its Lok Sabha tally may well fall from the present 206 to under 100 seats. Even in the post-Emergency wave election, it won 154 seats by retaining the Southern states.
More recently, when the BJP was in power, its score fell to a poor 114 seats (BJP, 182) in 1999, but improved to 145 in 2004 (BJP, 138).
The Congress can recover some already lost ground only if it gives up the illusion that the Nehru-Gandhi dynasty will somehow come to its rescue. It cannot. That era is over.
In fact, the party's best bet lies in Rahul Gandhi himself announcing that the family has no intention of leading it in the next election, and replacing it with a broad-based campaign team. He must take a bold, convincing initiative and demonstrate that he means this.
Second, Rahul Gandhi must distance the party from the economic policy course that the Dr Singh-Montek Singh Ahluwalia-P Chidambaram team has pursued.
The Congress must make a decisive break with the strategy of compensatory neo-liberalism, which reluctantly and timidly tries to combat only a few of the countless ill-effects of pro-business policies through the National Rural Employment Guarantee Act and the (largely unimplemented) Right to Education Act.
In place of such half-hearted schemes, the Congress must adopt a strong redistributive pro-poor agenda, with an emphasis on land reforms, universal healthcare and education provision, comprehensive food security for all, and other progressive measures.
It must put them at the heart of a whole new anti-neoliberal policy orientation. There lies its only hope.