Pervez Musharraf is contemplating a political front with jihadi groups to contest Pakistan's 2018 election.
Should the jihadi groups win a few seats, terrorist outfits will gain legitimacy in Pakistan, warns Brigadier S K Chatterji (retd).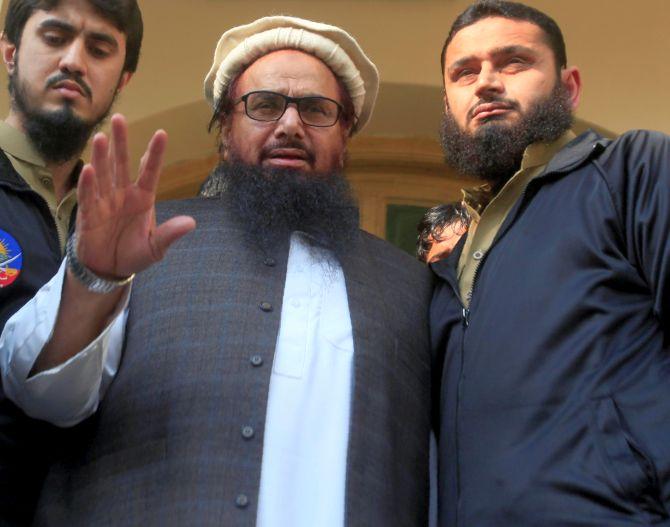 IMAGE: Muhammed Saeed, the Lashkar-e-Tayiba terrorist. Photograph: Mohsin Raza/Reuters
US President Donald J Trump outlined the blueprint for his country's national security on December 18, 2017. Trump asked Pakistan to take 'decisive actions' against terrorist groups operating from Pakistan.
The US, Trump said, would encourage Pakistan to continue demonstrating that it is a responsible steward of its nuclear assets. However, the terror groups only increase its footprints in Pakistan and pursue greater legitimacy.
An example of such a trend is Muhammed Saeed.
Saeed is the founder of the Pakistan-based terrorist organisation Lashkar-e- Tayiba. He had been under detention since January 31, 2017 and was set free on November 24.
Saeed has launched a political party, the Milli Muslim League, and started a campaign to contest Pakistan's general election scheduled for 2018.
A UN designated terrorist who carries a bounty of $10 million, Saeed is the mastermind behind the November 26-29, 2008 terrorist rampage in Mumbai.
The process of gaining greater acceptance by the Pakistani people was initiated by jihadi groups some time ago when they floated NGOs that provided assistance during natural disasters.
The fact that these NGOs often responded faster than Pakistan's federal and provincial governments during calamities gave them some traction among that nation's people.
Having engineered some acceptance in Pakistani society, Saeed now plans to enter politics.
Essentially, it is an extension of attempts to mainstream the jihadi establishment. Terrorist groups have been fielding candidates in Pakistan's elections for some time now. However, their success at the hustings has not been substantial enough to draw media attention.
The implications of Saeed's Milli Muslim League contesting the 2018 election have surely not been lost upon the Americans whose reactions thus far have been muted at best.
US Defence Secretary General James Mattis visited Pakistan on December 4 and met Prime Minister Shahid Khaqan Abbasi, Defence Minister Khurram Dastgir Khan, army chief General Qamar Javed Bajwa and Lieutenant General Naveed Mukhtar, director of the Inter-Services Intelligence agency which trains, tasks, finances and operates many jihadi groups.
The reports that emanated after Mattis' talks didn't reflect the bite in Trump's speeches where he ripped Pakistan apart, stating: 'We have been giving Pakistan billions and billions of dollars, at the same time they are housing the same terrorists that we are fighting. They will have to change.'
Mattis was not in sync either with Zalmay Khalilzad, the Afghanistan born US diplomat, who felt the US must impose sanctions against senior Pakistani generals who play a direct role in supporting the terrorists. The ISI chief is amongst those who merit sanctions in Khalilzad's view.
The tone and tenor of General Mattis' outreach seemed conciliatory rather than compelling Pakistan to make a choice.
General Pervez Musharraf -- Pakistan's former military dictator -- last month announced the formation of a coalition of parties to fight the 2018 election.
'I am the biggest supporter of LeT and I know they like me,' Musharraf, who is in exile in Dubai, stated.
Musharraf's statements make it obvious that he is contemplating a new political front -- which will include jihadi groups -- to contest the next election.
Should the terrorist groups join hands with Musharraf, they will have a leader who retains some influence in Pakistan.
Should the jihadi groups win a few seats, terrorists like Saeed will gain legitimacy.
US Secretary of State Rex Tillerson recently stated that Pakistan's political leadership will lose control over the country if it does not begin the process of changing its relationship with terrorist groups like the Haqqani network.
The Pakistani government has already conceded much ground to the jihadis. Loss of political territory will be a cause for alarm not just for India, but the world.