As leaders go, while Modi's visits to the state will be watched with curiosity, Rahul will need to be dislodged from the popular consciousness -- Tamil Nadu is one state where he's present, notes Aditi Phadnis.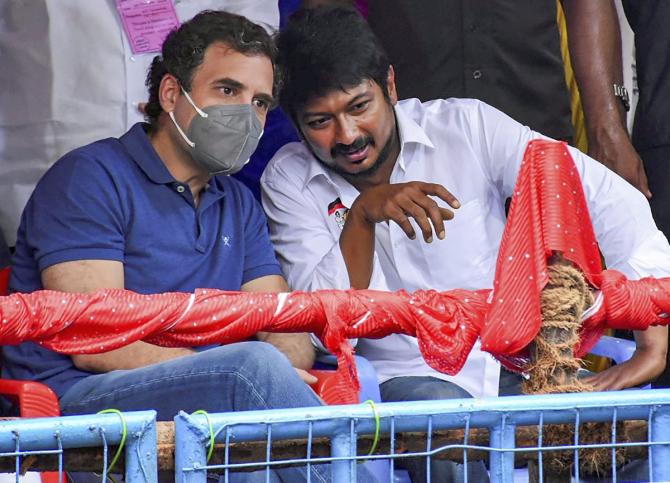 Tamil Nadu has seen several decades of imperial politics.
M G Ramachandran and M Karunanidhi acted and wrote scripts for the underclass.
But they were remote figures, to whom ordinary people had no access.
Jayalalithaa even more so. All these leaders controlled a strong party system and they pulled organisational levers to get it to work for them.
When in government, the bureaucracy was a trusted ally. There was a certain cachet to being unavailable and aloof. It added mystique to leadership.
This is now changing, somewhat. Deputy Chief Minister O Panneerselvam comes from a well-known Theni family of agriculturists and moneylenders, and in Periyakulam, his area of influence, he is well-regarded as a person to whom you can still go if you need help.
E Palaniswami, the chief minister, rose to his position with the support of V K Sasikala although he sources his strength from the Edappadi constituency in Salem, western Tamil Nadu, where caste support to him is near total.
Both leaders are now a bit unapproachable, but nothing like in the past.
Jayalalithaa's election campaigns, old-timers recall, used to be class acts: She would drive up to the meeting at the appointed time in her SUV.
She would go to the stage, introduce the candidate, speak for 10 minutes, and leave.
There was no question of the Janata Darbar or other such contact.
Which is why Rahul Gandhi's recent visit to Tamil Nadu was such a change for the people.
They don't expect local leaders to interact with them.
But never in the past has anyone coming from Delhi to seek support in an election watched Jallikattu, mingled with crowds, held babies, answered questions at press conferences -- and certainly no one has tried their hand at cooking biryani! Even in its current decrepit state, the Congress organisation in the state managed to save its blushes and put up a moderately respectable show.
Make no mistake -- this doesn't mean a sudden reversal in the political fortunes of the party.
But in Tamil Nadu, Rahul Gandhi is now a well recognised figure, even one who is liked.
The Bharatiya Janata Party, by contrast, is definitely more visible than it used to be, partly because it is much better funded than it ever was.
But it is not necessarily liked.
The reason: Hindi, Hindu, Hindustan, which simply does not touch a chord in Tamil Nadu.
Like elsewhere in India, in Tamil Nadu too, people are becoming conscious of defining themselves in terms of religious identity.
But language continues to be a sensitive issue.
And neither the AIADMK (despite its alliance with the BJP announced recently) nor the DMK is likely to let Tamil Nadu forget that it was Union Home Minister Amit Shah who equated India with Hindi.
In 2019, he said: India is a country of different languages and every language has its own importance but it is very important to have a language of the whole country which should become the identity of India globally. Today, if one language can do the work of uniting the country, then it is the most spoken language, Hindi'.
That this raised hackles in Tamil Nadu is an understatement.
The BJP in Tamil Nadu, as elsewhere, has an open door policy.
Many with a chequered past who either need legal protection or simply want to get ahead in their career have quit their parties to join the BJP.
But here's the thing: Very little is heard of them once they become BJP members.
To wit, film actress Khushbu who quit the DMK via the Congress to join the BJP.
After the first press conference/public engagement where she became a paid-up member of the BJP, no one has heard her speak.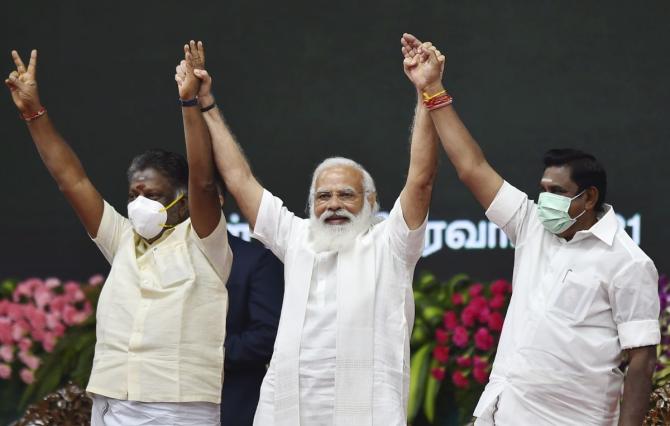 Ten years of anti-incumbency against the AIADMK regime cannot be waved away.
On the other hand, people are not exactly overjoyed at the prospect of the DMK coming to power with the attendant fears of corruption, post-election reprisals, and minority appeasement.
That the Majlis-e-Ittehadul Muslimeen was an honoured guest at the DMK party meeting at Chennai early January is a fact lost on no one.
While most experienced watchers of Tamil Nadu politics say that the clash between the Sasikala and the anti-Sasikala factions in the AIADMK will exact a heavy toll on the party, the size of the DMK alliance, which will inevitably lead to denying tickets to party nominees as allies clamour for seats, could lead to sabotage.
On the other hand, Rajanikanth's decision to opt out of elections will go in favour of the DMK as it is that party's vote share he would have hurt more.
But this much is clear: As leaders go, while Narendra Modi's visits to the state will be watched with curiosity, Rahul Gandhi will need to be dislodged from the popular consciousness -- Tamil Nadu is one state where he's present.
Feature Presentation: Aslam Hunani/Rediff.com