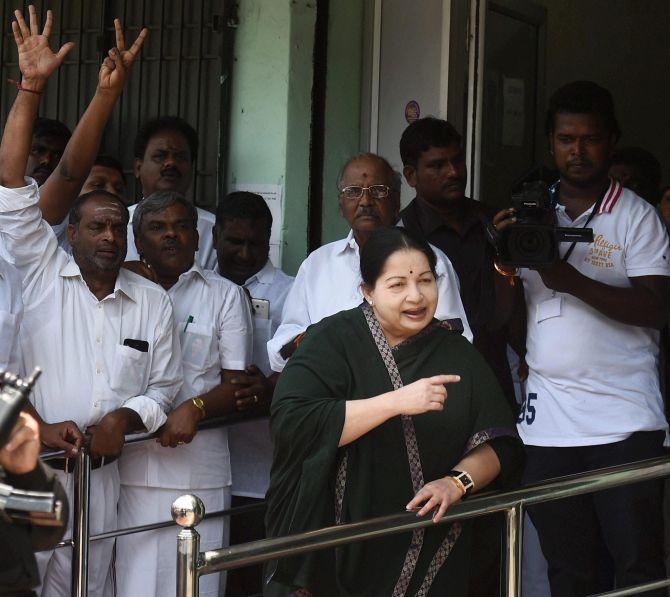 A recent Salem event was perhaps the first time many in the crowd were seeing Jayalalithaa in person in the past five years. A brief stint in jail had made her more reclusive. But none of that seemed to matter, observes Sreenivasan Jain.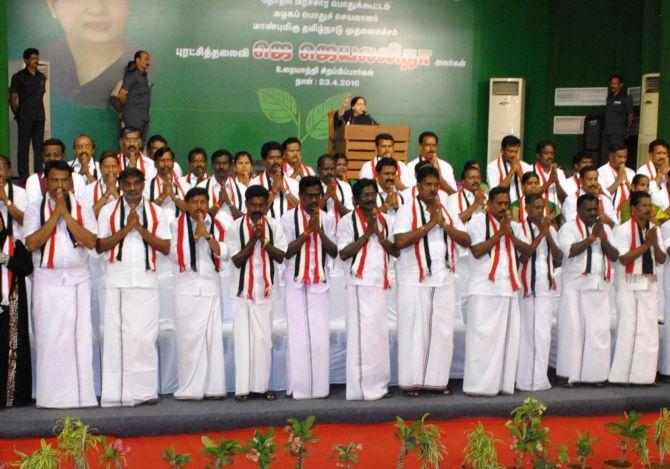 IMAGE:

Tamil Nadu Chief Minister and AIADMK supremo J Jayalalithaa, along with her party's candidates, at an election campaign rally. Photograph: PTI Photo.
By 1 pm, a sprawling maidan on the outskirts of Salem in Tamil Nadu -- the venue for a Jayalalithaa rally -- felt like a boiling cauldron. The little shade that existed, under which small groups of people huddled, came from the nearly 200-feet high cutouts of Amma and of MGR that ringed the arena.
The maidan, though teeming, felt curiously unpeopled in comparison to the backed-up convoy of vehicles in which we were hopelessly ensnared -- buses, trucks, tempos, tractors, neatly emblazoned with Jayalalithaa's image -- stretching into the horizon.

The Salem event, even by the standards of organised mega-spectacles favoured by Tamil Nadu's Dravidian supremos, was an exception. Jayalalithaa has pared down her campaign, doing only one rally a day on alternate days. Each gathering draws together 16-17 constituencies. The Salem rally, in what may be a new record for Indian elections (and political egos), had a staggering footprint of 51 constituencies across five districts.

The brutal logistics of scaling up, of scooping up lakhs of faithful from villages, then setting them off from early in the morning so that by the blazing afternoon, some may still be marooned in an endless traffic gridlock, but sizeable numbers would be packed into unprotected pens at the maidan, is irrelevant. What is crucial is as the Leader descends in her helicopter, as she did at 4 pm, an hour after the appointed time of 3 O'clock, there are people as far as the eye can see.

Vanity alone may not have been the reason for a compressed schedule. When Jayalalithaa finally appeared on stage, she shuffles forward a few steps at a time, waving wanly at the crowd.

This was perhaps the first time they may have seen her in person in the past five years. A brief stint in jail had made her, by all accounts, even more reclusive.

None of it seemed to matter. Not the long journey, the heat, the wait, the charges of corruption. Or that the speech itself, delivered while seated, offered no great insight into what has been an oddly directionless election. We were subjected to a dull and predictable recitation of five years of Amma-branded subsidies or handouts: mixers, grinders, gold coins, laptops, cows, goats, bicycles.

"How all these schemes are put in place?" she asked. "Because a mother knows what is required for her children. I know what you need and when it should be done. Only a mother knows."

A mother seated on a stage protected on all sides, cooled by a bank of free-standing air conditioners (we counted at least seven), when in front of her stretched an overheated, thirsty assemblage of thousands.

Towards the end, she acknowledged for the first time the 51 candidates who had been arranged at a lower level to her "throne", calling out their name one by one as they stood up, bowed to her and then turned to the crowd, hands folded reverentially.

It all made for great, if depressing, political theatre; later that night, the news was even more sobering: two audience members had died of heatstroke.

None of this could be reported until her helicopter was airborne. Security had prevented us from going live before and during the speech. No explanations offered, just a determined gaggle of safari suit-clad men surrounding our camera-person until he delinked the cable that connected our camera to the mobile uplink unit.
The writer anchors the ground reportage show Truth vs Hype on NDTV 24X7.