'Open defecation kills more Indians than any terrorist organisation could, but turning that around will take communicating that all Indians are created equal and that continuing this practice is anti-national,' points out Rahul Jacob.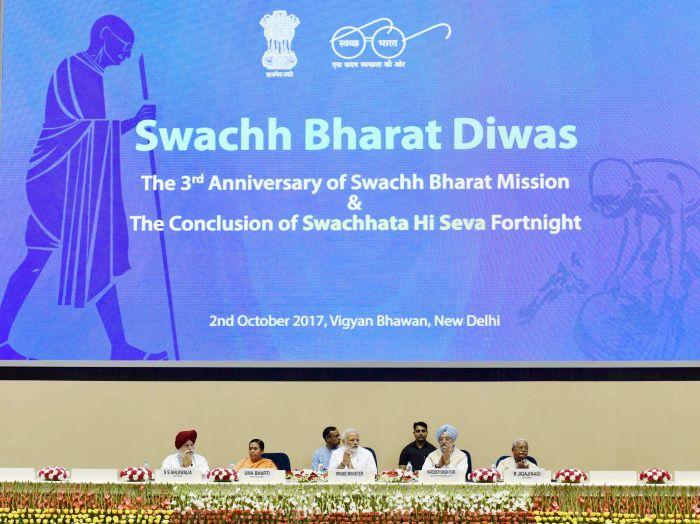 The 'Health of the Nation's States' report released by the Indian Council of Medical Research has many compelling statistics that reflect the uneven progress India's states have made improving public health, but the most striking is a comparison with China.
Having reported on China's bustling southern provinces for three years immediately followed by about as long working in New Delhi, I believe comparing the two countries a waste of time.
China is largely a developed world country while India is a wannabe, that is, a nation with a highly developed sense of wanting to be a superpower with little idea of how to become one.
Nothing demonstrates this more vividly than the report's observation that the likelihood of the average Indian falling sick due to unsafe water and poor sanitation is 40 times higher than in China.
If you want to understand why, a startling and surprisingly readable new book, Where India Goes: Abandoned Toilets, Stunted Development and the Costs of Caste provides the answers.
It has many comparisons with the rest of the world, but the cohort the authors compare us to -- much more sensibly -- is mainly countries such as Laos and Bangladesh, which have made much faster progress than we have in drastically reducing the incidence of open defecation.
The contamination of water supplies in rural India from more than half the population of the country defecating in fields and by the roadside contributes to repeated bouts of diarrhoea and widespread maternal and child malnutrition.
The resulting 'stunting' and 'wasting' might sound like ugly jargon, but only begin to capture the tragedy of millions of Indian children growing up physically smaller and with reduced learning abilities before they have even entered school.
Put another way as Bill Gates did recently, 'Data from 2005-2006 show that 48 per cent of young (Indian) children were malnourished. Since these children were born between 12 and 17 years ago, approximately half of new entrants to the workforce today, about 4.5 million each year, are less likely to fulfil their potential.'
Dean Spears and Diane Coffey argue in Where India Goes, that it is not poverty, illiteracy or a lack of water that impedes the use of toilets.
According to the 2011 Census, about half of rural households with water have no toilets; about the same proportion where one member has completed school continue to defecate outside.
More than 80 per cent of countries with worse literacy rates than India's have lower percentages of people leaving their faeces out in the open to, in effect, unwittingly poison their neighbours and their toddlers.
The culprit is caste.
Medieval notions of purity and cleanliness make many in rural India unwilling to have a toilet at home.
Equally problematic, for a country seeking to eradicate open defecation by prime ministerial edict by October 2019 -- the rate of decline would have to be accelerated by a multiple of 12 to meet that hyped-up goal -- is that most villagers are unwilling to close and then empty inexpensive open-pit latrines for reuse, long after the contents have decomposed into compost.
Such latrines have helped countries such as Bangladesh quickly bring down their rates of open defecation.
When his uncle's soak-pit latrine needed to be emptied out, a young Brahmin recounts, however, the family in Sitapur had to get someone in Lucknow, some 90 km away, to empty it for Rs 5,500 for a two-hour job. (The normal daily wage is Rs 200.)
A woman named Priya, from a lower caste, explains why her family cannot empty a latrine pit; the work can only be done by 'bhangis; they have been created (by God) for this work'.
On the next page, a pasi (a traditionally pig-rearing Dalit caste) voices much the same view: 'People won't eat with us and they won't drink water from our cups.'
To his credit, Parameswaran Iyer, the drinking water and sanitation secretary, helped empty a pit to change villagers' opinions; he has a bottle of the proceeds on his desk in Delhi.
"It is manual scavenging when it is fresh excreta," he said n March. "This is plain odourless compost."
Government and non-governmental organisations in Bangladesh relied on community efforts to galvanise villagers. Bangladesh has almost eradicated open defecation -- down from 42 per cent in 2003.
At the end of their fascinating investigation into the hurdles India faces as it tries to combat open defecation with the same largely unsuccessful strategy of the past few decades of building toilets instead of changing attitudes about caste and, erm 'cleanliness', Spears and Coffey remain realists.
'Promoting social equality is indeed a more difficult path to eliminating open defecation than that other countries have faced,' concludes one of the most admirable and important books I've ever read.
'Lest this fact seem discouraging, it will also have much greater benefits.'
A proudly Hindu nationalist government is better placed in theory to rid us of our adherence to open defecation.
It kills more Indians than any terrorist organisation could, but turning that around will take communicating both that all Indians are created equal and that continuing this practice is anti-national.
Can our politicians measure up to this challenge? There is no more urgent task.
IMAGE: Prime Minister Narendra D Modi at an event to mark Swachh Bharat Diwas: The 3rd anniversary of the launch of the Swachh Bharat Mission, New Delhi, October 2, 2017. Photograph: Press Information Bureau.
This is what he said on that occasion.