'Why do visas require the intervention of India's Union ministers?'
'Does any civilised nation assure visas like this over Twitter?' asks Aakar Patel.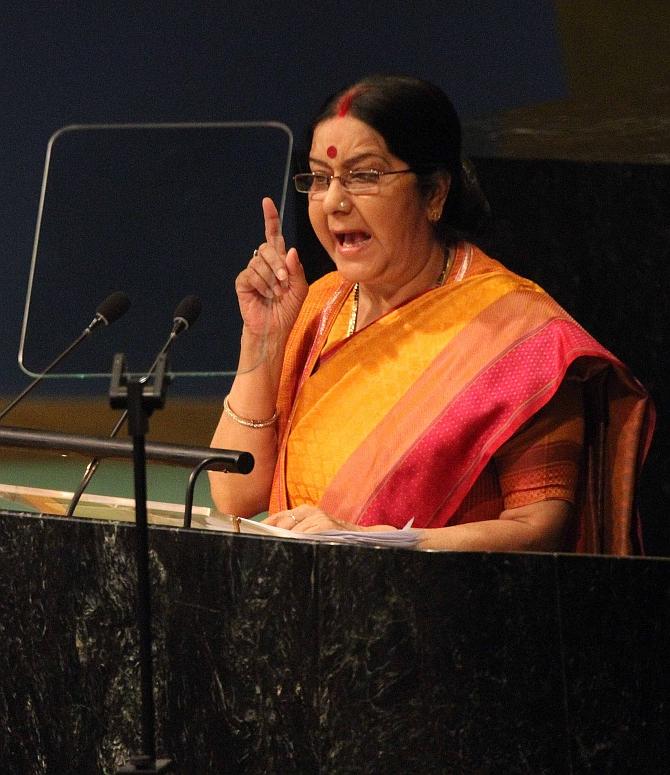 When the Mughals conquered India, one practice they continued was that of darshan. Once a day, whenever he was not traveling, the Mughal emperor would stand in a balcony and show himself to his subjects who would come to 'see' him.
This was darshan just as it would be for an idol, and his presence would reassure the citizens that the kingdom was fine.
This was important because in the absence of the emperor, rumours would quickly overpower the land and anarchy would prevail.
In 1627, when Jahangir died, the Jain merchant Banarasidas wrote in his autobiography Ardhakathanak that criminals took over Indian cities and merchants had to bury their goods.
This violence and confusion remained till news was spread across the country that the Mughal princes' fight for succession was over and prince Khurram had become emperor, calling himself Shah Jahan.
Jahangir was actually one of the more lazy emperors and European travellers have recorded how the durbar would abruptly end in the evening when Jahangir passed out from too much drink or opium.
The eunuchs would hurriedly blow out the lights and evacuate the emperor, dragging him away from the rear door and the rest of the court and guests would have to exit from the front in darkness.
Jahangir added to the system of darshan an element of justice.
He is said to have kept a chain in his palaces that the common citizen with a grievance could go and pull.
It was connected to a bell and on hearing the sound, the emperor would come out and give justice to those who could not get it from the system.
This was called Adl-e-Jahangir or the justice of Jahangir. It guaranteed all citizens instant justice, directly from the top ruler.
It was, of course, totally bogus. Emperors do not have time for individual citizens and Jahangir in particular was, as I have said, lazy and selfish.
Far from being interested in justice he was actually a monster. He had the calves sliced off from behind the legs of two men, crippling them for life.
Their crime was that they bumbled into a forest clearing and scared off a tiger Jahangir was aiming his gun at.
We know this because the emperor himself recorded this in his autobiography, the Tuzuk-e-Jahangiri.
And so the reality is that behind this charade of Adl-e-Jahangir, it was the usual condition of India as it has been through the centuries and as it continues today.
The rulers may make a show of personal intervention, but are unable to, or have no interest in, ensuring systemic delivery of the sort much of the world gets.
I am writing about this because of the way in which our foreign minister functions.
Sushma Swaraj's Twitter account is the modern version of Adl-e-Jahangir.
Some recent headlines it has triggered are: 'Pakistani man tweets Sushma Swaraj about ailing child, gets medical visa' (external link); 'Sushma Swaraj throws lifeline to Lahore toddler for heart surgery in Noida' (external link); and 'Sushma Swaraj's tweet raises hope of Karkala nurse's return from Saudi Arabia' (external link).
That particular tweet from Swaraj is to the Twitter account of India's embassy in Riyadh and she writes 'Javed: Pls help rescue this lady', identifying her with a link from a news story.
These are from June because I started collecting these reports at that time.
On Friday, October 27, Swaraj tweeted to the Indian consul in Dubai: 'Vipul - please help him reach his mother's funeral' and also about someone else's travel documents to the Indian passport office in Bhopal.
This tweeting by her is shown in the media as the actions of a dynamic and sympathetic politician. However, by handling one or two cases through Twitter she takes focus away from systemic improvement and functioning.
Citizens are led, falsely, to believe that the solution to their problems is personal attention from India's foreign minister. Diplomats and bureaucrats will drop their systemic work to attend to madam's tweets.
We have no real coherent foreign policy on Pakistan. Nepal, Sri Lanka, Bangladesh or Myanmar. But this sort of e-durbar and e-darshan gives the illusion of a giant machine hectic at work.
Surgery for ailing Pakistani child! Bariatric surgery for obese Egyptian woman!
Why do visas require the intervention of India's Union ministers?
Does any civilised nation assure visas like this over Twitter?
Does America or the United Kingdom? No. They have process. We have durbars.
And do not our ministers have any other work to do?
I have a regular job and I do my writing and reading on the side but even I have no time for Twitter, how does she?
Of course it is true that much of India's foreign policy is run directly from the prime minister's office. Matters like China and Pakistan and Israel are the domain of Ajit Doval, the national security adviser.
This is because Modi sees foreign policy not in Nehruvian terms, that is to say to engage on the basis of India's civilisational values, but mostly through things like defence and terrorism.
Since most of the major work is in this fashion appropriated by others, Swaraj must find other things to do and clearly Twitter and visa issual is one of them.
It shows her visually, at least to the media, as an 'active' minister. However it should be suggested to her that such darshan is not needed.
If anything it is encouraging durbari culture. It may benefit a few individuals, but it hamstrings the system.
IMAGE: External Affairs Minister Sushma Swaraj addresses the United Nation General Assembly in New York, September 26, 2016. Photograph: Paresh Gandhi
Aakar Patel is Executive Director, Amnesty International India. The views expressed here are his own.