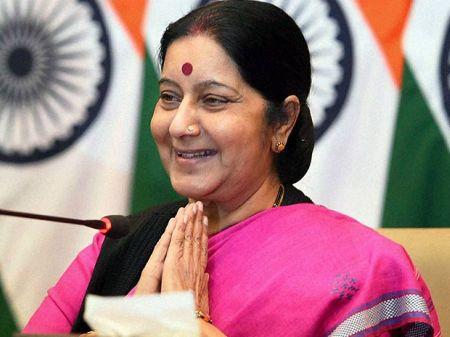 External Affairs Minister Sushma Swaraj directed the Indian high commission in Islamabad to renew the passport and facilitate the return of an Indian woman from Hyderabad who is stranded in Pakistan and is being allegedly harassed by her husband.
Swaraj, who was approached by the 44-year-old woman's father to help her in returning to India, in a series of tweets said she has asked the Indian high commission to renew the woman's Indian passport and facilitate her return to India.
"I have asked Indian High Commission to renew her Indian passport and facilitate her return to India," Swaraj tweeted.
Mohammadia Begum from Hyderabad, who is stranded in Pakistan, had called her father saying that she was being harassed by her 60-year-old Pakistani husband in Lahore.
She married Muhammad Younis, who allegedly concealed his actual nationality and claimed to be from Oman, in 1996. "I received a YouTube message from Shri Mohammad Akbar that his daughter Mohammadia Begum an, Indian national was married in Pakistan and was being ill-treated by her in-laws. Our mission sent a Note Verbale requesting the safety, security and well-being of Mohammadia Begum," Swaraj said.
"Our high commission officials met Mohammadia Begum and she expressed her desire to return to India," she said.
Swaraj had last week sought details from India's high commissioner over the matter after Amjadullah Khan Khalid of Majlis Bachao Tehreek, a political party in Telangana, drew her attention to the plight of the woman.