One is hopeful that if he becomes CM, Mr Thackeray will not be as trigger happy in calling for bans or encouraging outrage, says Uttaran Das Gupta.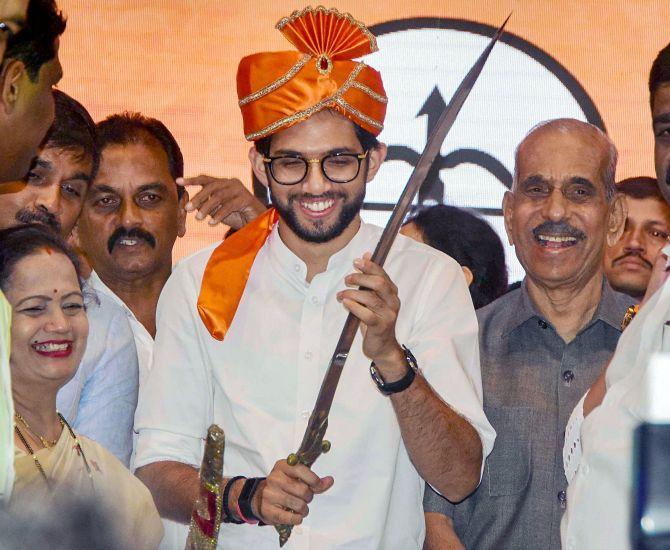 In late 2010, a controversy rocked the verdant campus of the University of Mumbai.
A student demanded that a novel -- Rohinton Mistry's Such a Long Journey, published in 1991 and nominated for the Booker Prize -- be removed from the syllabus.
Students demanding less reading material is a constant in any university in the world.
What is less common is the university accepting such a demand as the University of Mumbai did.
Using special powers vested in him, the then vice-chancellor, Rajan Welukar, removed the book from the syllabus.
After all, this was not just any another student, he was the scion of the Thackeray family, Aditya.
Demanding high is an old practice of Mr Thackeray.
When he had asked for the ban on Mr Mistry's novel, the book was not even in his syllabus.
It was an optional text for those studying for a Bachelor of Arts in English.
Mr Thackeray was a history student at St Xavier's College.
Justifying it later in an interview, he said: 'The book is utterly racist and conveys unwarranted opinions. You can criticise a policy, that's fine. But abusive language and things put out of context are things that cannot remain on a curriculum.'
Mr Mistry's novel had been critical of Bal Thackeray's methods, which have not always been peaceful.
The removal of the book from the University of Mumbai syllabus had been greeted with widespread protests by intellectuals and academics.
Film-maker Anand Patwardhan, who had documented the Shiv Sena's involvement in the demolition of the Babri Masjid in 1992 in his documentary Ram Ke Naam (1992), told the Guardian newspaper, 'We are headed towards a fascist ethos where someone decides what others think.'
Mr Mistry had said, 'As for the grandson of the Shiv Sena leader, what can -- what should -- one feel about him? Pity, disappointment, compassion? Twenty years old, the beneficiary of a good education, he is about to embark down the Sena's well-trodden path, to appeal, like those before him, to all that is worst in human nature.'
In 2010, one might have hazarded some compassion for Mr Thackeray.
A campaign launched by his party against the release of Shah Rukh Khan-starrer My Name is Khan had failed to attract much traction.
In an article, The Guardian had speculated the agitation against Mr Mistry's novel was a launch pad for the scion of the Sena.
Nearly a decade later, there is neither any need nor option for compassion.
He is now an aspirant to the chief minister's chair in Maharashtra.
His party, the Shiv Sena -- founded by his grandfather Bal Thackeray in 1966 -- is an ally of the Bharatiya Janata Party and won 56 seats in the assembly elections.
It has demanded that the 29 year old be first appointed deputy chief minister of the state, and then CM in two-and-a-half years.
The larger partner of the alliance, the BJP, won only 105 seats -- the only hope it had of forming a stable government was with the help of the Shiv Sena which refused to play easy.
Mr Thackeray is not your regular bigot, claiming that people turn into cannibals by eating eggs or that caressing cows can cure cancer.
In 2007, he published his debut book of poems, My Thoughts in White and Black.
The next year, he turned lyricist, releasing an album, where Suresh Wadkar, Shankar Mahadevan, Kailash Kher, and Sunidhi Chauhan lent their voice to his words.
At the stunning launch party, Amitabh Bachchan was the special guest -- more perhaps due to the influence of his grandfather than Mr Thackeray's skills.
He also has an interest in photography, but unlike his father and current Sena chief Uddhav Thackeray, Mr Thackeray prefers, 'abstract (photography)... light and shadow and different things that one normally doesn't notice.'
As a writer, Mr Thackeray has some sympathy for the vagaries of the vocation: 'I can't remember my poems. I store them in my phone. If I lose my phone, I'm finished.'
One would have perhaps expected him to be a little more tolerant towards Such a Long Journey.
In 2010, its removal from the syllabus had sparked protests; now -- in undeniably more intolerant times -- it would perhaps not even make headlines.
Yet, one is hopeful that if he becomes CM, Mr Thackeray will not be as trigger happy in calling for bans or encouraging outrage.
He has shown some affiliation to the democratic process in the country by contesting elections.
One hopes he extends it to matters of letters as well, though it would be such a long journey.