'Are you so scared for your own skin that you will not help a lady or a weak man from attack?' asks an anguished A Ganesh Nadar.
Illustration: Dominic Xavier/Rediff.com.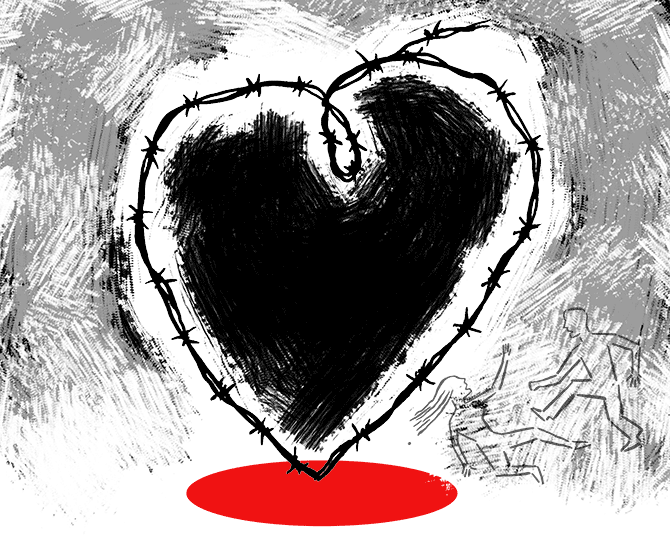 In broad daylight, inside the collectorate complex in Tirunelveli, a man pours kerosene on his wife, two kids and himself and sets them all on fire.
A man rapes a woman in broad daylight in Visakhapatnam while a passerby shoots a video.
In the enlightened city of Mumbai a young boy assaults an underage girl and keeps beating her till she loses consciousness. He walks away and then comes back to make sure she is still unconscious. This too is caught on camera.
How come there was no human being in sight to help them?
Have we lost our humanity?
I have seen elephants attacking lions to free a young elephant.
I have seen elephants chasing away wild dogs who were attacking a deer.
I have seen baboons attacking a leopard who was attacking a deer.
Don't we have even this feeling of protecting the weak that animals have?
In 1976, when I was a student at Mumbai's Elphinstone College, we were eating pav-bhaji at CST (then VT station) after the last show of Poseidon Adventure at Sterling cinema, when I saw a young girl being slapped by a man.
I intervened and stopped him. He turned on me in anger, but fled when he saw there were half a dozen of us.
In 2002, in Kurumbur bazaar, Thoothukudi district, Tamil Nadu, I saw a man beating up a girl and again stopped him. He did not dare to even look at me, as this was my village.
The girl at VT station turned out to be a prostitute and the man beating her, her pimp.
The man in Kurumbur turned out to be the girl's brother-in-law. He had then told me, "I hit her after she hit my younger brother who is her husband."
At Barnes School, the motto of my Spence House was 'Unity is Strength'.
I was the scout troop leader and we took the pledge, 'On my honour, I will do my best. To do my duty to God and my country and to obey the Scout Law; To help other people at all times; To keep myself physically strong, mentally awake and morally straight.'
To help other people at all times and also women, chivalry was taught to us in school.
To help girls carry their desk to the exam hall because it is heavy.
To give them an umbrella to reach their dormitory in the rain, even if you got wet yourself.
And to prevent anyone from attacking them at all costs.
I am sure that if I was present, the Mumbai girl would have not been attacked, the Vizag woman would not have been raped and the Tirunelveli family would not have died in flames.
I am 60 years old and if I can do it, why can't you?
Are you so busy with your pursuit of material wealth to provide your family with roti, kapda aur makaan that you don't have 10 minutes to serve humanity?
Are you so scared for your own skin that you will not help a lady or a weak man from attack?
Are you so insensitive to another's cry for help that you choose to ignore anyay happening right in front of you?
In the Mahabharata, when Balarama is upset at the manner in which Bhima kills Duryodhana, Lord Krishna chides his elder brother with, 'When evil and good clash you have to take the side of good; if not, you are also a sinner.'
One of the greatest scientists of the 20th century, Albert Einstein, said, 'The only thing necessary for the triumph of evil is that good men do nothing.'
Rise, my dear countrymen, rise from the squalor of insensitivity you have sunk into.
If you can get angry over a cow being ill-treated, can't you get angry when a human being is in trouble and step in?
You get angry when a girl talks about using condoms but you won't help the same girl if she is being attacked in your presence. And worse, you will shoot a video of it.
India is said to have taught the world yoga, our philosophy is revered by scholars around the world. We talk about worshipping and do worship more female goddesses than any country in the world.
Our Kali has 10 avatars. We have 33 crore gods, half of whom are women. Yet we don't come forward to help when a woman needs our help.
Hear her cry, my countrymen, let us rediscover our humanity, something we lost somewhere along the way.