'She has to get the funds, cut through bureaucratic flab, speed up modernisation, ensure planned acquisitions stick to timelines, make organisational changes and ensure the military is capable of performing the task that it is given,' says Brigadier S K Chatterjee (retd).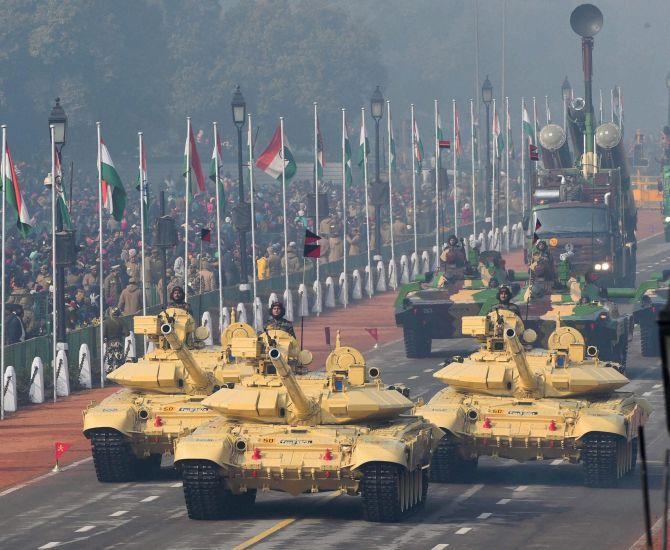 The spotlight is on Nirmala Sitharaman. She has already shattered the glass ceiling and India has its first woman defence minister in saddle.
The obvious question is what are her likely priorities as she settles down in the hot seat. Before an attempt to define the priorities, it would be prudent to have a look at the security situation the country faces.
Doklam has just about subsided without a shot being fired. The last round that was fired across the Line of Actual Control was in 1967 when it flared up at Nathula.
The body count was tragic: 88 Indians and over 340 Chinese dead. Such situations are also eye openers about how soon an apparently peaceful border can suddenly flare up.
Notwithstanding the experience at Doklam the Chinese would definitely continue their creeping action into our territories in other sectors. However, the Indian response is likely to be more deliberate, hereafter. Though a general conflagration is not expected anytime soon, it calls for force modernisation being given a huge boost.
As far as Pakistan is concerned, they will continue to aid, abet, and provide logistics, training, finance and moral support to the militant groups operating in Jammu and Kashmir.
Of late there are reports of Pakistanis supporting Sikh extremists in south Kashmir and Kathua. The pattern is bound to continue. We have been able to stabilise the situation in J&K after a sharp decline a couple of months ago.
The internal security situation within the country remains disturbed in a few states. As of now, Naxalites have been less active except for the odd eruptions that claim a large number of lives, more due to our low training standards and poor leadership in the forces, rather than the Naxalites evolving as better organised fighters.
North east militant groups have also not staged very violent operations lately. As the construction of roads in the border areas progresses, these groups may increase their efforts at extortion.
Overall, the situation that the new defence minister encounters is tentative at best, calling for rapid force modernisation, and that perhaps will be on top of her agenda.
Our attempts at induction of weapons and equipment need to address the large scale obsolescence of our inventory. The new Defence Procurement Procedure 2016,/strong> does ease conduct of business by the MoD.
Manohar Parrikar had cleared proposals for well over a lakh crore. He had also been able to galvanise the otherwise slothful MoD. Arun Jaitley, his successor, was able to maintain the pace.
The downward swing that was expected in the MoD after Parrikar's tenure did not really happen.
Sitharaman starts with the disadvantage of having no exposure of defence. However, she knows the ways of the bureaucracy well enough. To maintain course and timelines for procurement will be the tough challenge from day one.
While the policy on Strategic Partnership is out, the partners are yet to be identified. It is expected to be a contentious issue and might even lead to litigation.
Progressing the issue is important for the Indian defence industry to address the objective of self-sufficiency.
Parrikar had made an ambitious statement of reversing current ratio of import of equipment to domestic acquisition that hovers around 70:30 in favour of imports.
He was also hoping to export on a substantial scale. These are the objectives that require focus and monitoring.
There is also a requirement to boost private sector participation in the defence sector and developing an eco-system of tier1, tier 2 & 3 manufacturers for indigenisation to progress.
The Make in India theme, if judiciously progressed, will help realise Parrikar's objective.
Our huge Defence Research and Development Organisation needs more than prodding. It has delivered sub-optimally for decades.
It is also one of the best resources available to push the Make in India concept. It can, along with capital flow, boost Indian Design, Developed and Manufactured defence equipment.
The defence minister will need to galvanise this asset, get it focussed and insist on accountability.
One of Jaitley's last acts was to order the implementation of the Shekatkar Committee recommendations. He passed the instructions for the implementation of 65 of the recommendations. These include the winding up of military farms and optimising communication units leading to redeployment of 57,000 men and officers in combat roles.
However Jaitley fell shy of slashing the flab where it is the most; the reduction of civilian defence employees. The new defence minister will need to wrestle with this thorny issue.
Jaitley also kept away from another critical issue calling for immediate intervention. Joint-manship in the armed forces is mandatory in modern battlefield for fielding our military might optimally and cohesively.
While the Kargil Committee report had recommended the creation of the post of a Chief of Defence Staff, Lieutenant D B Shekatkar (retd)'s team has proposed a Permanent Chairman Chiefs of Staff Committee; a watered down variant.
Whether the issue is viewed from the perspective of operational efficiency, inter-operability, advantage of scales in procurement or the all important issue of a single point of advice to the government, jointness is an inescapable requirement.
Sitharaman cannot continue to allow these critical aspects to remain in limbo.
There are gaping voids in our operational preparedness. Reserves of ammunition held are not only far short of 40 days intense war wastage rates, as required, but are even lower than the 10 days minimum acceptable risk levels in some cases.
There is a need for the new defence minister to build up reserves for the country to feel safe in spite of the two-and-a-half front threat we face.
There are other yawning gaps too. The Indian Air Force is over 10 squadrons short of its authorised 42 squadrons. The army's night vision is stymied. Our air defence systems are mostly old vintage.
The Indian Navy has only 15 submarines as compared to over 60 with the Chinese navy. We are down to only one aircraft carrier.
The artillery has not imported a single gun after the Bofors scandal. So far all that has been ordered in 145 ultra light M77 howitzers for our mountain formations. The requirement is over 2,000 pieces.
The communication equipment we hold is mostly outdated. Our helicopter fleet is mostly old vintage. The infantryman still swings an INSAS rifle on his shoulders. It is a weapon he does not trust. The list is endless.
Of course, we still retain the capacity to face sectorial threats like we have done in Sikkim (Doklam).
We would still be able to fight a limited war, like we did in Kargil.
However, we are not definitely prepared to face a bigger threat.
We will not be strong enough to play a stabilising role in the Indian Ocean region. South East Asian countries will hedge their bets.
This year's defence budget was barely 1.6 percent of the GDP. The current government has been in the saddle for over three years. To continue to blame the previous regime does not serve the purpose. Allocations have to jump if operational preparedness is to keep pace with threat levels.
Sitharaman has also to focus on the quality of manpower that a technology driven battlefield calls for. The erosion of the status of service officers has been an ongoing process.
It is also an axiomatic truth that an army is as good as its officers are. If we cannot attract quality officers in our forces, we might find ourselves better materially equipped to fight a war tomorrow, but lacking where it matters the most in the battlefield -- leadership.
The new defence minister needs to study this aspect assiduously. The 7th Pay Commission had at a certain stage compared the armed forces at par with paramilitary forces.
The gamut of national security, like the game of cricket, is played at multiple levels.
We have local clubs, Ranji Trophy, national teams, IPL... However the status of individuals in each of these leagues is different. So are their pay and allowances.
The national security apparatus has a chowkidar at the bottom, a trained private security guard thereafter, followed by state police, central armed police forces, with the services at the top.
If we bring the armed forces to the level of central police forces we will get another CRPF or BSF. In that case, let us not call it the Indian Army and have our expectations soaring!
Our objectives of being a regional power capable of being a stabilising force in the subcontinent and the Indian Ocean region will need to dissipate, too.
There is also the issue of One Rank One Pension that she might as well resolve. Women in the armed forces will pin a lot of hopes on her for entry into areas so far the preserve of men.
Sitharaman is bound to be under intense scrutiny. There is a lot to do.
She has to get the funds, cut through bureaucratic flab, speed up modernisation, ensure planned acquisitions stick to timelines, make organisational changes and ensure the military is capable of performing the task that it is given.
She will also need to build a team and bond with soldiers, sailors and airmen.
Her decisions will need to be processes driven rather than personality tagged.
Her advisors need to be primarily uniformed men who are accountable for the nation's defence.
Finally, she will need to hit the deck running and maintain a breathless pace if the first woman defence minister of India has to leave a great legacy behind.
IMAGE: Indian Army tanks at a rehearsal for Republic Day. Photograph: Shahbaz Khan/PTI