'It is best Sidhu shuns his role as Kapil Sharma's Paaji and instead concentrates on serving the people of Punjab,' says Sudhir Bisht.
Illustration: Dominic Xavier/Rediff.com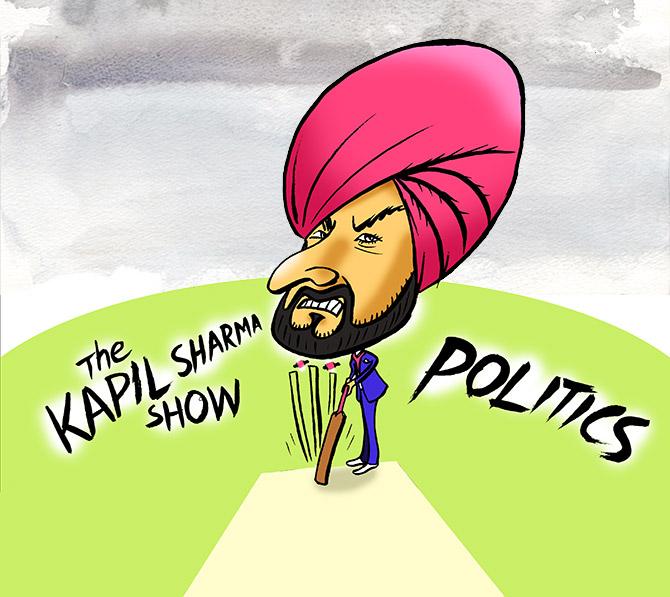 Former India cricketer Navjot Singh Sidhu -- who has also been a cricket commentator, a member of the Lok Sabha and for a short while a member of the Rajya Sabha -- is a permanent fixture as the glorified sidekick (that's how I see him) of the lead anchor on The Kapil Sharma Show.
He is also now a minister in Captain Amarinder Singh's government in Punjab.
It is not out of place to mention here that Sidhu is still not fully acquitted in an alleged murder case, his conviction by the Punjab and Haryana high court having been stayed by the Supreme Court.
Yet, he remains a darling of the masses in his constituency, the glorious city of Amritsar.
Sidhu has been named Punjab's minister of local government, tourism, cultural affairs, archives and museums. But he now wants at least one bigger ministry to be given to him.
According to the Financial Express, he has been asking the Punjab CM to let him handle urban development as well.
But that's not all. Sidhu also wants to keep participating in the comedy show for which he is willing to travel from Chandigarh to Amritsar on Friday, remain in Amritsar (his assembly constituency) for a day and fly to Mumbai on weekends for the shoot.
I have a healthy respect for Sidhu. I think he was a good cricketer, an entertaining commentator and the fun-loving figurehead of a comedy show.
But I am not sure he will do justice to his role as minister and legislator if he stays away from his state on weekends.
I say this because his record as an MP doesn't cover him with much glory.
His record as an MP has been below average in terms of attendance, and his record in terms of the debates that he participated in is abysmal, to say the least.
By asking for another ministry and also insisting that he would continue to fly to Mumbai for the shooting of the comedy show, Sidhu is being unkind to his chief minister.
Sidhu had a good innings as a cricketer. I can never forget the sight of him dancing down the wicket and lofting Sharne Warne for a six.
Warne, in an interview last year, called Sidhu the 'most violent player of spin bowling in the world.'
His illustrious cricketing career was marred by an infamous incident in 1996 when Sidhu walked out of the Indian team then touring England.
After he finished his cricketing career, Sidhu came back with a bang as a much loved commentator who always had a queer quote here and a peppy proverb there to cause a mild stir in the commentary box.
In spite of his brilliant -- though some say it got boring after a few seasons -- commentary, he was once benched by ESPN-Star Sports, apparently after an on air spat with fellow commentator Alan Wilkins.
He also put ESPN-Star Sports in a bit of bother by his comments about some Indian players after India lost the World Cup final to Australia in March 2003.
Sidhu also apparently caused the channel some embarrassment when he compared Bangladesh's cricket team to a team of cockroaches.
In between being a commentator and the side hero of a comedy show, he was also a member of the Lok Sabha for two terms, 2004 to 2009 and 2009 to 2014.
In the 14th Lok Sabha, his attendance record was under 50%; in the 15th Lok Sabha it was a dismal 28%, which reveals that he didn't attach any special importance to his relationship with the Lok Sabha.
In the 14th Lok Sabha he participated in only four debates; in the 15th Lok Sabha he took part in just three.
On the other hand, Sidhu has been very loyal to his friend Kapil Sharma's comedy show.
I am a regular watcher of this show in which he has mostly been there, sitting majestically on his large seat, wearing exquisite silk ties and pocket squares.
And he looks to be in a state of bliss as he says 'Thoko talli (clap vigorously)' to the audience.
If I were to judge what Sidhu enjoys doing most, I would say it is being on the comedy show.
He managed to smile through his commentary assignments but he seemed happier doing a post-mortem of the game in the studio than commenting on each delivery as the game was played.
In all this, it is his duty as a representative of Amritsar's Lok Sabha constituency that received the minimal attendance.
It is said while he often missed Lok Sabha sessions, his wife looked after his parliamentary constituency with the required devotion and patience.
So I have to ask Sidhu to introspect and ask his conscience if he is being fair to his state of Punjab, his party the Congress, his chief minister, and to the people of the country.
If Sidhu had such a dismal record as a member of the Lok Sabha, how can he now ask for more work and insist on flying to Mumbai to be on the comedy show every weekend?
Unconfirmed reports suggest that Sidhu has said he will have three phones to ensure that he is always available to people who may need to call him.
I humbly want to tell the former slayer of spin bowling that it is best he shuns his role as Kapil Sharma's Paaji (elder brother) and instead concentrates on serving the people of Punjab.
Sudhir Bisht, author and columnist, tweets at @sudhir_bisht