In recent years, the twin demands of both religion and defence have been added to the development argument to sweep aside environmental and terrain considerations while undertaking infrastructure development in the Himalayan zone, points out former foreign secretary Shyam Saran.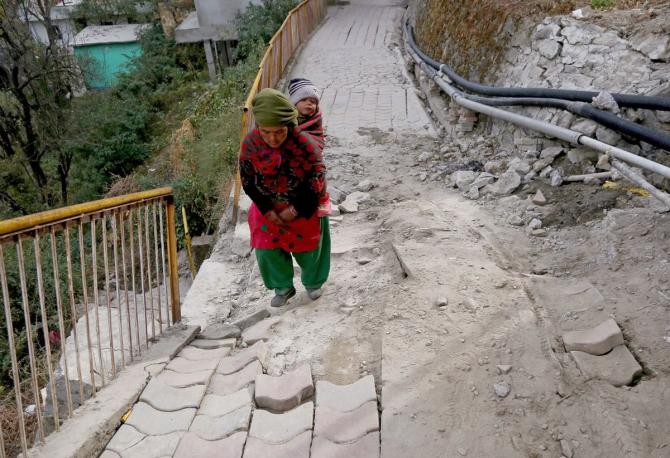 I have been trekking in the Himalayas for several years. I have often shared my experiences as a trekker amidst these magnificent landscapes.
As I leaf through those several accounts, I see that my exhilaration at being among the world's highest mountain ranges has always been tinged with rising concern over their relentless spoliation and degradation in the name of 'development'.
Denying development to populations living in remote mountain areas would be grave injustice, but the real issue has always been about pursuing development in keeping with environmental sustainability. It is these concerns that led me, as the then prime minister's special envoy on climate change, to include a National Mission for Sustaining the Himalayan Ecosystem among the eight national missions in India's first-ever National Action Plan on Climate Change released on June 30, 2008.
The mission document emphasised that the 'Himalayan ecosystem is vital to the ecological security of the Indian landmass', which includes preservation of rich biodiversity, providing water security as the world's third ice pole after the Arctic and the Antarctica and influencing weather patterns throughout the sub-continent.
In the context of the recent subsidence of the town of Joshimath, it may be recalled that the mission proposed measures to 'regulate tourist inflows into mountain regions to ensure that these remain within the carrying capacity of the mountain ecology'.
The tragedy of Joshimath, which is likely to become uninhabitable, demonstrates the perils of ignoring the key metric of the carrying capacity of the fragile Himalayan ecology.
A number of follow-up actions were proposed to elaborate the national mission and come up with a set of practical recommendations. These included the following:
One, the unplanned growth of new settlements should be discouraged and it would be better to consolidate scattered settlements into semi-urban clusters, selected on the basis of stable terrain features, availability of water and accessibility. These should be provided with education and health services and waste management facilities.
Tourism must take the form of homestead tourism, rather than the building of luxury eco-lodges. Local aesthetics and harmony with nature should be respected.
In Joshimath, all these norms were violated. A small and picturesque hamlet with only a few households was allowed to become a densely populated urban sprawl. This is the story of several such places across the Himalayan zone.
Two, a state-wide inventory of pilgrim sites in the Himalayan zone should be undertaken and for each site, a scientific estimation should be made of its carrying or load-bearing capacity in terms of numbers of pilgrims each site may be able to handle daily and yearly.
It was recommended that construction of roads should be prohibited beyond 10 kilometres from the protected pilgrim sites, creating an ecological and spiritual buffer zone, where there would be minimal human interference. Within this buffer zone, no construction should be allowed.
In the Badri and Kedar pilgrimage areas, there are guest houses with gas-fired heating and cooking. The dividing line between tourism and pilgrimage has been erased. There are now plans to make pilgrimage to these sacred sites possible the whole year round. One can imagine what this will do to some of the most fragile mountain zones.
Three, the concept of green road construction was introduced with several key guidelines. Environmental impact assessment was to be made mandatory for the construction of all roads and highways of more than 5 km in length, including the extension and widening of existing roads.
No road construction plan would be approved without including the provision of disposal of debris from construction sites. This was particularly necessary to avoid blocking natural drainage in the construction zone. The rampant neglect of this rule has led to water-logging in upstream areas and water scarcity in downstream areas in many parts of the Himalayan region; and
Four, it was recognised that the development of hydropower could transform the economy of the Himalayan states and bring prosperity to communities residing there. Since several such projects have already been built over the past few years and there is a significant pipeline of projects under construction or planned to be constructed, several lessons can be learnt.
Environmental impact assessment of a particular project does not capture the cumulative impact of a series of such projects in a river basin. This is essential to avoid large-scale environmental damage. It was also proposed that in the Himalayan zone, hydro projects should generally be of the run-of-the-river variety since large scale water storage reservoirs can greatly disturb a terrain that is seismically unstable and still shifting. There have been a number of major disasters already.
In February 2021, the Rishiganga hydel project was simply washed away by a torrent of water due to a glacial lake outburst upstream. There was loss of life and property.
The Tehri dam in the central Himalayas also lies in a seismically active zone. Experts have warned that should there be a breach in the massive dam, a wall of water 200 metres high would inundate towns and villages downstream in a violent rush. The risk and benefit analysis argues against undertaking such projects in such a sensitive and seismically unstable zone.
In recent years, the twin demands of both religion and defence have been added to the development argument to sweep aside environmental and terrain considerations while undertaking infrastructure development in the Himalayan zone.
Respecting religious sentiments should not mean constructing six-lane highways to sacred pilgrim spots deep in the Himalayas. Regarding defence, it is important to bear in mind that improved access in the short term should not come at the cost of seriously disrupted communications in the longer term due to disasters brought on by a neglect of strict environmental norms.
It has been reported that subsidence of the kind we have seen at Joshimath is also evident in several other Himalayan towns. There is an urgent need to undertake a detailed survey of such settlements by multidisciplinary expert teams, both to understand the nature and scale of the challenge that confronts us and what we need to do to both halt and then reverse the disturbing trends that are intensifying day by day.
Let us not anger the deities that reside in the sacred mountains and protect us from harm.